A Celebration of Women Fighting for Justice
In honor of Women's History Month, we're shining the spotlight on four women who demonstrate tremendous leadership within their communities and inspire us all through their participation in Earthjustice legal battles. (Spanish language version available.)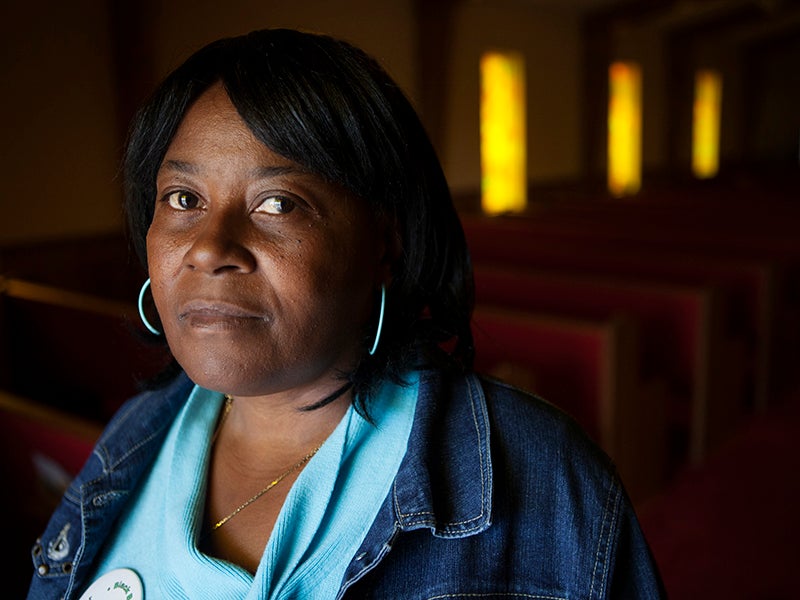 Este blog está disponible en español aquí.
This Women's History Month, we want to acknowledge and celebrate women who are making history while protecting the environment. Each of the leaders we've highlighted is a pioneer for a healthier and more just world. Through the legal cases they take part in, these women are at the forefront of battles for racial equality, the conservation of sacred lands, and food and water free of harmful pollution.  
Esther Calhoun
Esther Calhoun lives in Uniontown, Alabama, where both her father and her grandfather once grew cotton, corn and okra as sharecroppers. Today, Calhoun is on a mission to protect her family's history, which is deeply connected to Uniontown, from an environmental catastrophe. As president of the local grassroots group Black Belt Citizens Fighting for Health and Justice, Calhoun has fought for years to address the impact of the nearby Arrowhead Landfill. The landfill now accepts the municipal, industrial and "special" waste of 33 states. The injustice of one small town bearing all the health and environmental consequences of this enormous waste dump took on new significance in 2010 when officials from Kingston, Tennessee, began sending poisonous coal ash down to Uniontown.
Four million tons of coal ash found its way from Kingston's predominantly white, middle-class community to Uniontown, where the population is 90 percent African American and the median household income is $15,000 a year. Some Uniontown residents began staying indoors to avoid heavy coughing, itchy eyes and irritated skin caused by the dust from the coal ash dump site. In December 2013, Earthjustice represented six Alabama residents, including Calhoun, in filing a civil rights complaint with the EPA's Office of Civil Rights under Title VI of the Civil Rights Act of 1964. It's the EPA's duty to stop local governments from taking actions that have an unjustified, disproportionate impact on communities of color, including granting permits for polluting facilities like Arrowhead.
In Calhoun's words, "What we want is simple. We expect justice."
Read more about Uniontown's toxic inheritance and what Calhoun and her fellow residents are doing to right this injustice.
Amelia Ceja
Amelia Ceja is the president of Ceja Vineyards in Napa, California. Leaving Mexico at the age of 12, Ceja began her life in the U.S. picking grapes in the fields. She has since grown a successful business that has received some of the wine industry's most prestigious awards for its quality products and sustainable practices. One of the most compelling aspects of Ceja's business is the genuine love and respect she has for all of her workers, from farmhands to managers. Because Ceja provides a pesticide-free work environment, pays fair wages and treats her workers as equals by inviting them to family gatherings, most of the field workers at Ceja Vineyards have been with the company for many years—a rarity in farmwork.
"We like efficiency, but nurturing and warmth must be present with efficiency," says Ceja. "Our team becomes part of our extended family. That comes from our culture."
Earthjustice's advocacy campaign, which works to protect farmworkers from toxic pesticides, features a film about Ceja Vineyards as a shining example of how doing right by the environment—and your work force—can be good for business.
Kendall Edmo
Kendall Edmo, a Blackfeet tribal member, became involved in the fight to protect the Badger-Two Medicine area near Glacier Park in Montana after learning about the area's cultural significance to her people—and the threat of oil and gas drilling there. For more than 30 years, the Blackfeet tribe has resisted the oil and gas industry's attempts to drill on land they consider sacred. During her childhood, Edmo wasn't immersed in Blackfeet language or traditional ways, but that changed after she graduated from college and returned to the reservation. Edmo has served as a tribal liaison for the National Parks Conservation Association, and tribal elders have taken her under their wing to mentor her in Blackfeet history and spirituality.
In 2015, the Blackfeet Headwaters Alliance and the Glacier-Two Medicine Alliance—both represented by Earthjustice—joined 10 conservation organizations in supporting the Blackfeet tribe's request that the government cancel all oil and gas leases in the Badger-Two Medicine area. While Earthjustice builds the legal case, the Blackfeet members are building a movement. Recently, the court released a plan to cancel the most controversial remaining oil development lease in the Badger-Two. Although the legal fights are not over, the Blackfeet and their supporters will continue to work to protect this landscape until the oil and gas threat is eliminated.  
Edmo hopes to inspire others in her generation to learn more about sacred landscapes like the Badger-Two Medicine. She plans to pass on what she's learned to her son and daughter so that they, too, will have a deep spiritual connection to the land.
"Coming from a younger generation doesn't change the fact that my culture, identity and spirituality is interconnected with our lands. Same goes for my children," says Edmo. "The Badger-Two Medicine reminds us of who we are and who we were."
Learn more about Edmo and the Blackfeet Tribe's resistance to oil drilling in the Badger-Two in this photo essay.
Helen Slottje
"There was this perception that fracking was coming, there was nothing you could do," says upstate New York lawyer Helen Slottje. "There was this oncoming train wreck—you knew it was going to be a train wreck—and you couldn't even get out of the way."
But Slottje found a way. Winner of the 2014 Goldman Environmental Prize, Slottje pioneered a legal strategy to keep fracking out of communities using local zoning laws. The precedent-setting case began in Dryden, New York, in 2007, when the oil and gas industry tried to lease private land to drill and sent community members scrambling for a means of opposition. After careful research, Slottje and her husband—both former corporate lawyers—advised the people of Dryden to gather signatures and petition the town board to issue a local ban on fracking.
Six weeks after Dryden's town board voted unanimously against fracking, a billionaire-owned oil and gas company sued to overturn the town's decision. When the company lost and appealed, Dryden leaders came to Earthjustice for legal representation. On June 30, 2014, the New York state Court of Appeals handed down a landmark decision, ruling that New York towns have the right to keep heavy industry, including fracking, outside their borders. It was a victory for Dryden and communities across the state. Slottje's hard work and courage have bolstered efforts to ban fracking across the country, from Pennsylvania to California.
Listen to an interview with Slottje and find out more about how and why she became involved in the fracking fight.
Margo Pellegrino
Most people don't see it as their duty to paddle an outrigger canoe 2,000 miles from New York City to New Orleans to raise awareness about water pollution. Margo Pellegrino sees things differently. Last July, Pellegrino finished the first leg of her two-part journey, traveling from New York to Chicago. Along the way, Pellegrino stopped to meet with local organizations working on the watershed issues that impact drinking water and waterways, and eventually harm our oceans. She also collected water samples for testing.
She hopes to highlight the importance of the U.S. EPA's Clean Water Rule. In early 2015, the EPA and the U.S. Army Corps of Engineers issued the Clean Water Rule to bolster the 1972 Clean Water Act—one of the country's most influential environmental laws. The rule reaffirms longstanding federal protections for many of our nation's waters and serves as a guide to how, where and when Clean Water Act should be used. In response, special interests attacked the agencies' efforts, weakening the rule and attempting to stop its implementation altogether. Earthjustice is at the forefront of these battles, taking place in courtrooms across the country. We are challenging the weaker parts of the rule while also supporting it's many protective provisions. At the heart of our cases are many ordinary people like Pellegrino who love their local waterways and work hard to protect them.
Pellegrino says, "For the sake of my children and future generations, I felt I needed to help folks see that we are indeed impacting our ocean and freshwater resources by what we do within our respective watersheds."
See maps and photos from Pellegrino's journey and take your own action to protect the Clean Water Rule.
Una Celebración de Mujeres Luchando Por Lograr Justicia
Este Mes de la Historia de la Mujer, queremos agradecer y celebrar a las mujeres que están haciendo historia mientras protegen al medio ambiente. Cada una de las líderes que hemos destacado debe considerarse pionera en la lucha por lograr un mundo más justo y saludable. A través de los casos en donde han tomado parte, estas mujeres están en la vanguardia de las batallas para lograr la igualdad racial, la conservación de tierras sagradas, y de tener alimentos y agua libres de la dañina contaminación.
ESTHER CALHOUN
Esther Calhoun vive en Uniontown, Alabama, donde su padre y su abuelo cultivaban algodón, maíz y ocra en tierras rentadas o prestadas. Hoy en día, Calhoun tiene una misión de proteger la historia de su familia, la cual está muy conectada a la historia de Uniontown, de una catástrofe ambiental. Como presidente del grupo comunitario local  Black Belt Citizens Fighting for Health and Justice (Ciudadanos de Cinta Negra Luchando por la Salud y la Justicia), Calhoun ha luchado por años para enfrentar el impacto del relleno de desechos Arrowhead Landfill que se encuentra cerca. El relleno ahora está aceptando desechos municipals, industriales y de tipo "especial" provenientes de 33 estados. La injusticia de un pequeño pueblo que está cargando con todas las consecuencias de salud y ambientales de este enorme basurero tuvo un nuevo significado en el año 2010 cuando las autoridades de Kingston, Tennessee, empezaron a enviar cenizas tóxicas de carbón hacia Uniontown.
Cuatro millones de toneladas de cenizas de carbón partieron desde Kingston cuya población es de clase media y predominantemente de raza blanca hasta Uniontown, donde la población es 90 por ciento Afro-Americana y el ingreso promedio por hogar es de $15,000 al año. Algunos residentes de Uniontown optaron por encerrarse en sus casas para evitar la tos, los ojos con comezón y la piel irritada causados por el polvo de las cenizas de carbón provenientes del basurero municipal. En diciembre del 2013, Earthjustice representó a seis residentes de Alabama, incluyendo a Calhoun, y presentaron una queja de derechos civiles con la Oficina de Derechos Civiles de la EPA con base al Título VI de la Ley de Derechos Civiles de 1964. Es obligación de la EPA impedir a los gobiernos locales de tomar acciones que tengan un impacto injustificado y desproporcionado sobre las comunidades de color, incluyendo el otorgamiento de permisos para instalaciones contaminantes como Arrowhead.
En palabras de Calhoun: "Lo que queremos es sencillo. Queremos justicia."
Lee más sobre El legado tóxico de Uniontown y lo que Calhoun y sus compañeros están haciendo para enderezar esta injusticia.
AMELIA CEJA
Amelia Ceja es la presidenta del viñedo Ceja Vineyards in Napa, California. Cuando partió de México a la edad de 12 años, Ceja comenzó su vida en Estados Unidos pizcando uvas en los campos. Hoy en día, el negocio que ella creó es tan exitoso que ha recibido algunos de los premios más prestigiosos de la industria vinícola por la calidad de sus productos y sus prácticas sustentables. Uno de los aspectos más notables del negocio de Ceja es el cariño sincero y el respeto que ella les tiene a todos sus trabajadores, desde peones hasta gerentes. El hecho que Ceja brinda un ambiente de trabajo libre de pesticidas, paga salarios justos y trata a sus empleados como iguales y los invita a reuniones familiares, la mayoría de los trabajadores de campo en Ceja Vineyards ha estado trabajando para su compañía por muchos años—una rareza en el trabajo agrícola.
"Nos gusta la eficiencia, pero un ambiente adecuado con calidez humana debe estar presente junto a la eficiencia," dice Ceja. "Nuestro equipo se vuelve parte de nuestra familia. Eso viene de nuestra cultura."
La campaña de defensa de Earthjustice, la cual trabaja para proteger a los trabajadores del campo de pesticidas tóxicos, presenta una película sobre Ceja Vineyards como un ejemplo sobresaliente de cómo el hacer labor en pro del medio ambiente—y en pro de tu planta laboral—puede llegar a ser bueno para el negocio.
Kendall Edmo
Kendall Edmo, una miembro de la tribu Blackfeet, se interesó en la lucha para proteger la zona Badger-Two Medicine cerca de Glacier Park en Montana después de haber aprendido lo que significaba culturalmente para su pueblo—y la amenaza que representa la perforación de petróleo y gas ahí. Por más de 30 años, la tribu Blackfeet ha resistido los intentos de perforar en tierras que ellos consideran sagradas. Durante su niñez, Edmo no estaba interesada en el idioma o en las tradiciones de los miembros de la tribu Blackfeet, pero eso cambió tras haberse graduado de la Universidad y haber regresado a la reservación. Edmo ha fungido como enlace tribal para la Asociación de Conservación de Parques Nacionales (National Parks Conservation Association) y los ancianos de la tribu la apoyaron e instruyeron en la historia y las creencias espirituales del pueblo Blackfeet.
En 2015, los grupos Blackfeet Headwaters Alliance y Glacier-Two Medicine Alliance—representados ambos por Earthjustice— se juntaron con 10 organizaciones de conservación para apoyar la petición de la tribu Blackfeet para exigir al gobierno que cancele todos los permisos que otorgó a las empresas de petróleo y gas en la zona de Badger-Two Medicine. Mientras que Earthjustice armaba el caso legal, los Blackfeet construían un movimiento. Recientemente,  la corte dio a conocer un plan para cancelar el trato de arrendamiento de tierras para desarrollo petrolero que faltaba en Badger-Two. Aunque las batallas legales no han terminado, los Blackfeet y sus simpatizantes continuarán trabajando para proteger este paisaje hasta que la amenaza del petróleo y del gas haya sido eliminada.  
Edmo tiene la esperanza de que su trabajo inspire a otras personas de su generación a que aprendan más sobre las tierras sagradas como la de Badger-Two Medicine. Tiene planes de pasar lo que ha aprendido a su hijo e hija para que ellos también sientan una conexión espiritual a la tierra.
"El hecho que soy de una generación más joven no cambia el hecho de que mi cultura, mi identidad y mi espiritualidad están interconectadas con nuestras tierras. Lo mismo va para mis hijos," dice Edmo. "Badger-Two Medicine nos recuerda quienes somos y quienes éramos."
Aprende más sobre Edmo y la oposición de la tribu Blackfeet a la perforación para encontrar petróleo en Badger-Two en este ensayo fotográfico.
Helen Slottje
"Había esta percepción de que el fracking iba a llegar, y que no había nada que pudieras hacer," dice la abogada del estado de Nueva York Helen Slottje. "Que había este tren que venía en dirección opuesta—y sabías que se iba a descarrilar—y tú no te podrías escapar."
Pero Slottje le encontró el modo. La ganadora del Premio Ambiental Goldman   del 2014, Slottje lidereó una estrategia legal para sacar al fracking de las comunidades usando normas locales de zonificación. El caso que sentó precedentes empezó en Dryden, Nueva York, en el 2007, cuando la industria del petróleo y gas intentó arrendar tierras privadas para perforar lo cual hizo que los miembros de la comunidad salieran desesperados en búsqueda de una manera de ejercer oposición. Tras haber hecho una investigación cuidadosa, Slottje y su esposo—ambos ex abogados corporativos—le recomendaron a la gente de Dryden que juntaran firmas para pedirle a la Junta de Gobierno local que emitiera una prohibición al fracking.
Seis semanas después de que la Junta de Dryden votara unánimemente contra el fracking, una empresa petrolera propiedad de un multimillonario puso una demanda para que el municipio retractara su decisión. Cuando la compañía perdió y apeló, los líderes de Dryden acudieron a Earthjustice para obtener representación legal. El 30 de junio del 2014, la Corte de Apelaciones del Estado de Nueva York tomó una resolución histórica, y en ese fallo las comunidades de Nueva York tienen derecho a mantener a la industria pesada, incluyendo la de fracking, fuera de sus fronteras. Fue una Victoria para Dryden y otras comunidades de todo el estado. La ardua labor y valentía de Slottje han fortalecido los esfuerzos de prohibir el fracking por todo el país, desde Pennsylvania hasta California.
Escucha la entrevista con Slottje y entérate más sobre cómo y por qué se involucró en la lucha contra el fracking.
Margo Pellegrino
La mayoría de la gente no lo ve como su responsabilidad el remar una canoa por 2,000 millas desde Nueva York hasta Nueva Orleans para hacer concientización sobre la contaminación del agua. Margo Pellegrino ve las cosas de diferente manera. En Julio pasado, Pellegrino terminó la primera parte de una travesía de dos partes, viajando de Nueva York a Chicago. A lo largo de la travesía, Pellegrino hizo paradas para encontrarse con organizaciones locales trabajando en cuestiones urgentes que afectan a las cuencas hidráulicas, al agua potable y cuerpos de agua, y eventualmente terminan dañando nuestros océanos. Lo que también hizo fue colectar muestras de agua para hacerles pruebas.
Pellegrino quiere destacar la importancia de la de la EPA. A principios del 2015, la EPA y el Cuerpo de Ingenieros del Ejército de Estados Unidos emitió la Regla de Agua Limpia para fortalecer la Ley del Agua Limpia de 1972—una de las leyes ambientalistas más influyentes en el país. La regla reitera las protecciones federales existentes por mucho tiempo que salvaguardan muchos de los recursos hidráulicos de nuestra nación y que sirve como guía sobre el cómo, el dónde y el cuándo la Ley del Agua Limpia debe ser usada. A manera de respuesta, los intereses especiales atacaron los esfuerzos de las agencias, lo cual debilitó la regla y trató de detener su implementación de manera total. Earthjustice está a la vanguardia de estas batallas que se están llevando a cabo en los tribunales de todo el país. Estamos impugnando las porciones más débiles de la regla mientras que al mismo tiempo apoyamos sus muchas provisiones que ofrecen protección. Al centro de nuestros casos hay mucha gente común y corriente como Pellegrino que aman las aguas navegables y trabajam muy duro para protegerlas.
Pellegrino dice, "Por el bien de mis hijos y de las generaciones futuras, sentí la necesidad de ayudar a la gente para que viera que de verdad estamos impactando nuestros océanos y los recursos de agua dulce por nuestras acciones contra nuestras respectivas cuencas y vertientes."
Ve mapas y fotos de la travesía de Pellegrino y haz algo para proteger la Regla de Agua Limpia.
A graduate of Wesleyan University with an honors degree in English and environmental studies, Anna was an intern at Earthjustice in San Francisco. She previously interned at Women's Earth Alliance, and managed a half-acre garden and orchard growing produce for a Community Supported Agriculture program.