A Celebration of Women Fighting for Justice
In honor of Women's History Month, we're shining the spotlight on four women who demonstrate tremendous leadership within their communities and inspire us all through their participation in Earthjustice legal battles.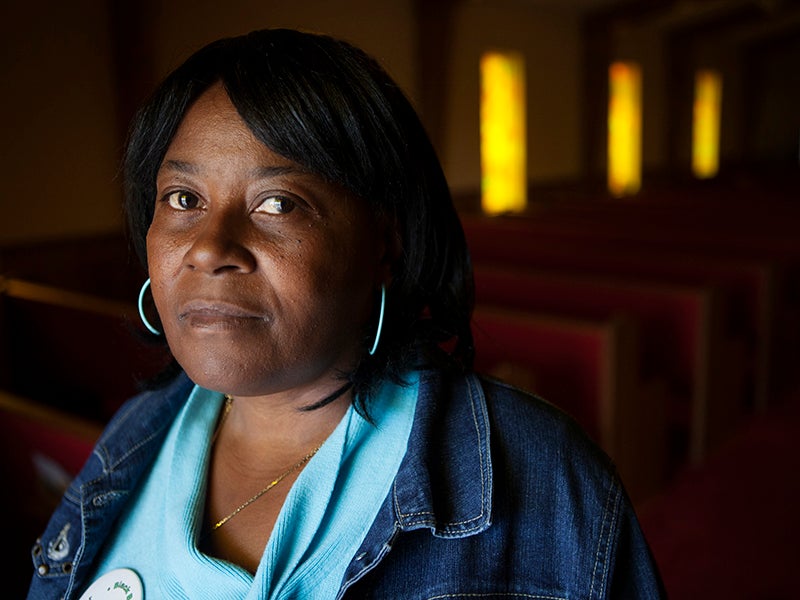 This Women's History Month, we want to acknowledge and celebrate women who are making history while protecting the environment. Each of the leaders we've highlighted is a pioneer for a healthier and more just world. Through the legal cases they take part in, these women are at the forefront of battles for racial equality, the conservation of sacred lands, and food and water free of harmful pollution.  
Esther Calhoun
Esther Calhoun lives in Uniontown, Alabama, where both her father and her grandfather once grew cotton, corn and okra as sharecroppers. Today, Calhoun is on a mission to protect her family's history, which is deeply connected to Uniontown, from an environmental catastrophe. As president of the local grassroots group Black Belt Citizens Fighting for Health and Justice, Calhoun has fought for years to address the impact of the nearby Arrowhead Landfill. The landfill now accepts the municipal, industrial and "special" waste of 33 states. The injustice of one small town bearing all the health and environmental consequences of this enormous waste dump took on new significance in 2010 when officials from Kingston, Tennessee, began sending poisonous coal ash down to Uniontown.
Four million tons of coal ash found its way from Kingston's predominantly white, middle-class community to Uniontown, where the population is 90 percent African American and the median household income is $15,000 a year. Some Uniontown residents began staying indoors to avoid heavy coughing, itchy eyes and irritated skin caused by the dust from the coal ash dump site. In December 2013, Earthjustice represented six Alabama residents, including Calhoun, in filing a civil rights complaint with the EPA's Office of Civil Rights under Title VI of the Civil Rights Act of 1964. It's the EPA's duty to stop local governments from taking actions that have an unjustified, disproportionate impact on communities of color, including granting permits for polluting facilities like Arrowhead.
In Calhoun's words, "What we want is simple. We expect justice."
Read more about Uniontown's toxic inheritance and what Calhoun and her fellow residents are doing to right this injustice.
Amelia Ceja
Amelia Ceja is the president of Ceja Vineyards in Napa, California. Leaving Mexico at the age of 12, Ceja began her life in the U.S. picking grapes in the fields. She has since grown a successful business that has received some of the wine industry's most prestigious awards for its quality products and sustainable practices. One of the most compelling aspects of Ceja's business is the genuine love and respect she has for all of her workers, from farmhands to managers. Because Ceja provides a pesticide-free work environment, pays fair wages and treats her workers as equals by inviting them to family gatherings, most of the field workers at Ceja Vineyards have been with the company for many years—a rarity in farmwork.
"We like efficiency, but nurturing and warmth must be present with efficiency," says Ceja. "Our team becomes part of our extended family. That comes from our culture."
Earthjustice's advocacy campaign, which works to protect farmworkers from toxic pesticides, features a film about Ceja Vineyards as a shining example of how doing right by the environment—and your work force—can be good for business.
Kendall Edmo
Kendall Edmo, a Blackfeet tribal member, became involved in the fight to protect the Badger-Two Medicine area near Glacier Park in Montana after learning about the area's cultural significance to her people—and the threat of oil and gas drilling there. For more than 30 years, the Blackfeet tribe has resisted the oil and gas industry's attempts to drill on land they consider sacred. During her childhood, Edmo wasn't immersed in Blackfeet language or traditional ways, but that changed after she graduated from college and returned to the reservation. Edmo has served as a tribal liaison for the National Parks Conservation Association, and tribal elders have taken her under their wing to mentor her in Blackfeet history and spirituality.
In 2015, the Blackfeet Headwaters Alliance and the Glacier-Two Medicine Alliance—both represented by Earthjustice—joined 10 conservation organizations in supporting the Blackfeet tribe's request that the government cancel all oil and gas leases in the Badger-Two Medicine area. While Earthjustice builds the legal case, the Blackfeet members are building a movement. Recently, the court released a plan to cancel the most controversial remaining oil development lease in the Badger-Two. Although the legal fights are not over, the Blackfeet and their supporters will continue to work to protect this landscape until the oil and gas threat is eliminated.  
Edmo hopes to inspire others in her generation to learn more about sacred landscapes like the Badger-Two Medicine. She plans to pass on what she's learned to her son and daughter so that they, too, will have a deep spiritual connection to the land.
"Coming from a younger generation doesn't change the fact that my culture, identity and spirituality is interconnected with our lands. Same goes for my children," says Edmo. "The Badger-Two Medicine reminds us of who we are and who we were."
Learn more about Edmo and the Blackfeet Tribe's resistance to oil drilling in the Badger-Two in this photo essay.
Helen Slottje
"There was this perception that fracking was coming, there was nothing you could do," says upstate New York lawyer Helen Slottje. "There was this oncoming train wreck—you knew it was going to be a train wreck—and you couldn't even get out of the way."
But Slottje found a way. Winner of the 2014 Goldman Environmental Prize, Slottje pioneered a legal strategy to keep fracking out of communities using local zoning laws. The precedent-setting case began in Dryden, New York, in 2007, when the oil and gas industry tried to lease private land to drill and sent community members scrambling for a means of opposition. After careful research, Slottje and her husband—both former corporate lawyers—advised the people of Dryden to gather signatures and petition the town board to issue a local ban on fracking.
Six weeks after Dryden's town board voted unanimously against fracking, a billionaire-owned oil and gas company sued to overturn the town's decision. When the company lost and appealed, Dryden leaders came to Earthjustice for legal representation. On June 30, 2014, the New York state Court of Appeals handed down a landmark decision, ruling that New York towns have the right to keep heavy industry, including fracking, outside their borders. It was a victory for Dryden and communities across the state. Slottje's hard work and courage have bolstered efforts to ban fracking across the country, from Pennsylvania to California.
Listen to an interview with Slottje and find out more about how and why she became involved in the fracking fight.
Margo Pellegrino
Most people don't see it as their duty to paddle an outrigger canoe 2,000 miles from New York City to New Orleans to raise awareness about water pollution. Margo Pellegrino sees things differently. Last July, Pellegrino finished the first leg of her two-part journey, traveling from New York to Chicago. Along the way, Pellegrino stopped to meet with local organizations working on the watershed issues that impact drinking water and waterways, and eventually harm our oceans. She also collected water samples for testing.
She hopes to highlight the importance of the U.S. EPA's Clean Water Rule. In early 2015, the EPA and the U.S. Army Corps of Engineers issued the Clean Water Rule to bolster the 1972 Clean Water Act—one of the country's most influential environmental laws. The rule reaffirms longstanding federal protections for many of our nation's waters and serves as a guide to how, where and when Clean Water Act should be used. In response, special interests attacked the agencies' efforts, weakening the rule and attempting to stop its implementation altogether. Earthjustice is at the forefront of these battles, taking place in courtrooms across the country. We are challenging the weaker parts of the rule while also supporting it's many protective provisions. At the heart of our cases are many ordinary people like Pellegrino who love their local waterways and work hard to protect them.
Pellegrino says, "For the sake of my children and future generations, I felt I needed to help folks see that we are indeed impacting our ocean and freshwater resources by what we do within our respective watersheds."
A graduate of Wesleyan University with an honors degree in English and environmental studies, Anna was an intern at Earthjustice in San Francisco. She previously interned at Women's Earth Alliance, and managed a half-acre garden and orchard growing produce for a Community Supported Agriculture program.