A New Year's Resolution Worth Keeping
Earthjustice President Trip Van Noppen explains why 2015 is the year when we must resolve to quit our carbon addiction.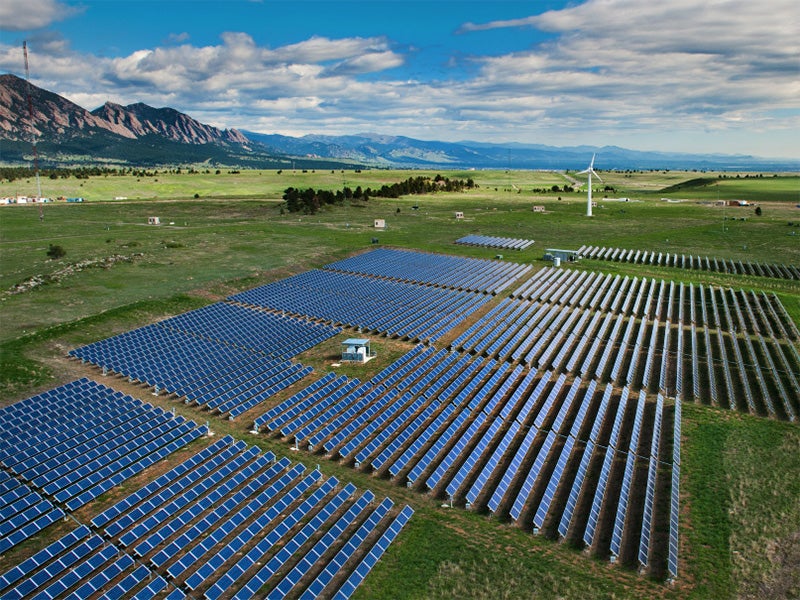 It's almost that time of year again, when people resolve to begin the year anew with ambitious goals to improve upon their lives. This year, Earthjustice's resolution is to push our country to take a hard turn away from fossil fuels—and toward clean and innovative renewable energy sources—and we're asking you to join us.
Our mutual resolve could not come at a more important time.
After all, following decades of meeting our energy needs with fossil fuels that are polluting our air and water, we're now on the verge of threatening our very existence with climate change. With every ton of coal or barrel of oil burned, we move closer to blowing our carbon budget. In addition to unleashing catastrophic climate change, burning fossil fuels also blankets our schools, playgrounds and homes in dangerous levels of harmful toxins like mercury and smog.
At the same time, the next year will be crucial in determining whether the U.S. makes big leaps toward clean energy sources or continues down a dirty energy path. Decades of Earthjustice advocacy and litigation have helped produce important regulatory safeguards that use the power of the law—specifically, the Clean Air Act—to replace outdated fossil fuels with clean, renewable energy innovations and clear the air.
In the next year:
The U.S. Supreme Court will hear an industry challenge to the first-ever limits on toxic pollution from the nation's dirtiest polluters—coal-fired power plants. If the Court allows the Mercury and Air Toxics Standards to take effect, up to 11,000 premature deaths each year will be prevented, along with nearly 5,000 heart attacks, 130,000 asthma attacks, and more than 540,000 missed days of work.

The EPA released a proposal that will reduce greenhouse gas emissions from existing U.S. power plants by 30 percent by the year 2030. The Clean Power Plan offers the best hope of blunting and even reversing some of the worst effects of climate change that we are already starting to see, but the EPA must strengthen it if we want to avoid catastrophic climate changes.

The EPA will also finalize standards for ozone pollution, a powerful creator of smog linked to premature deaths, thousands of emergency room visits and tens of thousands of asthma attacks each year. The agency's current proposal takes a step in the right direction, but it does not go nearly far enough in protecting people's health and must be strengthened.
As with any good New Year's resolution, the benefits of kicking our fossil fuel addiction are obvious, but that's not to say that breaking the habit will be easy. It will require people to take a hard look at what truly makes them happy and healthy, in both the short and long term. Continuing to rely on fossil fuels may seem like the easiest option now, but like any bad habit it will eventually catch up to us.
And caught up, it has. Now that we know that burning carbon threatens our health and the health of the planet, it's time to muster our resolve and break our climate addiction.
If you need inspiration to keep your resolution, I suggest you watch a video of the hundreds of thousands of people who participated in the People's Climate March last September or read one of the eight million comments that were submitted in support of the EPA's Clean Power Plan. And, be sure to check out our interactive map to see whether your state is coming in first or lagging behind in the renewable energy race.
Together, with Earthjustice handling the litigation and with you advocating for clean air and climate safeguards, we're a whole lot likelier to have a happier, healthier 2015.
Trip Van Noppen served as Earthjustice's president from 2008 until he retired in 2018. A North Carolina native, Trip said of his experience: "Serving as the steward of Earthjustice for the last decade has been the greatest honor of my life."
Established in 1989, Earthjustice's Policy & Legislation team works with champions in Congress to craft legislation that supports and extends our legal gains.
Earthjustice's Washington, D.C., office works at the federal level to prevent air and water pollution, combat climate change, and protect natural areas. We also work with communities in the Mid-Atlantic region and elsewhere to address severe local environmental health problems, including exposures to dangerous air contaminants in toxic hot spots, sewage backups and overflows, chemical disasters, and contamination of drinking water. The D.C. office has been in operation since 1978.