A Sinking Feeling about Florida's Phosphate Mines
A series of environmental disasters has beset Florida's phosphate mining industry, including the recent opening of a massive sinkhole 40 miles east of Tampa.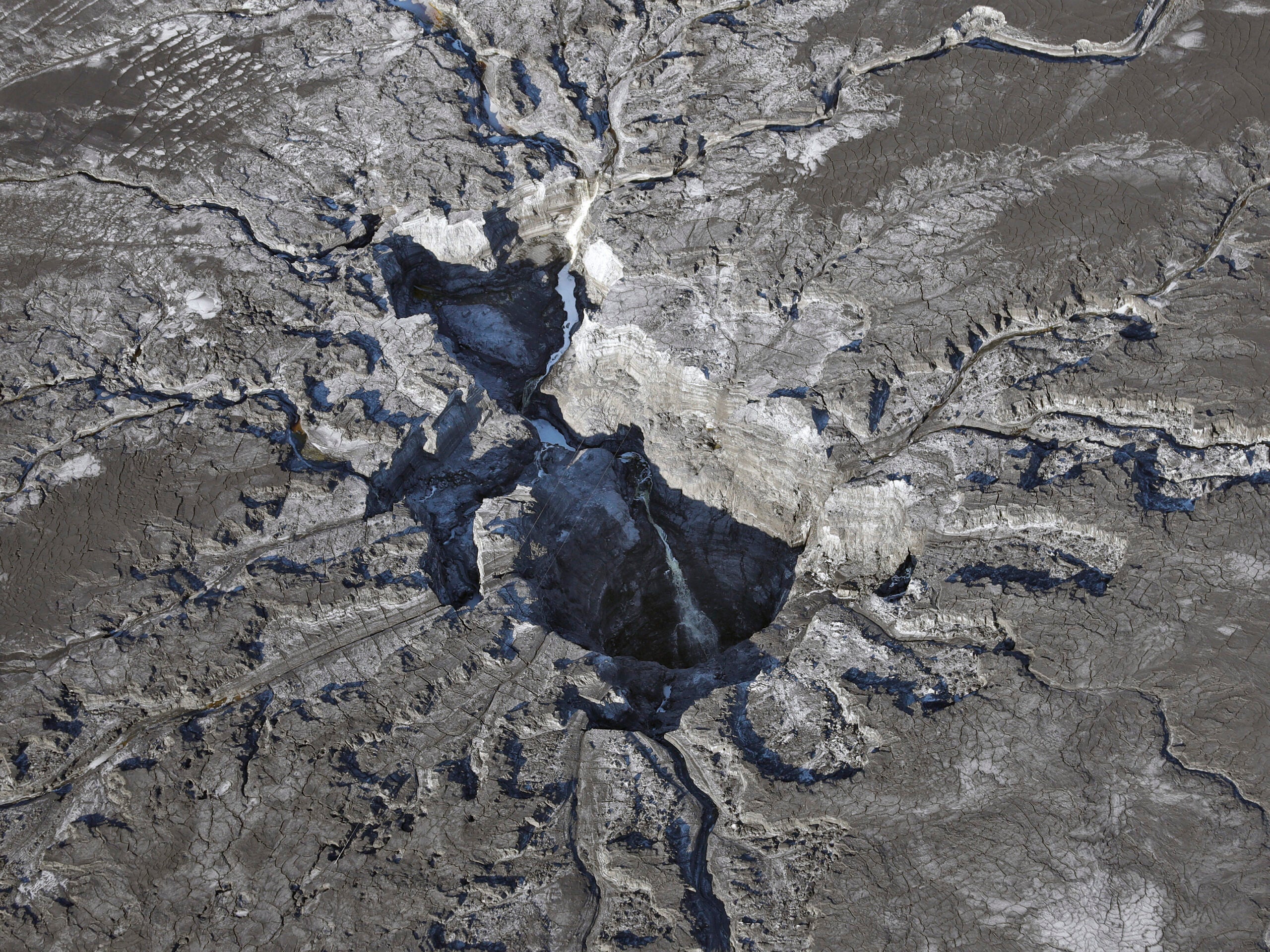 Editor's Note: The bad news keeps coming about Florida's phosphate strip-mining industry. Mosaic, the world's largest phosphate company, made headlines around the world when a giant sinkhole opened up in August in a towering stack of acidic, radioactive phosphate mining waste. The sinkhole sent a reported 215 million gallons of polluted water into the underground fresh water aquifer. This weekend, the company reported another accident, this time a 50,000-gallon spill of phosphoric acid at its fertilizer manufacturing plant near Lakeland. That's the third spill in less than three months. On Sept. 30, the company reported a 97,000-gallon spill at its fertilizer production facility in Bartow, Florida.
Chances are good that you saw the dramatic images on your TV or computer screen—an aerial video showing a waterfall of polluted wastewater gushing into a giant sinkhole in Florida.
Sinkholes are fairly common in Florida, but this one poses a serious problem because it opened up in the middle of a mountain of radioactive, acidic waste stacked next to a phosphate strip mine. The mining company, Mosaic, announced that at least 215 million gallons of its waste disappeared into the sinkhole, which leads to an underground aquifer about 40 miles east of Tampa.
The company told reporters that the sinkhole is 220 feet deep—making it one of the deepest ever measured in the state. Mosaic is now pumping up groundwater at the site in hopes of containing the spill, but it's anybody's guess if that technique will actually work. The nooks and crannies in Florida's aquifer are like the holes in a slice of Swiss cheese, and water movement down there is notoriously unpredictable. Mosaic is paying for testing of nearby private drinking water wells, and some residents have filed a class-action lawsuit.
At Earthjustice's Florida office, we were also shocked to see images of the sinkhole. But sadly, environmental disasters are not unprecedented in the phosphate mining industry. In 1994, a sinkhole opened up at this very same facility, also sending waste into the underground aquifer. Florida phosphate mining is destructive and dangerous, and we have taken part in legal challenges to the industry repeatedly over the years. 
Minnesota-based Mosaic Phosphate scrapes off Florida's surface land to get down to the bones of ancient sea creatures, which contain phosphate. The mining leaves behind a moonscape with scars that are visible from space. The phosphate from these ancient sea sediments is then chemically processed into phosphoric acid used in fertilizer and sold around the world. The process leaves behind massive mountains of radioactive, acidic waste that can tower 50 to 70 feet high. Some two dozen of these mounds are scattered around South-Central Florida, posing a huge environmental risk.
Beyond sinkholes, the industry has been the cause of a series of other nasty environmental disasters. In 1997, a phosphate processing plant spilled 50 million gallons of contaminated water into the Alafia River near Tampa Bay, killing millions of fish. In 2003, the state Department of Environmental Protection and the U.S. EPA got stuck holding the bag when a phosphate company went out of business, leaving a massive amount of environmental waste behind near Tampa Bay. The two agencies opted to hire contractors to treat the waste, load it onto barges and then cruise around the Gulf of Mexico, spraying the waste and hoping for the best. At the time, the cleanup was estimated to cost $141 million—depleting a state fund that's supposed to pay to restore lands after companies have stripped them of phosphate.
In 2004, hurricane flood waters covered a phosphate mining waste pile, spilling 65 million gallons of polluted waste into Tampa Bay. The waste killed crabs, shrimp and fish and destroyed 150 acres of mangroves and 22 acres of seagrass.
Last year, Mosaic settled a federal lawsuit by agreeing to set up a $1.8 billion fund to treat, store and dispose of 60 billion pounds of hazardous waste at its facilities in Florida and Louisiana.
In past legal cases, we've challenged the phosphate industry's heavy groundwater use, especially in areas where water supplies are already in trouble. We were able to get the state to scale back a permit to a phosphate corporation for massive groundwater withdrawal. We've also challenged the industry's land-use tactics and the environmental destruction it wreaks on important natural areas.
Mosaic is the largest phosphate company in the world, and it is also a major campaign contributor to both political parties in Florida. Despite recurring environmental troubles, the company currently has plans to dramatically expand its Florida mining operations. 
We're keeping a keen eye on what happens with the phosphate industry in Florida. We don't believe any industry should be allowed to wreck the public's water and land for profit.
Based in Miami, Tania is the managing attorney of the Florida regional office. She holds a strong commitment to social justice issues and public interest law. Over the course of her legal career, Tania has handled cases related to occupational exposure from pesticides, worked to advance and protect the rights of immigrants, and worked on juvenile justice and educational reform.
The Florida regional office wields the power of the law to protect our waterways and biodiversity, promote a just and reliable transition to clean energy, and defend communities disproportionately burdened by pollution.