After Deceiving Bridgeport's Religious Leaders, PSEG Is Facing the Backlash
Energy company PSEG promised jobs and local investments to the residents of Bridgeport, Connecticut, to get their new gas-fired power plant built. Seven years later, none of that has happened. The residents — and the city — are done waiting.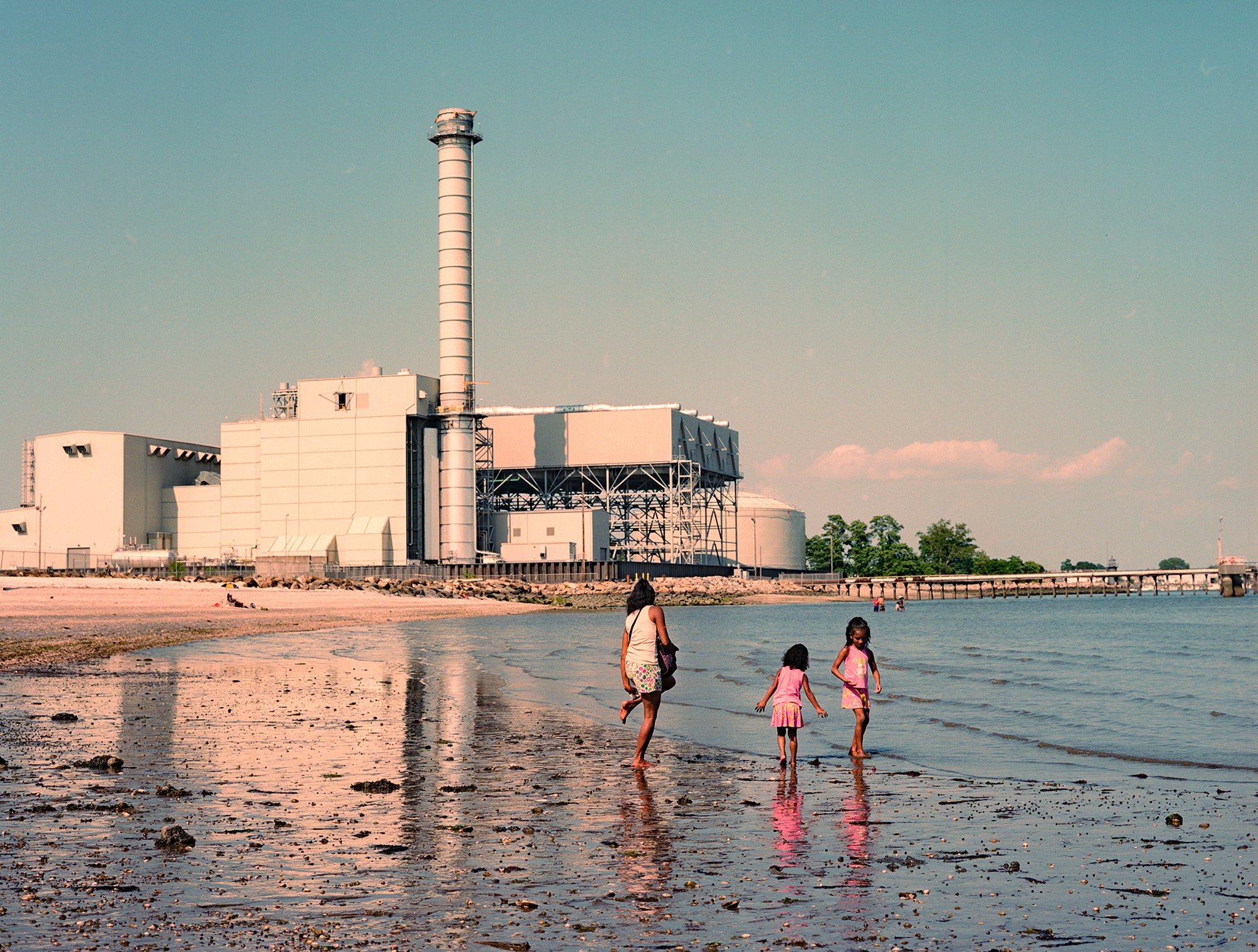 When Rev. Carl McCluster stands on the front porch of Shiloh Baptist Church and gazes across Broad Street, his eyes take in the towering smokestacks of PSEG's 50-year-old coal-fired plant — and the new gas-fired plant that recently opened next door.
As Shiloh's pastor for more than two decades, he was the one who the community turned to when PSEG refused to return their calls to talk about cleaning up the polluted air in Bridgeport, Connecticut — a city that has struggled since the mid-20th century when manufacturers began to shutter factories across the Northeast. Today, Bridgeport residents earn nine times less than residents in neighboring towns of Greenwich, Darien, and Westport. Bridgeport is located in Fairfield County, where the gap between the rich and the poor is bigger than anywhere else in the country.
And in 2013, when PSEG sought to lay the groundwork for community buy-in of their plans to build a new plant, they turned to Rev. McCluster.
In the beginning, Rev. McCluster was hopeful that PSEG was trying to be a good neighbor. Despite the fact that PSEG — whose coal-fired plant had polluted the city's air with nearly 20 tons of hydrochloric acid and more than 100 pounds of lead over the last decade — had contributed to the Bridgeport's environmental problems, he wanted to believe they were taking steps to rebuild trust with a community, made up predominantly of Black and Latino people, that's used to companies like PSEG taking them for granted. The largest city in Connecticut, Bridgeport is a prime example of environmental racism at work — study after study has shown that people of color are much more likely to live near polluters and breathe polluted air.
"Bridgeport is a distressed community," Rev. McCluster says. "What's needed is not just getting jobs, but getting life skills to allow Bridgeport residents to move into a career."
However, instead of following through on promises to bring good jobs back to Bridgeport, PSEG followed an all-too-common pattern: The corporation wooed the community with talk of local jobs and investment, then delivered far less. Rev. McCluster and other faith leaders in Bridgeport aren't letting PSEG get away with their broken promises. With help from Earthjustice, they've been working to compel PSEG to follow through on its commitments.
"PSEG officials came to our congregations and talked about what a great thing this was going to be for the community, and how dedicated they were to making sure Bridgeport residents would be included," says Cass Shaw, president of the Council of Churches of Greater Bridgeport. "Once their permits were issued PSEG dropped us like a hot potato. Bridgeport needs companies like PSEG to come in and truly be good community partners." 
After helping PSEG establish an environmental task force, Rev. McCluster joined local officials and community leaders on a citizen's advisory committee, which beginning in 2015, met more than two dozen times over the course of the next year and a half. The committee issued a report with detailed recommendations for a Community Environmental Benefits Agreement (CEBA), which would formalize PSEG's promises to the community in exchange for their support of the new plant.
In the agreement, PSEG promised to do everything they could to identify and qualify Bridgeport residents to work as subcontractors on the construction of the new plant. They also announced their intentions to create a robust apprenticeship program — complete with a stipend and union membership — and invest $2 million in public health and environmental initiatives.
None of that ever happened.
PSEG claimed the construction jobs were too technical or dangerous for Bridgeport residents. While they did identify some Bridgeport residents or contractors for a handful of jobs, the number never came close to what was promised. Instead of the apprenticeship program they'd outlined, they created a limited pre-apprenticeship that offered no stipend and no guarantee of a job. And the $2 million? It was tied up by bureaucratic red tape. 
McCluster, Shaw, and other faith leaders throughout the city led protests, demanding accountability from PSEG. In April 2017, PSEG broke ground on the new plant and McCluster watched as the parking lot filled with trucks from New Jersey, New York, and Massachusetts. By early 2018, when the plant was approximately one-third complete, it was estimated that Bridgeport businesses had lost up to $95 million in potential contracts.
"The pastors felt they'd been lied to and used," says Shaw. "We joined together officially, and we grieved both the city and PSEG. We told them they'd not only broken the verbal promises they'd made, but they'd broken the specific agreements in the CEBA. They proceeded to delay, delay, and delay."
The Joinders, as the group filing the grievance called themselves, reached out to Earthjustice for help. Together, they came up with a plan to ask PSEG to give $1.5 million to fund a proposed Bridgeport Jobs Collective, a nonprofit organization that would encourage and partner with companies doing business in Bridgeport to train and hire local residents — particularly people of color, women, and veterans — with the city as the fiscal sponsor.
"Earthjustice is using our resources to help Pastor McCluster and the Joinders fight for the career opportunities and job training that were promised to this city. The Bridgeport Jobs Collective could be a lifeline for local residents as the city looks to rebuild from the economic meltdown brought on by the COVID-19 pandemic," says Raghu Murthy, the Earthjustice attorney advising the Joinders. "At the same time, we are learning from Pastor McCluster, Reverend Shaw, and the Joinders about how to advocate for an environmental justice community."
As of June 2020, the new power plant, Bridgeport Harbor Station, is open and running. PSEG has reported first quarter earnings of $448 million, even as the COVID-19 pandemic has plunged Bridgeport further into economic despair, with an unemployment rate of 10.6%, well above the statewide average.
And the Joinders await a response from PSEG after Bridgeport Mayor Joe Ganim sent them the Bridgeport Jobs Collective proposal.
"It's more important than ever to invest in Bridgeport residents," says Shaw. "We need a jobs collaborative that will work with the small and minority-owned businesses in the city to ensure that our residents have a fair shake at the jobs that are coming into Bridgeport."
The Joinders aren't giving up. They've been in this fight for more than three years, and they won't stop until PSEG fulfills the promises they made to Bridgeport residents.
"We're in it to make sure that the people of Bridgeport have the opportunities they deserve and that, never again, a company comes to Bridgeport and is able to do this," says McCluster.
Emilie has spent the past two decades as a journalist, speechwriter and communications strategist in Washington, D.C. At Earthjustice, she shares the stories of the people and issues at the heart of our clean energy litigation and policy work.
Earthjustice's Clean Energy Program uses the power of the law and the strength of partnership to accelerate the transition to 100% clean energy.