America's Next Best Idea: More Diverse National Parks
A recent event at the David Brower Center united environmentalists/conservationists of all ages, races and ethnicities to find ways to increase diversity in America's treasured parks.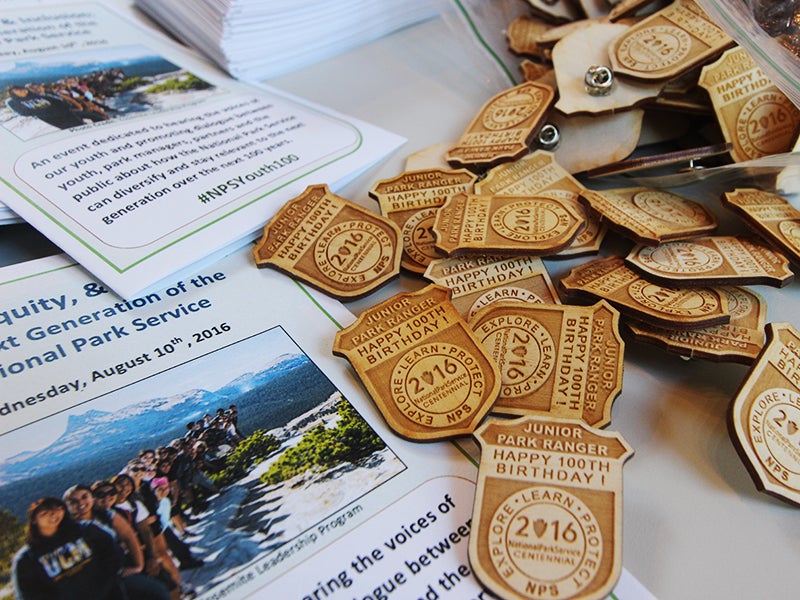 "I'm always impressed at what young people can do before adults tell them it's impossible." – David Brower
What do park rangers and teenagers have in common? Not much, until they came together this August to help diversify the outdoor recreation community. A panel of partners, including the National Park Service (NPS) and several outdoor engagement organizations, discussed "Youth, Equity & Inclusion: The Next Generation of the National Park Service" at the David Brower Center in Berkeley, California. The event included more than 100 park service representatives, environmental organizers, students and community members in a reflection of the past and a celebration of the future.
Despite recent attempts to recruit more racially diverse employees, the NPS has remained predominately white in both employment and park visitation since it was founded in 1916. At the panel, Kelli English, Chief of Interpretation for the NPS,  identified relevance, diversity and inclusion as major goals for the agency.
A coalition of three youth groups—the Youth Conservation Corps, Inspiring Young Emerging Leaders and Groundwork Richmond—convened at the event to share their experiences and thoughts about expanding diversity and inclusion efforts in the parks. The students discussed ways in which the NPS can attract a younger, more diverse crowd. The groups offered a youthful perspective on the importance of bringing people of color into the outdoors as well as nurturing the next generation's relationship with our natural world.
After the presentations, attendees broke into groups to discuss barriers and solutions to getting more people of color into the outdoors. Workforce diversity was the biggest concern; many groups concluded that changing the current demographics of the NPS workforce to better represent the U.S. population would naturally lead to more diverse visitors. If people see rangers who look like them in the national parks, it will create a more welcoming culture that incentivizes communities of color to get more involved.
According to Monte Welch, a park ranger at Point Reyes National Seashore in California, most of the NPS' Youth Conservation Corps employment is non-residential, greatly limiting the applicant pool to local youth. Recent studies (here and here) have shown that low income and minority communities, especially black and Hispanic neighborhoods, are disproportionately removed from park and recreational spaces. As a result, youth and adults who live away from parks often have limited access to these job opportunities, regardless of interest.
One way the park service can attract more diverse communities is to embrace new communications platforms. In the breakout sessions, 18-year-old Hung Thai paused his game of Pokémon Go to comment, "For most of us, it's all online. Social media is more effective in reaching out, rather than flyers."
Teresa Baker, founder of the African American Nature & Parks Experience, also discussed her success in organizing backpacking trips with the African American community through Facebook. The internet is proving to be a tremendous platform for reaching out to communities that may otherwise be underrepresented in national park spaces.
The National Park Service's 100th birthday is this year, and 2016 also marks the 150th anniversary of the Buffalo Soldiers, the seldom-mentioned, all-black regiments assigned to guard Yosemite National Park in 1899. Teresa Baker spoke about retracing the Buffalo Soldiers' trail from San Francisco's Presidio to Yosemite in honor of our nation's forgotten first park rangers. Earlier in 2016, Robert Hanna, the great-great-grandson of John Muir, successfully spearheaded a bill to rename a segment of California Highway 41 "Buffalo Soldiers Highway" to recognize their legacy. Untold stories like these are important narratives to add to the history of our national parks. We must work to acknowledge and educate the public about where people of color stand in the history of conservation.
Towards the end of the event, one of the attendees, Isabella Zizi, emphasized how given Native American communities' historical and cultural connections to America's land, the park service and environmental organizations need to work side by side with them to preserve and protect their ancestral homelands.
There are high hopes for the future of our national parks. Community organizations, such as Latino Outdoors and African American Nature & Parks Experience, both sponsors of the event, are partnering with the park service to create opportunities for people of color and people from low-income communities to participate more in the great outdoors. Through community building and partnerships, we're establishing new foundations to make the next century of America's best idea a truly inclusive one.
Vivian was a Communications Intern at Headquarters in San Francisco.