Amidst Climate Disasters, Trump and Pruitt to Scrap Clean Power Plan
As unprecedented hurricanes and wildfires rage across the United States, President Trump and Scott Pruitt try to ensure the U.S. does nothing to rein in climate change.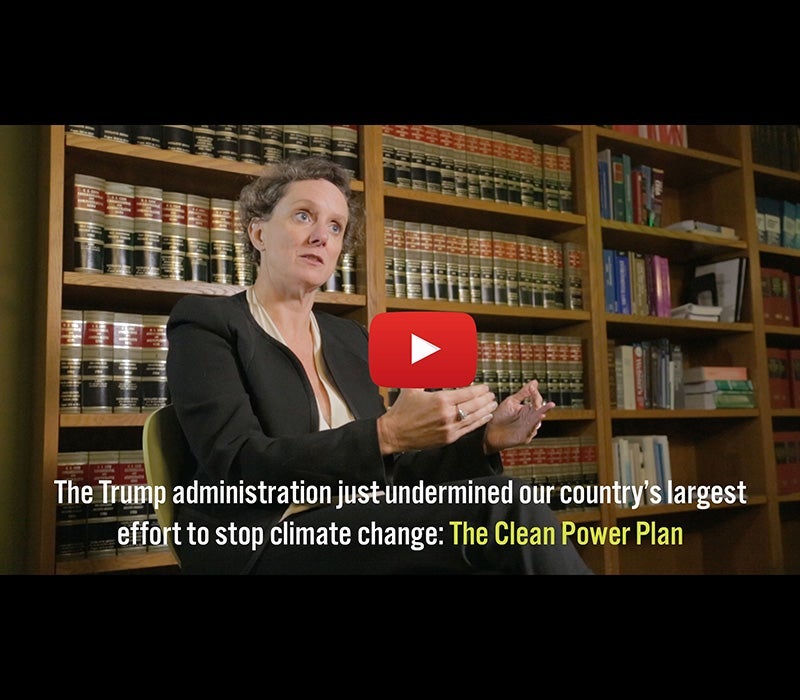 After two brutal category 5 storms in a row, Americans in Puerto Rico and the U.S. Virgin Islands have taken an unprecedented beating. They are still living without clean water, electricity, phone or internet, or reliable access to food, medicine and help. In the Gulf Coast, initial estimates found 450,000 people in need of disaster relief, with at least 30,000 in need of shelter. And in California, victims of the latest ferocious wildfires are still assessing the damage. Many Americans know someone who is hurting right now.
These powerful storms and wildfires are part of the long-term trend of climate change, and the longer we ignore the problem, the worse it will become. 
Meanwhile, in Washington, D.C., the president and his environment chief, Scott Pruitt, are unmoved. Today, Pruitt took the first step toward reversing the Clean Power Plan, the largest single action the U.S. has ever taken to combat climate change.
Adopted after nearly a decade of scientific study, policy analysis and public input, the plan provides essential standards to cut carbon pollution from power plants—our biggest carbon polluters. Today, Pruitt is proposing to repeal those standards by adopting a cramped interpretation of the Clean Air Act that would constrain the EPA's authority to rein in greenhouse gas emissions. He is seeking to codify the same legal argument that he advanced as Oklahoma's attorney general, when he and his fossil fuel allies sued the EPA over the Clean Power Plan. Now that he heads the agency, he is hoping to bypass the courts and hand industry a legal victory with very real consequences for the climate.
Who loses if we lose the Clean Power Plan? Everyone. Because the Clean Power Plan is a key driver for climate solutions around the world. By 2030, it would reduce U.S. greenhouse gas emissions by 32 percent from their 2005 levels. That reduction embodies our commitment to China and 190 other countries to act on climate change, a crisis that we, more than any other country, are responsible for creating. As the rest of the world is well aware, it will be impossible to rein in the damage without us.
Here at home, the Clean Power Plan obliges state energy regulators to start engaging our energy future instead of propping up polluters as usual. It works by imposing carbon limits that reduce coal burning and ramp up solar and wind power generation. The plan helps drive the imperative shift from fossil-fueled energy to 100 percent clean power, with huge benefits not only for climate protection but also for clean air, clean water and new jobs. 
For years now, Scott Pruitt has been entrusted with protecting the public, of Oklahoma and now as administrator of the Environmental Protection Agency, and he has used his power in both positions to attack the Clean Power Plan, proclaiming government "overreach." In reality, the Clean Power Plan is notable for its regulatory restraint and the flexibility it affords to states and industry in meeting its targets. Most utilities have already accounted for the Clean Power Plan and are ready and able to comply without risk to the economy or the electric system.
So, who will benefit from dismantling a climate plan that is already falling into place? The president and Pruitt will presumably score a few political points with their base, and maybe some coal execs will fly down to Mar-a-Lago to celebrate a symbolic victory. But trashing the Clean Power Plan will not bring back the coal industry, which can no longer compete with cleaner, cheaper energy, and it won't put money back into coal country, where communities need less political posturing and a lot more real investment in economic transition.
The devastating storms of the last few weeks are a call to act—to act on climate and, most urgently, to protect the vulnerable communities that suffer first and worst from natural disasters. No government in the world is better positioned or better resourced than our federal government to lead on climate science, climate finance and a rapid transition to clean energy. As our leaders refuse to rise to this challenge, Earthjustice will be working to hold them accountable in court. We all must work together to hold them accountable in the court of public opinion.
Abigail Dillen serves Earthjustice as our President, leading the organization's staff, board and supporters to advance our mission of using the courts to protect our environment and people's health.