An Ill Wind Blows in Moapa
It starts with a warning. Then it's just a matter of which way the wind blows.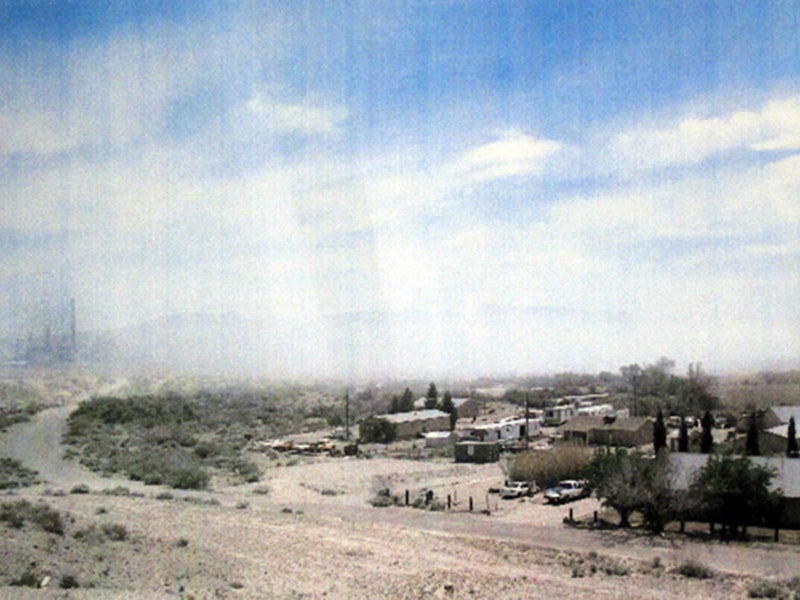 It starts with a warning. Then it's just a matter of which way the wind blows.
In the evening, someone will go from house to house and tell the neighborhood that tomorrow will be a windy day and perhaps, a bad air day. The next afternoon—if the conditions are just wrong—a toxic dust called coal ash picks up from the landfills and slag ponds of the coal-fired Reid Gardner Power Station and heads towards the reservation like a sandstorm.
"But this is a sandstorm that burns your skin, buries in your lungs and kills your neighbors," says Calvin Meyers, a tribal elder who lives on the reservation, the tribal home of a band of Paiute Indians that sits about 30 miles north of Las Vegas and about 300 yards from Reid Gardner.
Meyers and the remaining 310 members of his tribe are locked in a David-and-Goliath struggle against one power plant's desire to expand and an industry's desire to keep a dirty secret.
It's no secret that coal is our dirtiest energy source. It's laced with mercury, arsenic, lead and other toxics and as it's burned it creates huge problems for our health. All across America, these contaminants billow out of smokestacks and spill out of wastewater pipes right into our lungs and drinking water.
Let's call this the front door. Now, if this is what big coal is taking out the front door, the next logical question is what are they taking out the back?
The answer: coal ash.
Coal ash is the waste leftover at the end of the coal burning cycle. It's laced with the same arsenic, mercury, lead and other toxics. It's the second largest waste stream in America—15 billion tons of toxic sludge per year. And here's the dirty little secret: it's subject to less regulation than the garbage you take to the curb every week.
It sits in unlined pits in Moapa and unlined landfills in Alabama. It's put behind old leaky dams in Pennsylvania. It basically goes wherever big coal says it will. And where it goes, people get sick.
"I can taste the salts of it coming into my mouth and sometimes when I sweat my skin burns," said Meyers, who I met on my first day in Moapa. He introduced me to people who told similar stories of health problems. (Photo of Calvin by Chris Jordan/Earthjustice)
"I've had a sore throat for six months," said Eunice Ohte, a tribal elder who is one of several women on the reservation with hyperthyroidism. (Photo of Eunice by Chris Jordan/Earthjustice)
"I never had asthma until I moved here and now I have to use an inhaler," said Deanna Domingo who moved onto the reservation a few years ago. (Photo of Deanna by Chris Jordan/Earthjustice)
"I used to have an incredible memory and now I'm having trouble remembering simple things," said former Tribal Chairman Vernon Lee. (Photo of Vernon by Chris Jordan/Earthjustice)
"I've always been healthy, and now my heart has been constantly racing for several months," said Vickie Simmons. "For years I didn't even know what it was that was blowing from the plant onto the reservation," she added. "Once we learned what coal ash was and what's in it, well that's when we stood up and said 'No.'" (Photo of Vickie by Chris Jordan/Earthjustice)
Simmons and I went on a hike to a mesa that overlooks the plant and some of the homes on the reservation. While we were standing there, a cloud of coal ash picked up from one of the dry slag ponds. It billowed out to about the size of a large house and then it traveled a few hundred yards before settling back down.
"Oh my God," I said.
"That's nothing," Vickie told me. "That sort of stuff is pretty much constant. On the bad days, you have to run for your house because it takes over the whole place."
Reid Gardner has announced that it wants to expand the coal ash landfill and waste ponds for the plant, and the people of the Moapa River Reservation have voiced their disapproval of the idea.
But actions often speak louder than words.
The next day I went with Simmons to her new job. Twice a week she heads into the desert about 5 miles from her house and checks a meter that measures the sun's intensity.
Vickie Simmons works at the test station where the new Moapa Paiute solar plant will be. "I'm the first green energy worker here and so I'm really proud," she said. Photo: Chris Jordan/Earthjustice
The tribe is about to become the first in America to install a large-scale solar plant and Simmons is the first worker in their new "Green Energy" program.
The deep, dark irony of the Paiutes' situation is that none of their power comes from the Reid Gardner coal plant. So they get all of the problems and none of the benefits. Rather than dwell on this sad fact, the tribe is seeking a new way forward, one that moves past dirty coal.
"What we've got is land and sun, and we are tired just sitting here and taking pollution from this plant," said William Anderson, tribal chairman of the Moapa Band of Paiutes. "So we're gonna go ahead and do something about it. To go ahead and have a solar project is to say, 'Hey, there are alternative ways.'"
William Anderson: "To go ahead and have a solar project is to say 'hey, there are alternative ways.'" Photo: Chris Jordan/Earthjustice
As the sun set at the future solar plant, Simmons climbed a ladder and took her readings. The shadows from the desert plants grew long and for the first time since I'd been on the reservation I couldn't see or hear the Reid Gardner plant. Simmons climbed down from the ladder and a few minutes later we saw a hawk fly overhead. I couldn't help but think what a brighter alternative this was.
"I just feel like the Indian people are here for a reason," Simmons later said to me. "Maybe it's to try to help do what we can to preserve the environment."
We can hope.
The sun sets on the Reid Gardner coal plant. The Moapa Paiutes hope that dawn will bring something new. Photo: Chris Jordan/Earthjustice
A note of appreciation: Many thanks to the Moapa Band of Paiutes for allowing us to tell this story and to Vinny Spotleson of the Sierra Club and Dan Galpern of the Western Environmental Law Center for helping with the project.
Chris Jordan-Bloch is a photographer and filmmaker for Earthjustice. He uses videos, photos, audio and words to tell the stories of Earthjustice and the people and places we fight to protect.