As Alaska Overheats, Trump Administration Policies Could Make Things Worse
Anchorage just experienced its hottest two days on record.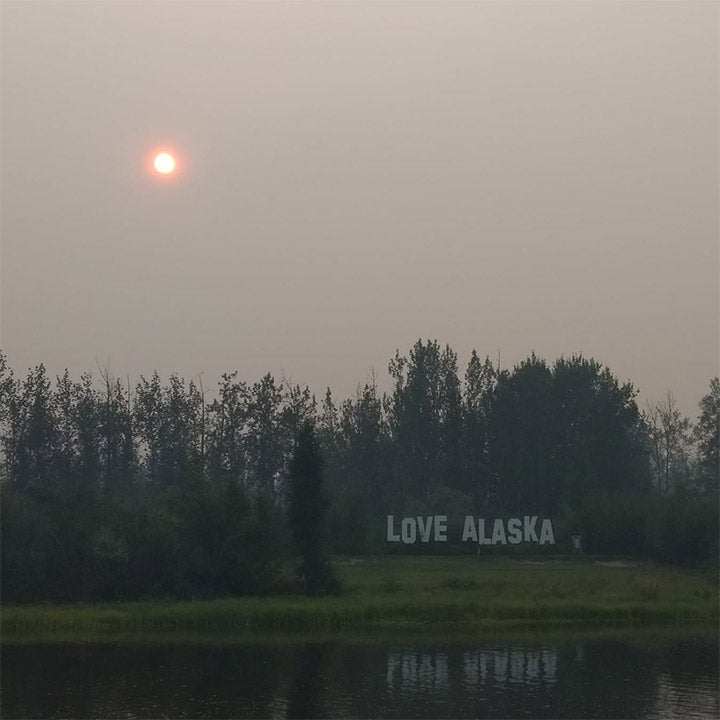 News headlines this week warn of a "widespread, oppressive and dangerous" heat wave soon expected to grip much of the continental United States. Meanwhile, Alaska recently experienced its hottest two days on record, with temperatures rising to 90 degrees in Anchorage and even hotter elsewhere in the state.
Nine out of the 10 warmest years on record have occurred since 2000, a trend scientists attribute to climate change caused by human activity. This past June, it seems, was the hottest ever recorded globally, and July is in the running to become the hottest July ever recorded.
Anchorage isn't exactly equipped to deal with hot weather. It's a place where outdoors enthusiasts pedal fat bikes across glaciers, or clip into skis to hit snow-covered trails all winter long. A typical Alaska summertime can bring many cool, misty days — long-sleeve weather. That's why fans instantly flew off store shelves when the recent heat wave hit. As if perfectly encapsulating the surreal clash of sweltering heat in the northern land of the midnight sun, an online video of a moose cooling off under a sprinkler in someone's front lawn went viral.
While scorching heat can spell trouble no matter where it strikes, Alaska is especially vulnerable. Long-term residents have long witnessed the phenomenon of receding glaciers, yet the recent temperature spike brought more immediate jarring impacts. In Bethel, there were reports of salmon dying suddenly, likely from cardiac arrest, when the waters of the Kuskokwim River heated up to never-experienced levels.
Along the North Slope of Alaska, which lies within the Arctic Circle alongside the Arctic Ocean, thawing permafrost and coastal erosion have already begun to wreak havoc for coastal communities. Indigenous Arctic villages are hardest hit, as some have had to contend with coastal village relocation and new challenges associated with food security due to reliance on traditional hunting practices.
It's in this context, of course, that the current administration is seeking to open the irreplaceable Arctic National Wildlife Refuge to oil and gas drilling, while at the same time trying to undo protections against logging in southeast Alaska's magnificent Tongass National Forest. At the same time, the federal government has opened the doors to more oil and gas drilling in the Western Arctic, and has sought to allow offshore drilling to take place in the Arctic Ocean.
Each of these industrial schemes would result in still more climate consequences. Extracting and burning new oil and gas reserves from the Arctic will only ramp up greenhouse gas emissions, fueling a dizzying trend toward sweltering heat, melting ice sheets, and unpredictable consequences. Meanwhile, logging ancient trees from the Tongass will remove the current benefit the vast temperate rainforest now provides as a counterweight against climate impacts, since trees naturally absorb carbon.
In September, the House of Representatives will vote on a bill to prevent the Refuge's biologically rich coastal plain from being auctioned off to the fossil fuel industry. And while the U.S. Forest Service is gearing up to release a plan to weaken protections against logging in the Tongass by tampering with the longstanding national Roadless Rule in Alaska, it's sure to be met with strong opposition.
To stay abreast of these fights and support Earthjustice's work to fight climate change and protect public lands in Alaska, follow us on social media and sign up for our email list:
Based in Portland, OR, Rebecca is Earthjustice's Public Affairs and Communications Officer for lands, wildlife, and oceans.
Opened in 1978, our Alaska regional office works to safeguard public lands, waters, and wildlife from destructive oil and gas drilling, mining, and logging, and to protect the region's marine and coastal ecosystems.