As Scientists Sound Climate Change Alarm, States Lead on Solutions
With Trump gutting environmental protections, states must take charge on smart climate policy.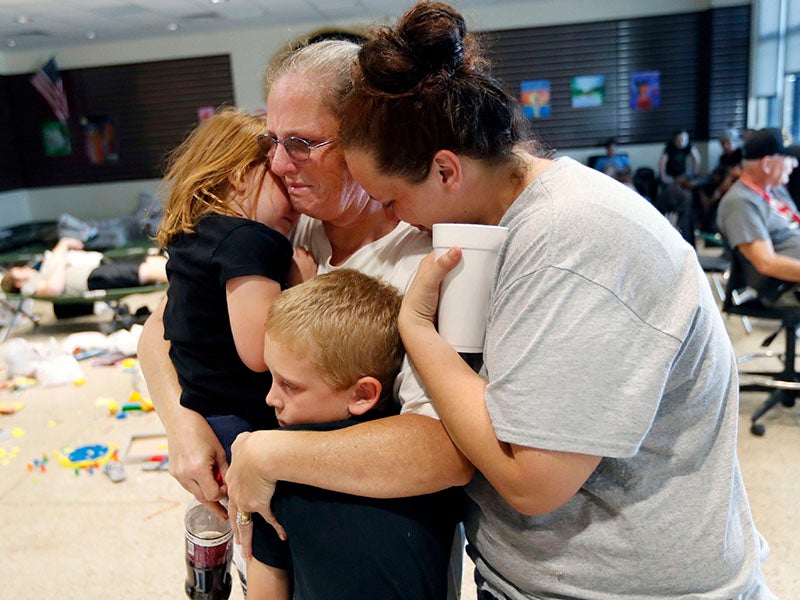 This column originally appeared in USA Today.
The world's leading panel of climate experts sounded the alarm this week that we are running out of time to get rising temperatures under control. Its latest report calls for "rapid, far-reaching and unprecedented" steps to avoid the worst impacts of climate change, from worsening wildfires and extreme drought to rising sea levels and more powerful storms. It also reminds us what is at stake if we fail to act: our health, our food and water security, our environment and our economy.
These risks are no longer hypothetical. Across the country, we are already seeing the devastating impacts of extreme weather fueled by climate change. As the Carolinas deal with the aftermath of catastrophic flooding from Hurricane Florence and Florida deals with Hurricane Michael, wildfires across the West have burned an area larger than the state of Maryland.
Meanwhile, the Trump administration is ignoring the threat of climate change and continuing its assault on critical protections of our air, water, land and wildlife. With a president determined to prop up the fossil fuel industry at the expense of public health and the environment, it is easy to feel discouraged.
But there is reason for hope.
States are picking up the federal government's slack
In the absence of leadership in Washington, D.C., states are stepping up to the plate. They are building powerful and diverse coalitions that center the voices of those most directly impacted by pollution. They are standing by our international climate commitments, despite President Trump's pledge to withdraw from the Paris Agreement. And they are enacting smart policies that move us towards a clean energy future, even as the Trump administration tries to turn back the clock.
California recently passed SB 100, committing the state to 100 percent clean energy by 2045.
This is no small feat for the fifth largest economy in the world, and one of the nation's largest oil producing states. California is already home to half a million clean energy jobs, and this move accelerates the state's momentum towards a carbon-free grid. With SB 100, California is proving that a healthy environment and a thriving economy can — and must — go hand-in-hand.
California follows Hawaii, which passed a similar measure in 2015 to transition to 100 percent renewable energy by 2045. And in Massachusetts, the state Senate recently passed a bill to power the state with 100 percent renewable energy by 2047. As clean energy becomes increasingly affordable, these targets are within our reach.
Inclusivity is the key to smart climate policy
This November, voters in Washington state will consider a ballot initiative that would cement the state's leadership on climate change. Initiative 1631 would impose a modest fee on the state's largest climate polluters, generating billions in revenue for clean energy infrastructure, clean transportation options, job training and the local communities most impacted by pollution. The initiative would become the first-of-its-kind to be enacted directly by voters.
Initiative 1631 was crafted through an inclusive process that brought stakeholders together from more than 250 organizations. It is backed by tribal nations, groups representing communities of color, health professionals, businesses, scientists, faith groups and clean energy advocates. The result is a thoughtful approach that will ensure a smooth — and just — transition to clean energy.
Both SB 100 and Initiative 1631 demonstrate how inclusivity and collaboration lead to smart climate policy that benefits all of us. They also underscore the critical role of states in solving our climate crisis, especially at a time when politicians in D.C. are letting us down.
At Earthjustice, we're fighting the Trump administration's attempts to gut environmental protections with more than 100 lawsuits filed in federal court — many of which attempt to protect communities and the planet from pollution caused by fossil fuels. We're working to ensure that our transition to clean energy advances equity and justice for those communities impacted most by climate change. And we're partnering with states on the frontlines of our climate fight that are setting an example for the country and the world.
Even in the Trump era, progress is possible on climate change — and states must continue to lead the way.
Abigail Dillen serves Earthjustice as our President, leading the organization's staff, board and supporters to advance our mission of using the courts to protect our environment and people's health.