Biden Says 'I'm in!' for Protecting Wolves
He's looking for guidance on how to do it. We have some ideas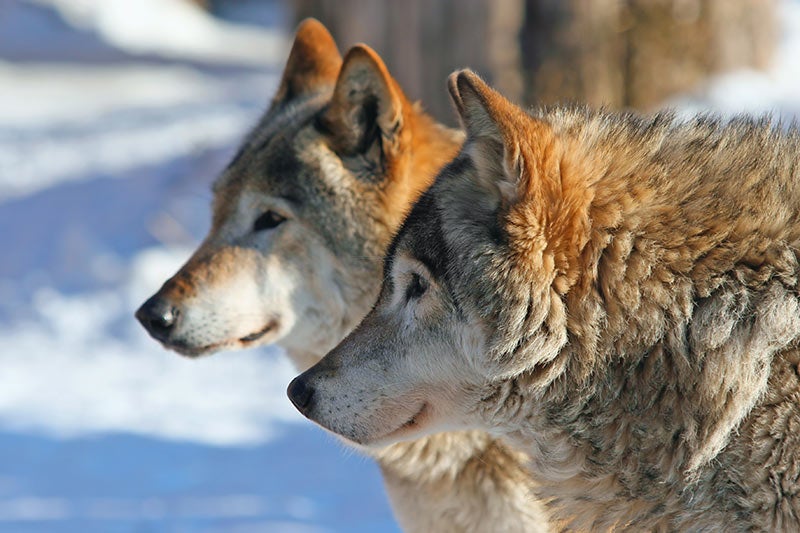 President Biden has been getting an earful lately from a few influential people worried about the fate of wolves, and he's seeking guidance on what to do to protect them.
Appearing this week on Brave Wilderness, a popular children's YouTube program that focuses on connecting its young audience to the great outdoors, President Biden talked about concerns he's hearing from his grandchildren.
"One of the things I'm getting from my grandkids — some of them are really little — they're calling me and saying 'Pop, they're going to kill all the wolves! Why's that happening, Pop?'" President Biden said.
He appeared on the YouTube show alongside Dr. Anthony Fauci to encourage Americans to get vaccinated for Covid-19, which will allow more freedom and safety while traveling this summer, particularly to America's treasured national parks. But halfway through the conversation, President Biden brought up his grandchildren's concern for wolves.
This is heartening given the dire circumstances wolves face today. The Trump administration in its last days in power removed federal endangered species protections from wolves across the country. Shortly thereafter, hunters in Wisconsin killed over 200 wolves in less than three days. The hunt involved deeply inhumane and unsporting tactics, including the use of bait and snares and dogs to flush the exhausted wolves into firing lines. Earthjustice is in court challenging the Trump administration's unlawful and unscientific decision.
Elsewhere, Idaho and Montana have adopted extreme policies to allow hunts that would kill up to 90% of the wolf populations in those states. This would negate decades of success recovering the species in the Northern Rockies potentially tipping wolves' trajectory back toward extinction. The hunts are expected to begin this summer.
During the YouTube conversation, host Coyote Peterson mentioned one of his favorite video projects was with the Colorado Wolf Center, to educate kids about the plight of wolves and how sorely they need federal protections. He said he was encouraged to hear the president cares about wolves.
"I'm in! I'm in!" President Biden responded. "Let me know the places you think, I mean this sincerely now… are the most at-risk natural resources out there. I have my views and I'm working on them, and have someone [Administrator Deb Haaland] at the Department of Interior who really cares about it. You oughta talk to me about it."
This call for input on how to save the wolves is welcome, and we have some ideas. Ultimately, getting Endangered Species Act protections back for wolves is the most important thing we can do. The president is reviewing the decision to delist wolves now and he has the power to undo it.
We also urge federal agencies to adopt stronger policies to protect wolves on public lands in places like Idaho and Montana which — due to Congressional carve outs — are excluded from federal protections unless the populations go into freefall.
We are heartened the president cares about the wolves and recognizes that our children and grandchildren deserve to inherit a world where wolves remain in the wild, and not just as dusty relics in a museum.
Speaking about the youngest generation, President Biden said, "I want them to see and understand that we all have a responsibility to nature, but we also have a responsibility to one another." Take action today to ask the Biden administration to reinstate endangered species protections for wolves.
Why is a phone number required? Unfortunately, the Biden administration requires that your letter includes certain information, including a phone number. We only ask for a phone number because of this requirement. If your letter does not include a phone number, it cannot be delivered to the Biden administration's electronic mail system.
Maggie worked at Earthjustice from 2014–2021.
The Biodiversity Defense Program fights to reshape our relationship to lands, water, and wildlife everywhere by confronting the major drivers of the decline in nature, including habitat destruction and over-exploitation of wildlife.
Established in 1993, Earthjustice's Northern Rockies Office, located in Bozeman, Mont., protects the region's irreplaceable natural resources by safeguarding sensitive wildlife species and their habitats and challenging harmful coal and industrial gas developments.