Big Ag Looking For Free Pass in Florida
Florida's Big Ag lobbyists are pushing to make water quality enforcement a voluntary endeavor.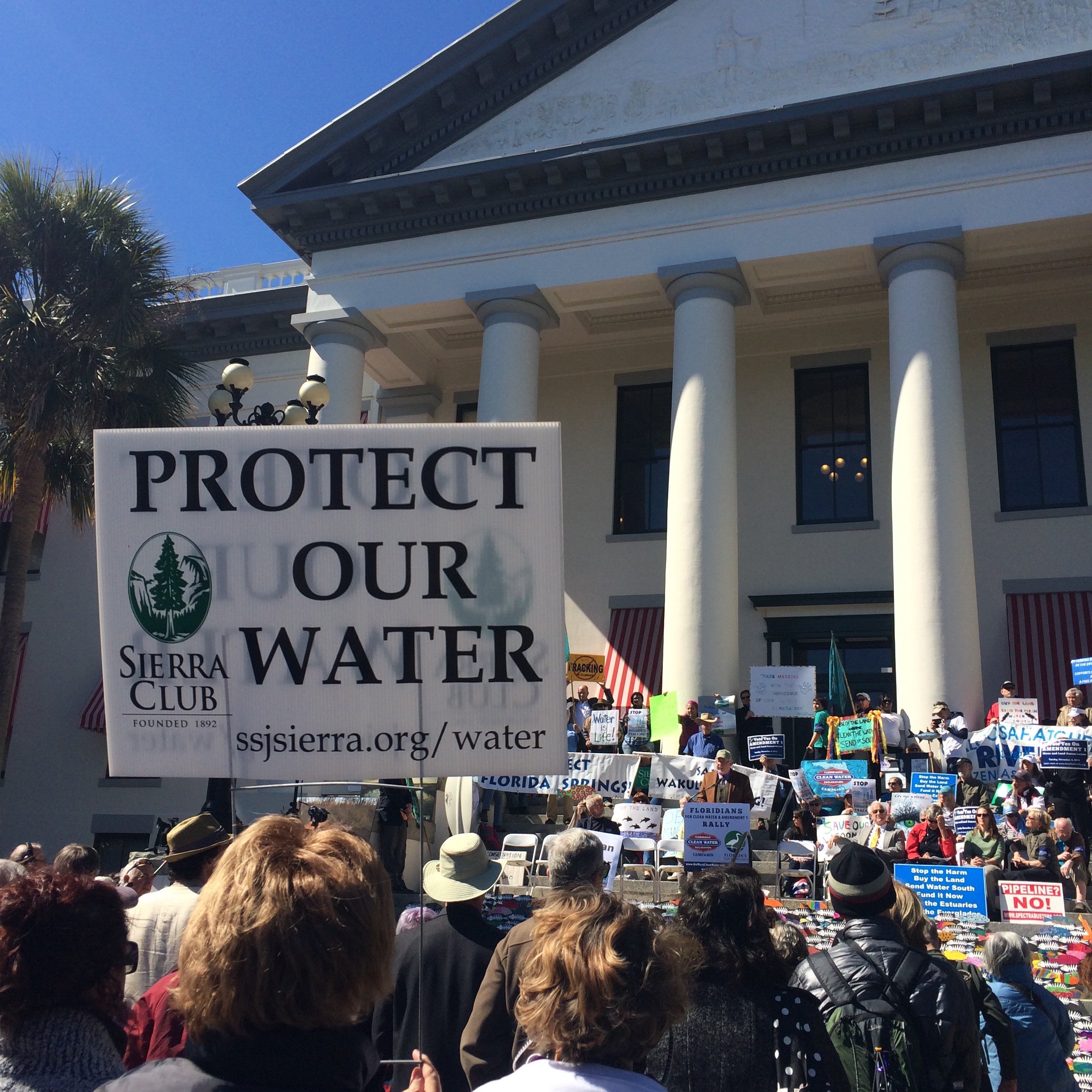 Hundreds of people convened on Florida's Capitol in Tallahassee on Feb. 18 to demand that the state's leaders honor their right to clean water. Many of them rode for hours on buses from waterfront communities that have suffered heartbreaking episodes of green slime—toxic algae outbreaks sparked by pollution from sewage, manure and fertilizer.
But the draft legislation that's been introduced in advance of the Florida legislature's 60-day session won't help them, not one bit. In fact, it would make the problem worse.
At the behest of Big Agriculture lobbyists, politicians are proposing to get rid of Florida's water pollution permits and replace them with a voluntary program with the feel-good name of "Best Management Practices." It's all well and good to improve methods on agriculture operations so that pollution doesn't keep running into the public's waterways. But large agricultural corporations have convinced the state to let them off the hook as long as the polluters claim they are changing the way they handle manure and fertilizer.
This is simply legalizing pollution. Instead of requiring permits, the state would just be asking polluters, "What's your plan?" That alone would be considered compliance.
Worse yet, if polluters claim that they have a plan to prevent pollution, the state exempts them from any monitoring to check if Big Ag operations are actually keeping contaminants out of our public water supplies. It is like taking the radar guns and ticket books away from the Florida highway patrol. As long as a driver presents a plan for speed control, they can't get speeding tickets.
Once again, this leaves the cost of pollution cleanup with the taxpayers, a fact that the polluter lobbyists in Tallahassee and their political friends in the legislature are hoping we won't notice.
The bill's provisions regarding South Florida's Lake Okeechobee—home of Big Sugar—are a particular insult to taxpayers. At present, polluters are legally discharging 300 tons of phosphorous over the legal limit, and the legislature is proposing a plan that will only reduce pollution by 100 tons over 10 years.
Plans are a way to avoid taking action. To add one more plan is to say, "I give up. Lake Okeechobee is not worth saving."
We are counting on public pressure to keep these disastrous policies off the books and ensure that Florida's water policy protects people, not polluters.
David Guest worked at Earthjustice from 1990 to 2016, as the managing attorney of the Florida regional office. His countless legal battles were, in one way or another, all about water. His motivation to protect Florida's water came from years of running boats in the state's rivers and lakes, which convinced him that waterways are many people's spiritual connection to nature.
The Florida regional office wields the power of the law to protect our waterways and biodiversity, promote a just and reliable transition to clean energy, and defend communities disproportionately burdened by pollution.