'Big Pizza' is Lobbying Congress to Put Profit Ahead of Public Health
Major pizza chains and convenience stores are fighting the federal menu labeling law in a bid to hide calorie counts.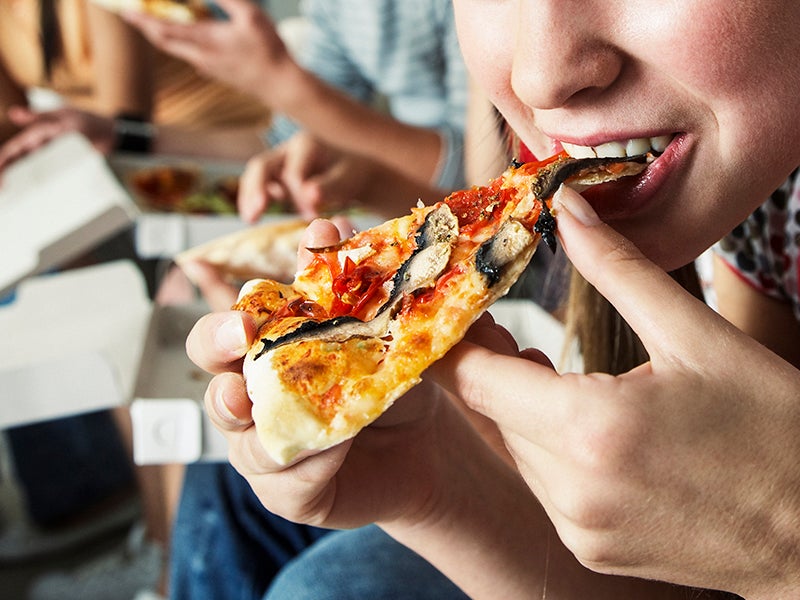 Update, May 7, 2018: Consumers will be able to make more informed choices about their health starting today. After hearing from Earthjustice supporters and other Americans who want to know what's in the food they're eating, Congress did not pass the menu labeling exemptions for which a handful of pizza and convenience store chains had lobbied. The FDA's calorie counting rule is now in effect.
Original post, March 7, 2018: Domino's, Papa John's and other pizza restaurants are trying to undo a major public health law that lets consumers know how many calories are in prepared foods. While most major restaurant chains, top grocers and convenience stores are already listing calorie counts, a group of outliers is lobbying Congress to keep consumers in the dark about what we're eating.
The federal menu labeling law, which requires calorie counts to be posted on menus, is supposed to go into effect in May. Earthjustice attorneys have already stopped one attempt by the FDA to delay it further.
But the American Pizza Community, the National Association of Convenience Stores, which includes Sheetz and Cumberland Farms, and the Food Marketing Institute and National Grocers Association, which includes many independent IGA, Piggly Wiggly and Shoprite franchises, balked — and asked Congress to intervene. The House just passed a bill that would roll back the requirements, and now the Senate is considering a similar proposal.
If the bill passes, take-out pizza chains would be exempt from posting calories inside their restaurant, and other chains could keep consumers in the dark by playing with portion sizes or hiding calorie counts on menus far away from the food (like by the cash register). There's also a budget measure being negotiated in the Senate that would delay the implementation of the existing law.
Either way, consumers won't be able to get the information they need to make healthier food choices. This is information Americans want: A poll found 80 percent support for menu labeling. Rolling back or delaying menu labels simply helps perpetuate a dysfunctional food system that pushes more unhealthy food onto our plates and pollutes the environment in the process.
Americans consume one third of their calories outside the home, and studies show that when we eat out, we vastly underestimate the calorie content of our food. Who would expect that a regular Oriental Chicken Salad from Applebee's would have 1,400 calories, while the Bourbon Street Chicken and Shrimp has 620 calories? Or cheese fries with ranch dressing from Outback Steakhouse has nearly 1,800 calories?  Even professional dieticians often are far off in their assessments of the calorie counts of menu items.
When calorie information is available, consumers use it and restaurants respond. A study in Philadelphia found that consumers purchased 150 fewer calories, on average, when nutrition information was displayed. Chain restaurants in King County, Washington, decreased the calorie content of their entrée items by an average of 41 calories each after a local nutrition labeling law took effect. A national study of menu labeling laws found that the number of healthier menu items at fast-food chains increased 13 to 20 percent when the restaurants were subject to state nutrition labeling requirements. 
Considering how often we eat out, even small reductions make a big difference in our overall health. The FDA says that federal menu labeling laws could save $3.7 to $10.7 billion over the next 20 years, simply by reducing the health care costs of obesity-related disease.
There are environmental benefits, too. By nudging restaurants to create smaller portion sizes, labeling laws will reduce the amount of food waste in landfills, which creates dangerous climate pollution as well as air and water pollution. Plus, giving consumers access to more information about what's in our food is an important first step in reducing the environmental impacts of our food system.
Today, the industrial production of food — especially meats, dairy products and grains — consumes vast amounts of land and water and generates hazardous air and climate pollution. A broad shift toward healthier diets, including more fruits and vegetables, will help encourage the production of food that can be produced and consumed sustainably.
The nation's 50 biggest restaurant chains, as well as many major supermarkets and convenience stores, are already providing calorie information for consumers in anticipation of the law, which has been in the works for more than seven years. It's high time for all these food sellers to play by the rules and give consumers the information they need to make healthier food choices.
Tell your senators that you have a right to know what's in your food, and urge them to reject any attempt to roll back or delay federal nutrition label laws.
Based in New York, Peter Lehner (@p_lehner) directs Earthjustice's Sustainable Food & Farming Program, developing litigation, administrative, and legislative strategies to promote a more just and environmentally sound agricultural system and to reduce health, environmental, and climate harms from production of our food.
Earthjustice's Sustainable Food and Farming program aims to make our nation's food system safer and more climate friendly.