Broken Laws and Public Trust in Seattle
Shell and its Arctic drilling rig, the Polar Pioneer, have already run roughshod over Washington state and Seattle laws—and they plan to come back this November for round two.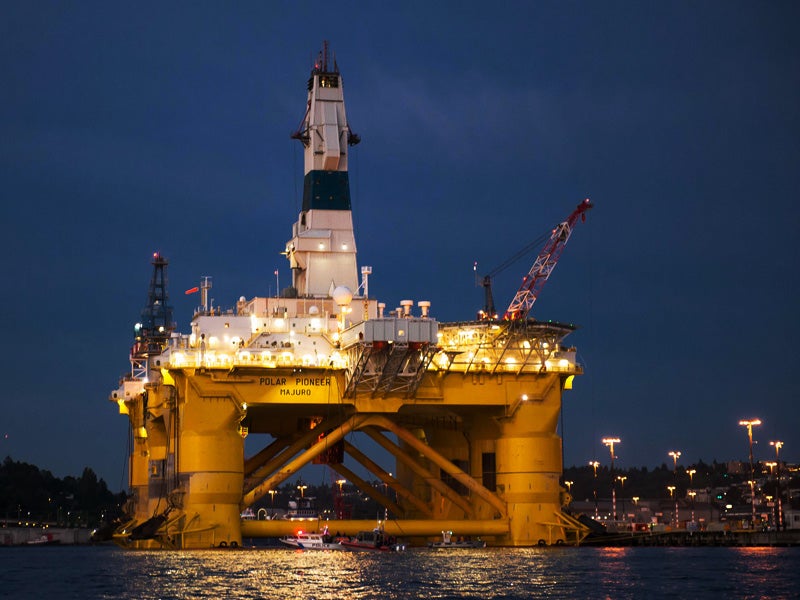 As Shell's 300-foot tall Arctic drilling rig motors north this month, it's leaving behind a sheen of broken laws and eroded public trust. Yet the Polar Pioneer is not leaving Seattle because the city found that mooring the rig broke the law. It isn't leaving because of the groundswell of public opposition. It isn't leaving because of the harms already caused to public navigation in Seattle. It's leaving to pursue Shell's Arctic drilling at any cost.
Of course, Shell plans to come back, an Arctic-battered and Arctic-battering interloper in green Seattle's seascape. As Shell heads north to drill in areas only accessible because of fossil-fuel-driven climate change, we should use this moment to tally the legal violations that made possible the Polar Pioneer's short Seattle stay. And then we should ask whether it was worth it.
Six months before the Polar Pioneer arrived, negotiations for Shell's long-term use of the Port of Seattle's Terminal 5 began. The port kept the talks quiet with a non-disclosure agreement, except for a notable exception: at some point, news of the plan for a Shell drilling supply base leaked to industry lobbyists. In an extensive lobbying campaign, those groups pushed elected officials to allow the lease, all while the public at large remained unaware.
After the behind-closed-doors negotiations, the port decided to exempt itself from the state's Environmental Policy Act by claiming that a drill rig supply base is the same as a container terminal. That's plain wrong: a drill rig supply base by any other name is still a new, harmful use of Seattle's waterfront. That's why we're challenging the port's decision that allowed it to sidestep public review.
Soon after Earthjustice filed our lawsuit, the city of Seattle found that the port does not have the correct permits to allow Shell to park in Seattle. We intervened in that case, over the port's attempt to keep us out. But despite the city's finding that Shell couldn't moor here, Shell decided to come to Seattle anyway. Then Shell arrived in the Seattle area with a bang. Its icebreaker vessel Aiviq crashed into a dock in Everett, Washington because of a thruster malfunction.
Next, the National Transportation Safety Board found that Shell was responsible for the grounding of its oil rig Kulluk in the winter of 2012. That's in addition to a Shell contractor's eight felony convictions for pumping oil overboard and other violations during the same bungled Arctic drilling expedition.
Add to that: Washington state found that Shell's long-term mooring at Terminal 5 would violate the Washington state constitution because it impairs public navigation. And soon after, King County told the port that it had the wrong waste discharge permit for the Shell homeport at Terminal 5.
I count seven violations of the law and public trust already. That isn't how it's supposed to work. The public and decision-makers should know all the dangers from a risky proposal like Shell's before it's too late. But the Port of Seattle skipped that important step, and from its arrival until its welcome departure, the Polar Pioneer broke the law.
In light of this record, should Shell's giant oil rigs come back to Seattle when its drilling season ends in November? Shell no.
Read more about the Arctic in The Battle for Seattle magazine feature and Frozen Treasure: Defending the Arctic photo essay.
Matt was part of the Northwest regional office in Seattle from 2013 to 2016. He was a graduate of New York University School of Law, where he was a Root-Tilden-Kern Scholar, and the Harvard Kennedy School of Government, where he obtained a Master in Public Administration.
Established in 1987, Earthjustice's Northwest Regional Office has been at the forefront of many of the most significant legal decisions safeguarding the Pacific Northwest's imperiled species, ancient forests, and waterways.