California County Agency Caught Colluding with Polluters
Court denies permit for crude-by-rail terminal sewer system in Bakersfield, Calif., after rejecting air control board's funny math.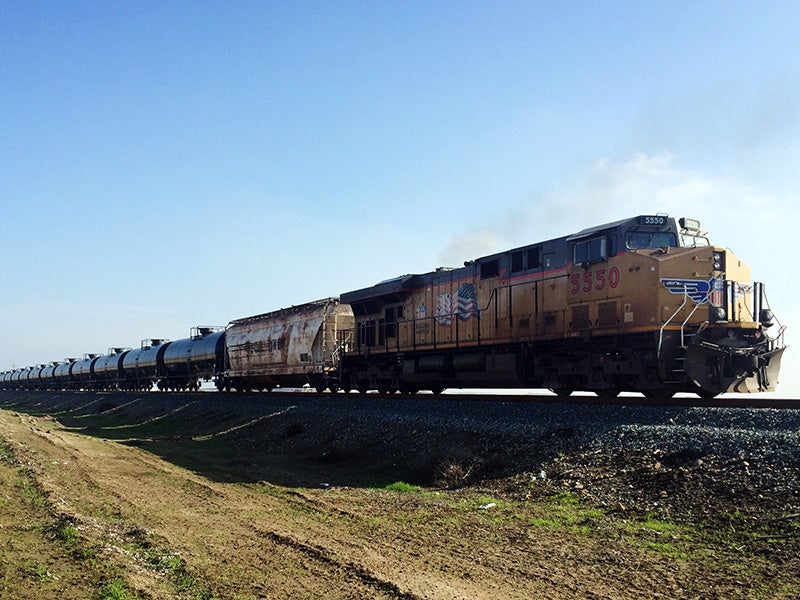 A California appellate court has rejected a permit critical to a crude-by-rail terminal in Bakersfield, a city that already suffers from some of the worst air quality in the country.
The case unmasked how the county agency that is tasked with protecting air quality and public health instead colludes with polluters and prioritizes corporate profits.
The San Joaquin County Valley Air Pollution Control District—known as the Air District—helped the Bakersfield Crude Terminal (BCT) dodge an environmental review during the permitting process for a sewer system tied to the facility.
Environmental groups represented in court by Earthjustice stopped BCT's efforts to fast-track the sewer system. In a decision on June 23, the California Court of Appeals for the 5th District Court found that the Air District could not use the methods it employed in the application review process to conclude that the proposed sewer project was exempt from the more extensive environmental review that's required under the California Environmental Quality Act.
The decision leaves it to the state court to decide whether project activity should be suspended.
The case revealed the way the air district worked with the BCT project manager to tabulate emissions in ways that were intended to avoid triggering a major environmental review.
Court documents showed that an Air District engineer asked the BCT project manager to look for any discrepancies in his calculations and the project manager suggested ways to keep the proposal slightly under the threshold of 20,000 pounds per year of Volatile Organic Compounds (VOCs), a major contributor to smog. Projects that exceed 20,000 pounds of annual VOCs trigger environmental impact reviews, which would involve public meetings and mitigation of emissions, before a project can be approved.
Court documents also revealed that the Air District effectively discounted 509 pounds of VOCs that would be emitted by the sewer system, which the court said it could not do.
"The most important thing about this victory is unveiling the secret pattern of permitting that took place."
VOCs are severely detrimental to health. Bakersfield is especially at risk for harm from VOCs, as it ranks highest in the nation for short-term particle pollution and has the second worst levels of ozone pollution. Both forms of pollution are linked to lung illnesses, like asthma, as well as heart disease.
Earthjustice represented Communities for a Better Environment (CBE), the Association of Irritated Residents, STAND, Sierra Club and the Center for Biological Diversity in this case.
Former Earthjustice Attorney Yana Garcia, who helped handle the case, said the Air District has gotten away with prioritizing the interests of polluters over the health interests of residents for many years.
"The most important thing about this victory is unveiling the secret pattern of permitting that took place, exposing this end run around the law," Yana said. "This community should never have had to face the risks that this terminal brought to their lives."
The decision noted that Kern County, where Bakersfield is located, failed to publicize a description of the proposed crude-by-rail terminal and its location, making it virtually impossible for the public to have a say in its construction.
Tom Frantz, president of the Association of Irritated Residents, said the decision provides "clear evidence of how the air district goes out of its way to favor the big polluters." Frantz added that "the air district made assumptions that were favorable to the applicant that low-balled the emissions."
Kern County is not only overburdened by air pollution but also overwhelmingly comprised of people of color. Nearly 50 percent of the county is Latino and nearly 14 percent is black, Native American or mixed race. And around 8 percent of the larger Bakersfield metro area suffers from asthma, The Guardian reported earlier this year.
For Andres Soto, the Richmond area organizer for CBE, these fights against crude-by-rail projects are matters of life and death.
"We've seen repeated incidents of derailments where tar sands oil or Bakken crude have leaked and caused catastrophic explosions or fires and significant damage to waterways. There is no safe way to transport this material by rail. It just can't be done," Soto said.
In 2013, a train carrying crude oil exploded and killed 47 people in Quebec, spilling and igniting more than 150,000 gallons of the volatile fossil fuel.
"There is no safe way to transport this material by rail. It just can't be done."
But the impact on air quality and public health worry Soto the most. He attributes numerous diseases within his immediate family to environmental pollution. Soto grew up just over a mile away from one of California's largest oil refineries, owned by Chevron, in Richmond, Calif.
"I have a brother who died of brain cancer before he turned three. My older brother had tongue cancer in his 30s when he had no lifestyle risk factors for that disease." In addition, Soto's sister has adult onset psoriasis, an autoimmune disease, that he believes is linked to exposure to toxins from Chevron Refinery pollution.
The CBE fights for environmental justice using litigation, scientific research and organizing. Soto says public consciousness has shifted on crude-by-rail projects in recent years, illustrated by recent victories in crude-by-rail fights in Benicia and San Luis Obispo.
People are realizing, the environmental activist said, that transportation of oil on trains is "not the way to go."
Based in Washington, D.C., Keith is the National Communications Strategist for Partnerships and Intersectional Justice.
The California Regional Office fights for the rights of all to a healthy environment regardless of where in the state they live; we fight to protect the magnificent natural spaces and wildlife found in California; and we fight to transition California to a zero-emissions future where cars, trucks, buildings, and power plants run on clean energy, not fossil fuels.