Carbon Capture Is Giving a Second Life to Fossil Fuels – But It Doesn't Have To
As carbon capture booms, communities in Louisiana are worried it will prolong the use of dirty fossil fuel plants.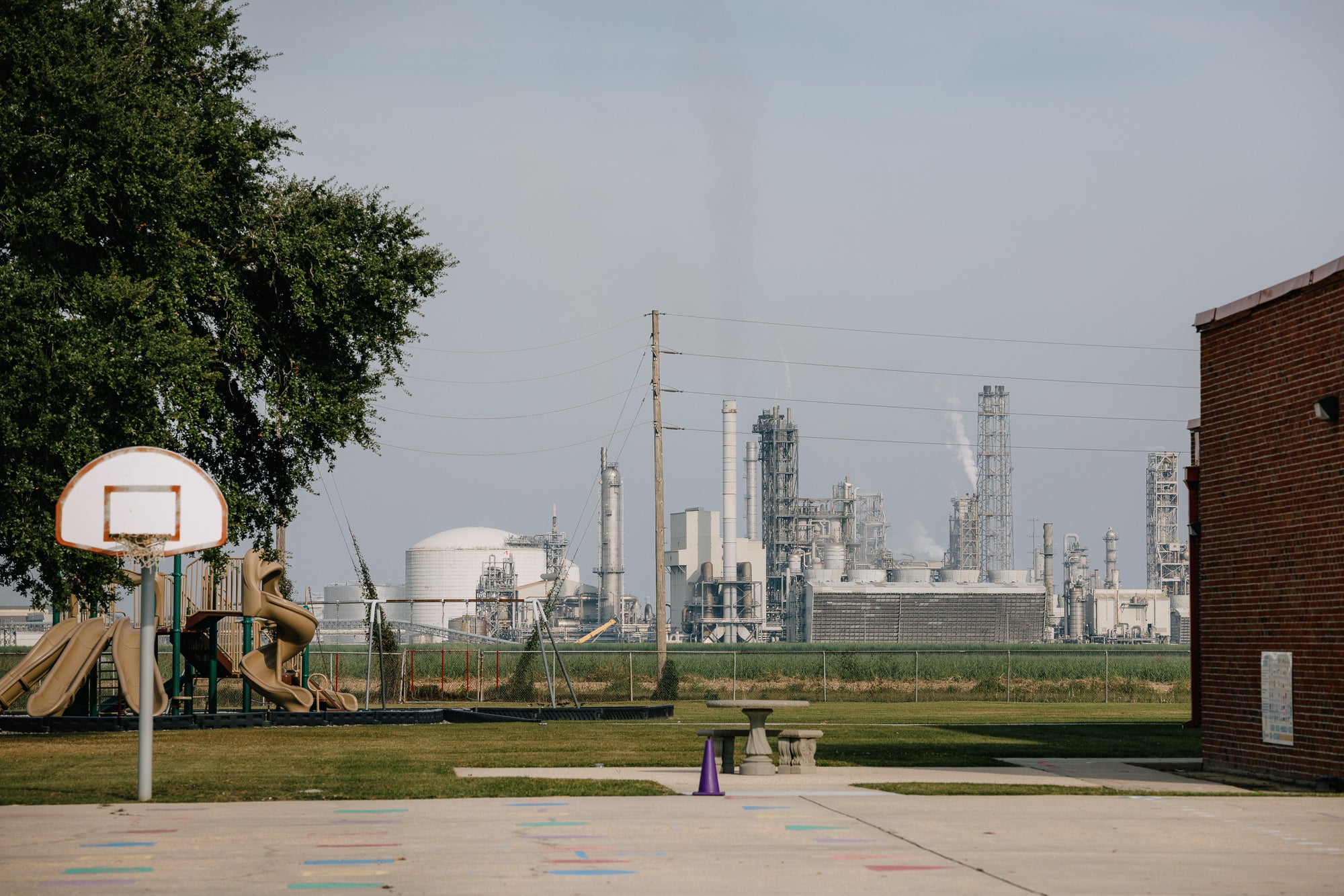 On summer days in Ascension Parish, Louisiana, where towns stretch along the Mississippi River, the evening breeze draws people outside after a sweltering day. But this year, residents are likely to be driven back inside by the strong smell of ammonia.
"It's a stench you can't even describe unless you've been here," says Kaitlyn Joshua, a resident of Ascension Parish. Joshua works as an organizer with Earthworks, engaging with locals on the health and environmental risks of oil and gas facilities. When friends visit from out of town, she warns them in advance to ignore the chemical smell. "We can't sit outside to entertain company on those days, even though we have a beautiful lake in our backyard."
Ascension Parish is packed with oil and gas facilities that emit toxic pollutants. Yet a battle is playing out to add even more, fueled by new government incentives for a technology that fossil fuel companies want us to believe will neutralize the harms of their dirty energy projects: carbon capture and storage.
The trouble is, projects that capture CO2, or carbon, have historically been much less effective at reducing carbon emissions than proponents would like you to believe — and they don't capture other harmful pollutants that threaten people's health. On top of that, transporting and storing carbon creates a host of other environmental threats, from toxic gas release to earthquakes.
In this corner of Louisiana, the oil and gas industry is testing whether it can make false promises about carbon capture and storage to advance its polluting projects across the U.S. That's one reason Earthjustice is fighting a proposal that would likely result in the state greenlighting many more carbon capture projects.
The False Promise
In Ascension Parish, a fossil fuel company called Air Products is gearing up to build a gas-fed blue hydrogen facility and an ammonia chemical plant. These processes create huge amounts of air pollution, yet Air Products is trying to pass the project off as "clean energy" on the basis that CO2 (or carbon) emissions from the complex will be captured, piped mile away, and stored under a lake.
Air Products' proposal would be the largest carbon capture and storage project in the world, but that doesn't make it clean for the people forced to live near it. It will emit 185 tons of toxic air pollution annually, adding substantially to the already toxic air quality that this area of Louisiana is known for (which is known as Cancer Alley due to its high concentration of chemical plants). It is only one of five new chemical plants and accompanying pipelines being proposed in Ascension Parish that use carbon capture and storage.
Fossil fuel companies like Air Products are peddling carbon capture as a silver bullet for the climate crisis. In reality, they are pushing this technology because it allows companies to keep profiting off of their current planet-warming infrastructure — and continue building more under the guise of helping to mitigate the climate crisis.
"The industry is using carbon storage to say, 'Hey look, we've reduced our greenhouse gas emissions, we can keep operating as usual," says Cyndhia Ramatchandirane, a scientist at Earthjustice who has analyzed the Air Products proposal. "The issue is that it's pivoting attention and money away from real climate solutions that are much less risky and much less harmful, and it's a way for the fossil fuel industry to continue polluting."
High Risk, Low Reward
Of the dozens of carbon capture projects being proposed in the United States, boosted by federal incentives, one-third are in industry-friendly Louisiana. And many of those are being proposed in Ascension Parish.
From start to finish, there are many risks and setbacks associated with this process:
Carbon capture only applies to CO2 pollution — not the many other toxic pollutants that escape through smokestacks. Despite Air Products' claim that carbon capture will make its chemical plants "cleaner," the company is still asking for permits to increase other types of air pollution in the already extremely polluted Cancer Alley.
The process of capturing carbon requires a huge amount of energy. That energy typically comes from dirty fossil fuels, adding to the source's overall carbon footprint.
Pipelines that transport the captured carbon have the potential to rupture and leak CO2 into the atmosphere, which can cause convulsions, unconsciousness, and death. Such a leak occurred in Satartia, Mississippi in 2020, when a corroded CO2 pipeline poisoned 45 people badly enough to send them to the hospital.
Once the CO2 is in the ground, it will try to escape through weaknesses in the earth or storage site. Stored CO2 has the potential to leak into underground aquifers that supply drinking water, increasing the water's acidity and releasing harmful metals.
The end use for captured carbon is anything but clean: it's almost always pumped back into drained oil and gas wells, where it's used to extract the last dregs of fossil fuels in a process known as enhanced oil recovery.
By using stored carbon as a lifeline for prolonging fossil fuel operations, projects like Air Products threaten to further entrench Big Oil and Gas at the expense of the communities that have lived with the industry's health effects for decades.
Because there are so many dangers involved with injecting CO2 into the ground, the Environmental Protection Agency (EPA) has the authority to greenlight carbon injection wells in nearly every state. However, Louisiana has petitioned the EPA to give it the power to approve carbon injection projects within its borders. This would allow the state to fast-track these projects and potentially make it a more attractive place for fossil fuel companies to build new polluting infrastructure.
Giving Louisiana this authority is a terrible idea, considering the state's abysmal track record of allowing companies to abandon oil and gas wells. There is a risk that, once the carbon is injected underground, it will leak through the state's many unplugged wells and poison the air. The state has already approved exploratory permits for Air Products, and is likely to greenlight other carbon injection projects if given the authority.
Pushing Back on False Promises
In Donaldsonville, locals are sounding the alarm about Air Products' proposal. When Kaitlyn Joshua knocks on doors to talk about the dangers of the incoming carbon capture boom, most people are already familiar with false industry promises that end up bringing more heavy infrastructure and hidden health risks.
"The way the parish views industry is, 'Why not just drop it in Donaldsonville? If anything, they should be happy they're getting industry that'll pour money into their school system'," says Joshua. "People think it's a dumping ground for petrochemical facilities, not a place where people should live."
The wealth disparity in Ascension Parish reflects a long history of environmental racism in the oil and gas industry. The profit from polluting projects goes to neighborhoods that are far from the plants themselves, which get built in low-income, largely Black communities along the Mississippi River. In Donaldsonville, chemical plants are within 1,000 feet of schoolyards, where they flare almost daily and release high levels of air pollutants.
Earthjustice has submitted comments on the permits for Air Products' carbon injection sites and its ammonia plant. We have also been working with community members and an archaeologist to raise awareness about the cultural legacy of the site surrounding the proposed plant: a former sugar plantation where the graves of formerly enslaved people have not yet been identified.
"I understand that everyone feels the race against the clock to come up with climate solutions," says Joshua. "It's in the news every day. But I don't want folks to fall for this false solution that's been coined as the thing that'll give us time to catch up to climate goals. I know it's scary to step away from what we already know, but we're in this pivotal moment of choosing the oil and gas industry or a real climate solution. Carbon capture and storage is not the thing that will save us."
Alison Cagle is a writer at Earthjustice. She is based in San Francisco. Alison tells the stories of the earth: the systems that govern it, the ripple effects of those systems, and the people who are fighting to change them — to protect our planet and all its inhabitants.