Celebrating Clean Water Protections
One year ago, we celebrated new clean water protections, but we still have a long way to go to achieve drinkable, swimmable, fishable waterways for all.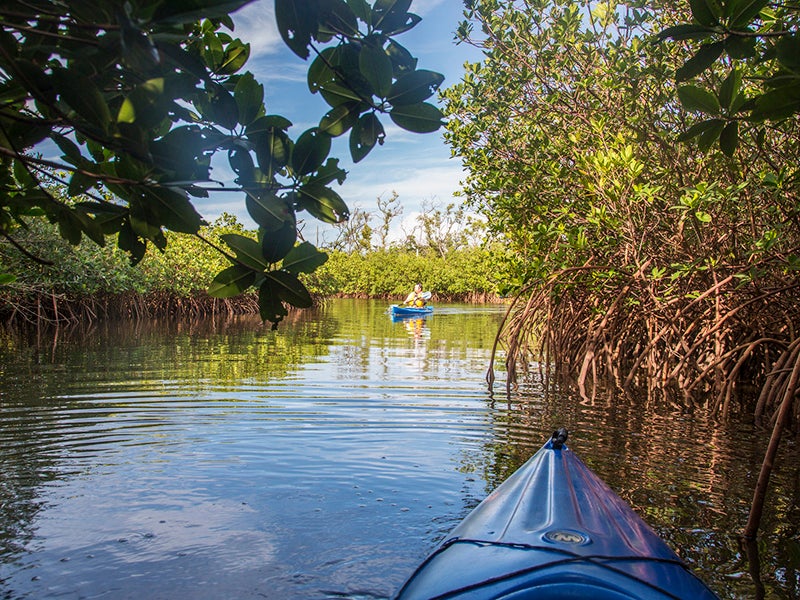 My childhood was spent on the water. From the time I was born until I graduated from college, I lived within walking distance of a lake or river. Growing up in Florida, I spent countless hours windsurfing and swimming in the Indian River Lagoon. In college, one of my favorite pastimes was paddle boarding on Lake Virginia, which serves as the stunning blue backdrop for my alma mater's campus. But even as I appreciated the beauty of my local waterways, I saw signs of environmental problems. In the summer, water quality advisory postings surrounded Lake Virginia, warning the public not to swim. Back home on the Indian River Lagoon, algae blooms ran rampant. Sometimes as I drove across the bridge from the mainland to the beachside, I rolled up my windows to keep out the stench.
It's not just the waterways in my home state that are affected. Some 46 percent of our country's streams and rivers and 32 percent of wetlands are in poor condition, unfit for swimming, drinking or fishing. And those are just the ones that have been assessed by the EPA. There are many water bodies across the country that have not been formally assessed. How did we get to the point where such simple recreations as swimming and fishing have become dangerous?
The current incarnation of the Clean Water Act was passed in 1972, in response to widespread dumping of pollution into the nation's waterways, making two-thirds of lakes, rivers and coastal waters unsafe for fishing or swimming. The act provided comprehensive protections for waterways large and small, improving the health of our watersheds. But in the early 2000s, polluting industries began pushing back, creating confusion about which types of waterways are protected under the act. The Supreme Court in some cases agreed with industry, ruling that efforts by the federal government to protect certain types of wetlands may impinge on states' power.
One year ago, the Obama administration finalized the Clean Water Rule, which reaffirmed that even small creeks and wetlands are hydrologically connected to our nation's major rivers and lakes, and therefore fall within the broad scope that Congress originally established for the Clean Water Act. The Clean Water Rule protects the sources of drinking water for more than 117 million Americans—one in every three people in the U.S. During the public comment period, more than 800,000 people weighed in to support the rule. Words of support came from hunters, anglers, craft brewers, small business owners and others who depend on clean water to support their businesses and to pursue the pastimes they love.
I am not alone in witnessing the degradation of my home's waterways, or in fighting to protect this precious resource. Earthjustice and our partners are defending the Clean Water Rule from industry attacks in court and in Congress, while also challenging parts of the rule that exclude important waters from federal protection. Although the rule has been suspended while these legal challenges are decided in the courts, polluting industries and their friends in Congress have not stopped their relentless attacks.
At a time when the news is full of stories about polluted drinking water, when Congress works to weaken or delay much-needed protections, let's take a moment to celebrate the Clean Water Rule and urge the EPA to do even more to keep our water safe.
On the one-year anniversary of the Clean Water Rule, you can join in the fight for clean water. Take action and tell your senators that you expect elected officials to do everything in their power to ensure clean, safe drinking water for you and your family.
Serving on the Policy & Legislation team until 2019, Jenifer covered the clean water and safe drinking water dockets.
Established in 1989, Earthjustice's Policy & Legislation team works with champions in Congress to craft legislation that supports and extends our legal gains.