Clean Water Case at Supreme Court Could Have Ripple Effects Across Country
No one voted for polluted rivers, lakes, and oceans.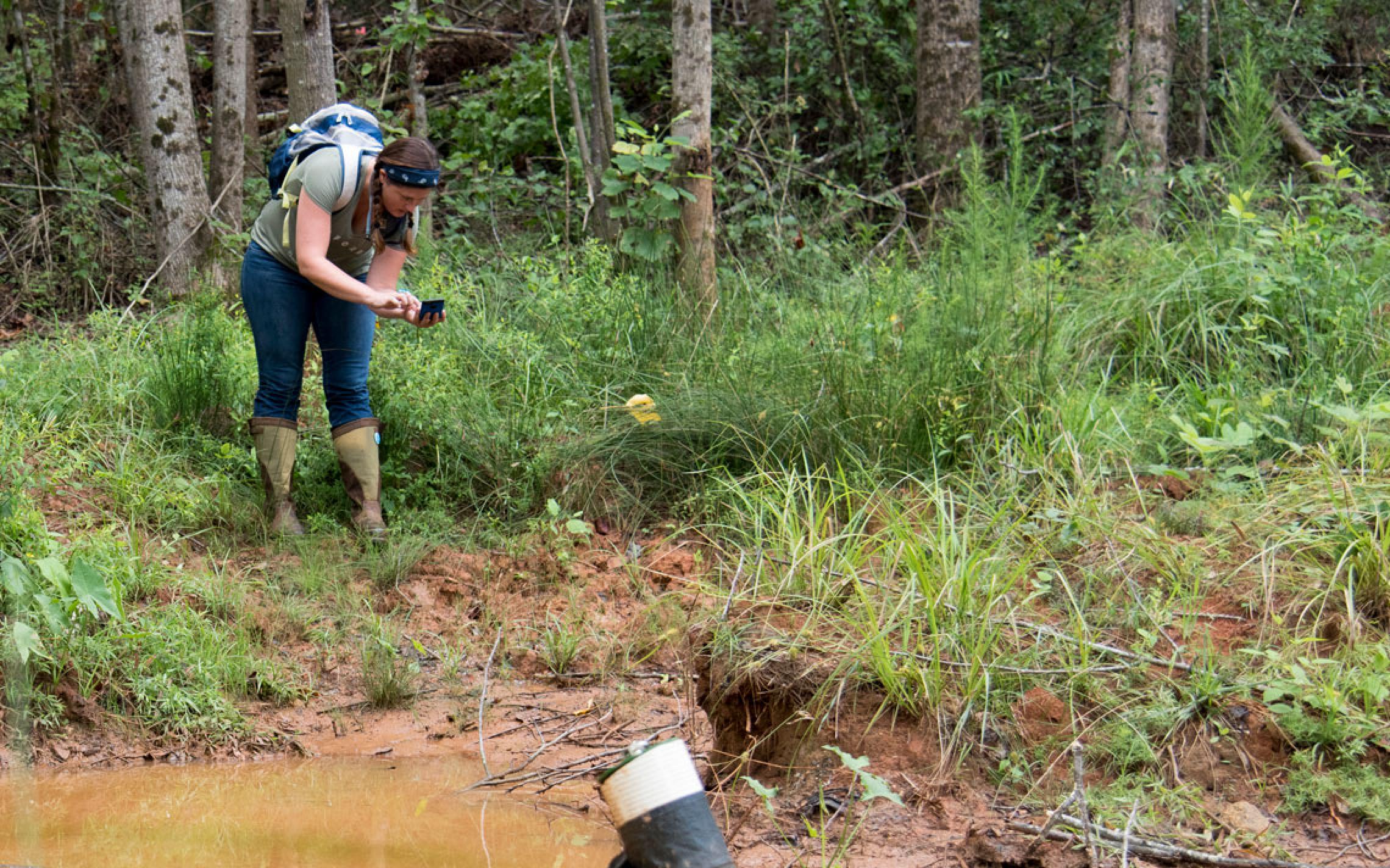 In late 2014, residents of the small town of Belton in Anderson County, South Carolina, noticed something amiss as they readied for the holidays.
The plants along a rural stretch of road were unexpectedly dying.
On Christmas Eve, someone walking along that same country road reported to local authorities the strong smell of gasoline and what appeared to be pools of petroleum on the ground.
The residents of Belton would soon discover that a Kinder Morgan-owned pipeline running beneath their town had ruptured. Hundreds of thousands of gallons of gasoline and diesel spewed from the broken pipe into the soil and groundwater about 1,000 feet above Brown's Creek, a tributary of the Savannah River. In short order, the petroleum pollutants contaminated the surrounding wetlands and the creek and continued to flow downstream.
Today, gasoline continues to flow into Browns Creek via the contaminated soil and groundwater. Kinder Morgan says that isn't the corporation's problem, a claim that residents of Anderson County have challenged in court. But justice for their community could hinge on the outcome of a separate case that Earthjustice will argue before the Supreme Court next week — one that concerns water pollution in a municipality about 4,600 miles due west of Anderson County.
Estimates of petroleum pollutants that still contaminate the Savannah River tributary area range from 170,000 to 300,000 gallons. Kinder Morgan argues that it isn't responsible for the remaining clean up because it says the Clean Water Act doesn't regulate discharges of pollution that reach protected water bodies via groundwater.
Anderson County is a mostly rural area where many residents live the country life, raising cattle or keeping horses. Browns Creek joins other tributaries to feed into popular lakes where homes dot the shoreline and people boat and fish. The county government leans heavily conservative. In the 2016 election, nearly 70% of its voters picked Donald Trump for president.
But one thing Anderson County residents didn't vote for was allowing industries to get away scot-free with polluting their water.
When Kinder Morgan failed to take responsibility for its pollution running through the groundwater into Browns Creek, Anderson County groups represented by the Southern Environmental Law Center filed a citizen suit and won at the 4th Circuit Court of Appeals. Kinder Morgan appealed to the Supreme Court. The court put the request for review on hold, as it considers a case called Hawai'i Wildlife Fund v. County of Maui.
That case centers on a wastewater facility in Maui that violated the law by discharging millions of gallons of treated sewage each day into the Pacific Ocean via the groundwater beneath the facility, devastating a formerly pristine reef. Like Kinder Morgan, Maui County's attorneys argue that the municipality shouldn't be held responsible for the pollution because it is not discharging "directly" into waters protected under the Clean Water Act, but instead indirectly through groundwater.
Represented by Earthjustice, four Maui community groups have challenged the county's claim that it doesn't need a Clean Water Act permit to spew waste into the ocean. Next week, Earthjustice staff attorney David Henkin will argue the case before the Supreme Court.
"We are arguing against Maui County's extremist position that unless a pipe goes directly into the ocean or a lake and river, it is completely unregulated by the Clean Water Act," said Henkin. "If the Supreme Court endorses the county's position, it would open a massive loophole for every polluter in the country to avoid regulation of their discharges by the law that protects the nation's waterways."
Now Anderson County — along with Decatur County, Tennessee, another area facing similar water pollution problems — has filed an amicus curiae (friend of the court) brief to support Earthjustice's argument. The two counties in deep red states have joined former Environmental Protection Agency administrators and officials who served in both Republican and Democratic administrations, 13 states, the Fond Du Lac Band of Lake Superior Chippewa tribe, craft brewers, law professors, aquatic scientists and scientific societies, and clean water advocates who have filed amicus briefs with the side of protecting clean water across the country.
Kinder Morgan isn't the only polluter that will be closely watching this case. It joins the National Mining Association, the American Petroleum Institute, the National Association of Manufacturers, right-wing property rights groups, a slew of Republican leaning states, and Energy Transfer Partners — the people that brought us the Dakota Access Pipeline — in filing amicus briefs supporting Maui County.
The Environmental Protection Agency, which previously filed an amicus brief in the Ninth Circuit supporting clean water advocates' arguments against Maui County, reversed its position under President Trump. This stance ignores four decades of previous EPA guidance that the Clean Water Act does regulate discharges of pollution that end up in protected waters through groundwater. 
The case's high stakes moved Anderson and Decatur counties to make common cause with Earthjustice and its clients. Cale Jaffe, associate professor of law at University of Virginia and counsel representing the two counties, said they filed their amicus briefs to "ensure that the Clean Water Act will remain a tool, as it has for decades, to help resolve those crises."
He explained that counties have dual responsibilities under the Clean Water Act: The law obligates the counties to get permits for their own pollution, and they may also be called on to support their residents who use the Clean Water Act to challenge polluters.
"Our concern here is that the County of Maui is trying to unburden itself of its first obligation as a local government required to get a permit, and in doing so, is threatening its second obligation to respond to community members who may have been harmed by an illegal discharge," he said.
The court is expected to decide the case in late winter-early spring of 2020. The outcome will have immediate ripple effects all across the country, from Maui to Anderson County and everywhere in between.
Maggie worked at Earthjustice from 2014–2021.
Established in 1988, Earthjustice's Mid-Pacific Office, located in Honolulu, Hawaiʻi, works on a broad range of environmental and community health issues, including to ensure water is a public trust and to achieve a cleaner energy future.