Clean Water Protections Under Attack in Early Days of 115th Congress
Polluter-backed members of Congress are bent on putting forth an agenda that eviscerates vital safeguards, such as protections for clean water.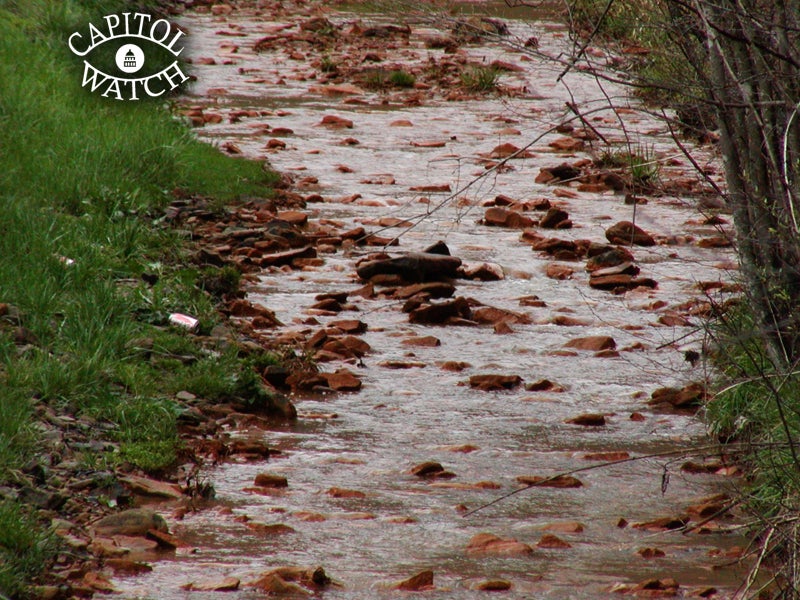 Last November, Americans did not go to polls to vote against protections for our air, water or health. But certain members of Congress backed by polluting industries have taken it upon themselves to unleash a whole new world of legislative attacks aimed at eviscerating our public safeguards.
One of their first targets is the Stream Protection Rule. Towards the end of his administration, after a lengthy engagement process that incorporated stakeholder input, President Obama finalized a long-awaited rule to help provide local communities with information they desperately need about water pollution caused by coal mining.
The Stream Protection Rule provides the monitoring of streams, many of which are drinking water sources, for pollutants such as lead, arsenic, selenium and manganese. Given that many of these toxins are known to cause birth defects, developmental delays, and other health and environmental impacts, this basic monitoring provision is essential and long overdue. The rule also calls for the protection and restoration of forests, to help filter the water and provide recreation jobs in the future.
However, with the reality of a Republican-controlled legislative and administrative branch, many members of Congress bent on giving big polluters a break in the name of "reform" finally see their opportunity to advance a destructive agenda. The tool they're using to do this is the previously seldom-used Congressional Review Act (CRA), a backdoor tactic used to unravel vital safeguards created by federal agencies to protect our communities. The CRA is a one-two knockout punch to regulations.
If passed by both chambers within a certain timeframe, and signed by the president, the CRA can repeal a rule and then mandate that no rule that is "substantially the same" can be passed without an act of Congress. Once a rule is targeted under the CRA, it can be killed without committee consideration and with just a few hours of debate on the Senate and House floor.  In addition to being anti-democratic by essentially voiding the substantial public comment and stakeholder engagement process that goes into a rulemaking, it's also vague—there is very little case law defining what "substantially the same" actually means.
Why is this modest, commonsense rule the target of such malice?
Certain Congressional Republicans and industry proponents claim the Stream Protection Rule constitutes federal overreach. But for people living near coal mining operations, this rule is long overdue. Over the last 30 years, a combination of weak rules and poor enforcement has allowed mountaintop removal mining—a destructive form of coal mining that literally blows the tops off of mountains—to destroy an estimated 2,000 miles of streams in Appalachia, and pollute even more.
Mountaintop removal mining has been linked to harmful health problems such as birth defects and cancer, putting countless communities at risk. The safeguards in the Stream Protection Rule wouldn't just help communities in Appalachia. In the semi-arid West, coal mining impacts scarce water resources that farmers and ranchers depend on; in Alaska, vital salmon streams are often located close to coal deposits.
Instead of working on legislation to protect their constituents, members of Congress have made it their mission to eviscerate public safeguards. But Earthjustice has been fighting in the courts and the halls of Congress for years to protect the health and environment of communities near coal mining operations—and we aren't backing down now. We hope you won't, either.
The time is now to speak in a unified voice, telling our elected officials loud and clear that we will not stand by while public safeguards are repealed for the sake of profits for polluting industries. Everyone needs clean water and all Americans deserve to know if there are toxic pollutants in the water they are drinking.
Call your elected officials and tell them that using the Congressional Review Act to dismantle public protections hurts our health, economy and the democratic process we rely on in the United States. In this new political world we live in, it is now more important than ever to hold our elected officials accountable.  
ABOUT THIS SERIES
The 45th U.S. president, Donald J. Trump, is bent on gutting environmental protections, and—with a polluter-friendly Congress at his side—he'll likely do everything he can to dismantle our fundamental right to a healthy environment. The Capitol Watch blog series will shine a light on these political attacks from Congress and the Trump administration, as well as the work of Earthjustice and our allies to hold them accountable.
Take Action! Call your senators: oppose any attacks on our clean air, clean water and public health protections
Serving on the Policy & Legislation team until 2019, Jenifer covered the clean water and safe drinking water dockets.
Established in 1989, Earthjustice's Policy & Legislation team works with champions in Congress to craft legislation that supports and extends our legal gains.