Our new storytelling series, LIT: Stories from the Frontlines of Climate Justice, seeks to elevate the stories of people pushing for a just future and livable climate — and inspire others to do the same.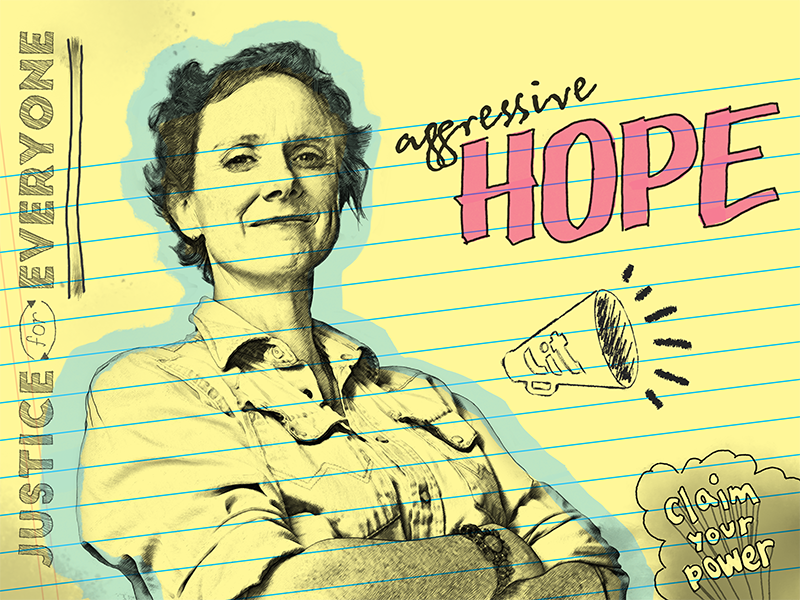 Community activist Linda Garcia knows what it's like to put her life on the line to protect her community.
Several years ago, Garcia began getting death threats almost daily after speaking out against an oil company's plan to build the largest crude-by-rail project in North America, right in her backyard of Vancouver, Washington. The oil export terminal was just one of many fossil fuel projects then being proposed across the Pacific Northwest, threatening to turn the region into a fossil fuels hub dominated by polluting depots, trains, and pipelines.
Garcia began organizing with other community members, environmental activists, and union leaders who also opposed the terminal. They worried about the toxic air pollution from trains coming into Fruit Valley. After all, this racially diverse, low-income neighborhood of Vancouver already suffered from the worst air quality in the city. And though they needed the jobs the terminal promised to bring, they also worried about the threat of working at and living next to an explosive industry notorious for its catastrophic rail accidents and explosions.
In 2017, Garcia's ferocious refusal to accept what she was told was inevitable, paired with Earthjustice litigation and sustained community activism, paid off after the Port of Vancouver officially terminated the project's lease.
Garcia had an unwavering belief in her power to change the course of the freight train that was coming toward her. But she's not alone.
Across the globe, people who have suffered compounding harms from the fossil fuel industry and its political allies are calling for climate solutions that ensure economic, racial, and social justice, especially for people, including workers, on the frontlines of the climate crisis. They know that cutting carbon emissions alone won't bring justice to the kids who can't play outside because they have asthma; to the grandmother who fears for her safety during the next hurricane; or to all the people who want to make family-sustaining wages without having to sacrifice their health and safety.
They also know that a climate movement that isn't centered in justice is no movement at all.
Together, these climate justice champions have the experience, the moral authority, the knowledge, and the vision to see a better way forward for people and the planet. They're inspiring others to claim their power and build a movement big and broad enough to achieve the systemic and unprecedented change that the world's top climate scientists say is absolutely necessary to limit catastrophic warming.
Earthjustice's new storytelling project, LIT: Stories from the Frontlines of Climate Justice, seeks to elevate their stories and inspire more change agents. Because when Sharon Lavigne of St. James Parish in Louisiana or Ruth Santiago of southeastern Puerto Rico take on the powerful interests that capitalize on our most enduring social injustices, we can dare to imagine new possibilities — not only for climate solutions but for enduring justice.
Abigail Dillen serves Earthjustice as our President, leading the organization's staff, board and supporters to advance our mission of using the courts to protect our environment and people's health.