Coal Plants Threaten Tigers, Dolphins and People
Two proposed coal-fired power plants threaten the Sundarbans mangrove forest in Bangladesh, home to endangered tigers and dolphins, and sustenance for millions of people.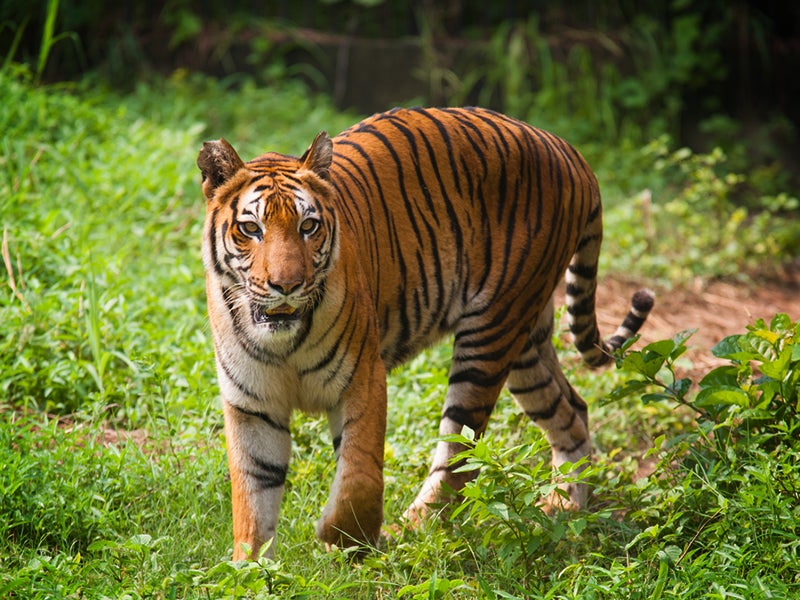 Tigers and dolphins have coexisted in the Sundarbans mangrove forest for thousands of years.
Located on the coast of Bangladesh and India, and roughly the size of Connecticut, the unique habitat has been recognized as a World Heritage site by the United Nations. It's a place of exceptional biodiversity that's home to a number of endangered species.
But greed now threatens this vast low-lying delta of small, mangrove-covered islands and the endangered Royal Bengal tigers, Ganges River and Irawaddy dolphins, Estuarine Crocodiles and other rare species that call them home. Bangladesh's proposal to construct two coal-fired power plants nearby would bring unprecedented levels of industrial activity and pollution to this sensitive habitat.
Ironically, Bangladeshis are meeting much of their growing demand for electricity through new solar power facilities. They don't need coal and its toxic pollution. But proponents of the power plants are eager to capitalize on coal-powered profits regardless of the harm the plants will cause to the Sundarbans.
A river that forms the heart of the Sundarbans would have to be deeply dredged to allow coal ships in, threatening the lives of the area's endangered dolphin species.
Toxic coal ash would be used as landfill around the power plants, and also stored as slurry in vast waste ponds just a few feet above the tideline. This ash could easily pollute nearby waterways during the region's frequent cyclones and disastrous floods. The sea level is rising ten times faster here than the global average, and is projected to rise 13 feet in the next 80 years.
Mercury emissions from the power plants could make the entire aquatic food chain of the Sundarbans unsafe for those who depend on its fish, including endangered tigers and dolphins, as well as the millions of local people who cannot afford other sources of protein.  Other dangerous emissions include particulate matter, arsenic, chromium, nickel and cadmium, as well as nitrogen oxide and sulfur dioxide that form smog and ozone. These cause human disease and death through strokes, heart attacks, lung cancer, and other respiratory and cardiovascular diseases.
Recognizing the threat of these plants, thousands of Bangladeshis have taken to the streets, calling on their government to save the Sundarbans and protect their livelihoods, health and culture. They have marched for days, enduring police brutality and threats from armed thugs.  
Critics, from the poorest farmers to environmental ministry staff, have managed to delay approvals for the power plants for several years. Scientists have called the power plants the greatest threat to the Sundarbans. French and Norwegian banks have divested millions of dollars from one of the proponents due to human rights concerns and environmental risks. An international human rights fact finding mission condemned the plants. Even the UN's World Heritage Committee urged Bangladesh not to move forward with the power plants without a thorough review of environmental impacts. But despite the coalition of voices joined in protest, the governments of India and Bangladesh, which have financial stakes in the projects, are insisting that construction move forward in 2016.
Earthjustice applauds the Bangladeshi environmental organizations for taking their concerns to the World Heritage Committee in order to draw international attention to the imminent threats facing the world's largest mangrove forest. The groups are asking the Committee to add the Sundarbans to its List of World Heritage in Danger at its upcoming annual gathering this July, and to call on Bangladesh to stop coal-fired power plants in the region. 
Jessica Lawrence is a conservation biologist who has worked with Earthjustice since 2008 researching and presenting the most recent and compelling science for our international climate and energy cases. She also supports environmental coalitions advocating for better protection for UNESCO World Heritage sites including Waterton Glacier International Peace Park (Canada/USA), Papahānaumokuākea (USA), Great Barrier Reef (Australia), Lamu Old Town (Kenya), and the Sundarbans (Bangladesh).
The International Program partners with organizations and communities around the world to establish, strengthen, and enforce national and international legal protections for the environment and public health.