Coalition Calls for EPA to Protect the Health of Southern California Residents
Groups send urgent request asking EPA to do more to protect the Los Angeles region from air pollution.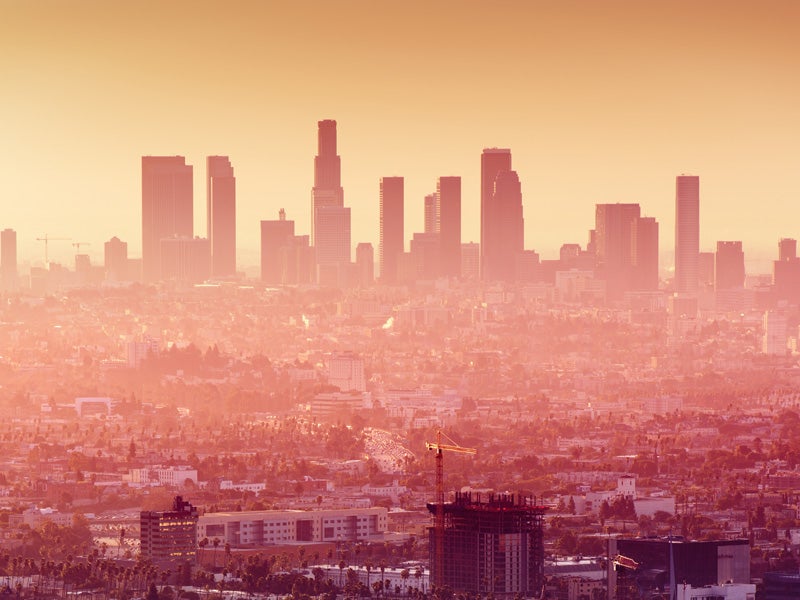 The American Lung Association released its annual "State of the Air Report" today, chronicling the worst places in the country to breathe. Not surprisingly, Los Angeles again tops the list for most smog- and soot-choked air. This is a sad reality for the people who call the region home, those who are raising their families here, and those who work to fight the pollution that often makes breathing a daunting task.
When I moved to Los Angeles in January of this year, I found out I was expecting my first child. Being pregnant has brought me an immense world of joy, but also brings with it a long list of things I'm told to avoid to protect my baby. Most things I can control, but one thing I can't. I have to breathe, and the hard truth is this basic human function may cause harm to my unborn child.
Prenatal exposure to polluted air has recently been linked to a host of developmental effects, like increased risk for autism and lowered IQ, which means just like unpasteurized cheese and hot tubs, I should avoid air pollution. I'm not the only woman in the region faced with this consequence derived directly from breathing, but I'm lucky to be at Earthjustice where I can use the law to fight for us and for stronger safeguards.
Every day since I moved, I've checked the local air district's website for the daily air quality. On days when the pollution is high, I keep the windows shut and limit my time outdoors. Unfortunately for my baby, we've had a number of days already this year when the air quality was so bad, it was rated by the air district as unhealthy, even for groups that aren't normally sensitive to air pollution. On some days, the pollution has been worse than pollution levels in Shanghai, China. It is rarely rated "good." This isn't acceptable for any breathing being.
The Los Angeles region has routinely missed deadlines to meet the EPA's health-based standards for air pollution, including two of the most dangerous forms of air pollution—fine particle pollution and ozone pollution. Almost five months into 2015, and the L.A. region has already proven it will miss its upcoming December 31, 2015 deadline to meet the EPA's 2006 standard for fine particle pollution.
Despite the fact that the air quality in the L.A. region shows no signs of meeting this health-based standard, the South Coast Air Quality Management District and California Air Resources Board—agencies supposed to protect us from air pollution—recently voted to approve an air plan with no new measures to clean up this dangerous pollution. The longer we wait for a new and realistic plan of action, the more Los Angeles area residents and the unborn will suffer.
Expectant mothers shouldn't have to avoid breathing to protect their babies. Earthjustice, on behalf of Center for Biological Diversity, Center for Community Action and Environmental Justice, Physicians for Social Responsibility-Los Angeles, Communities for a Better Environment and Sierra Club, filed an urgent request today asking the EPA to do more to protect those who breathe in the Los Angeles region. We're asking EPA to take steps to require more from the agencies charged with protecting us from harmful air pollution.
All I can hope is that our children will be closer to days when they can play outside in Los Angeles without worry. If it isn't too much to ask, perhaps the EPA can get us to a point when we all can keep the windows open to breathe fresh, unpolluted air.
A senior attorney based in Los Angeles, Elizabeth's litigation work focuses on public lands and wildlife issues across regional boundaries.
The California Regional Office fights for the rights of all to a healthy environment regardless of where in the state they live; we fight to protect the magnificent natural spaces and wildlife found in California; and we fight to transition California to a zero-emissions future where cars, trucks, buildings, and power plants run on clean energy, not fossil fuels.