Coming Clean in Hawai'i: A Launchpad for Clean Energy Liftoff
Hawai'i, along with 26 other states, already has clean energy goals that outpace the Clean Power Plan's projected targets.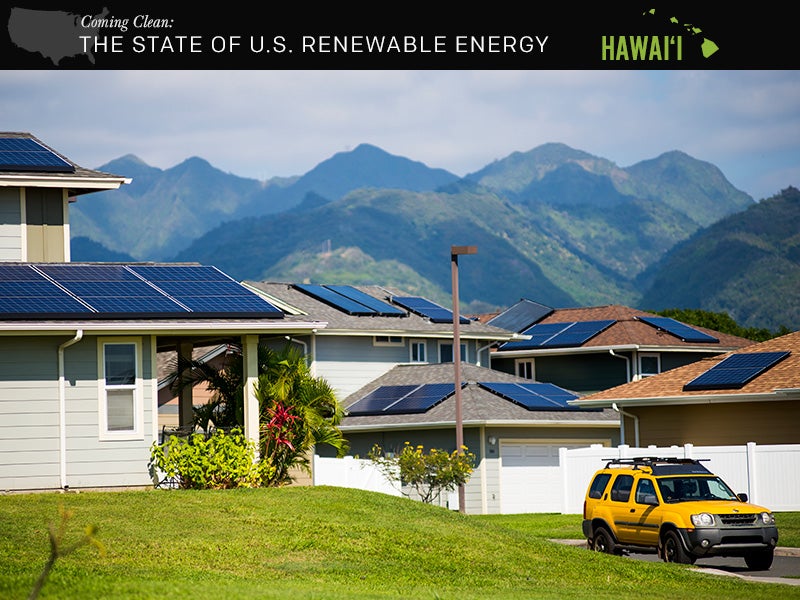 The public comment period is coming to a close on Obama's proposed Clean Power Plan, which could be the most important piece of environmental regulation out of his administration. But what does the proposed plan have in store for Hawaiʻi? Right now, not much at all.
Hawaiʻi, along with 26 other states, already has clean energy goals that outpace the Clean Power Plan's projected targets. Hawaiʻi has adopted mandates for electric utilities to achieve 40% renewable energy and 30% energy savings via efficiency by 2030. In contrast, the proposed Clean Power Plan expects only around 10% each for renewables and energy efficiency in Hawaiʻi, one of the lowest targets for all states. In fact, the 10% renewable level is lower than what the Hawaiʻi utilities have already reached in order to comply with the interim state mandate of 15% renewable by next year.
This disconnect is one of the most glaring examples of how the proposed Clean Power Plan currently falls short on renewable energy, ignoring (and potentially undermining) clean energy goals in more advanced states, and setting the bar too low for other states lagging behind.
Instead of treating Hawaiʻi as a "glitch" in the system, the Clean Power Plan should be looking to this and other forward-facing states to lead the way for the nation to a true clean energy future.
In the middle of the Pacific, a revolution is underway. Hawaiʻi has long been stuck on burning oil for energy. This has left the islands dependent on imports from thousands of miles away and saddled with the highest electric rates in the nation. But in the past few years, the state has turned increasingly to its clean, indigenous resources like solar and wind.
In particular, the people of Hawaiʻi are rapidly installing rooftop solar, taking hold of their energy future and building a wave for clean power. Earthjustice worked for months with the solar industry in negotiations with Hawaiʻi's main utility to review its grid to spot weaknesses that might hinder more rooftop hookups and to fix them. Now, one in nine customers of Hawaiʻi's main electric utility have rooftop solar.
The key reason for this progress is not the amount of sunshine (Germany, the current world leader in solar energy, lies at the same latitude as Maine). Rather, what really matters is vision and leadership.
Hawaiʻi is entering a "virtuous cycle" in which the ambitious clean energy goals it adopted have spurred innovation, new markets and homegrown job opportunities. This, in turn, is leading to further positive initiatives. The state public utilities commission, for example, has raised the standard for utility performance in issuing its "Inclinations on the Future of Hawaii's Electric Utilities," which sets forth its vision for a customer-focused, clean energy utility of the future.
Obama's Clean Power Plan provides a similar opportunity for vision and leadership to set this country on the right path. Taking some cues from the President's original home state, the plan can and should adopt stronger renewable energy goals for the ultimate benefit of each state, the nation and the planet.
About this series
The Clean Power Plan sets different goals for each state to reduce its carbon emissions by 2030. As one pathway to meet those goals, the EPA suggests a renewable energy target for each state.
However, many of the states are already on track to meet or even exceed those renewable aims. Find out how your state stacks up on the road to the cleaner energy future at Coming Clean: The State of U.S. Renewable Energy.
The EPA is asking for your comments on the Clean Power Plan to be submitted before the December 1 deadline—take action today to demand strong, commonsense limits on carbon pollution from existing coal-fired power plants and more ambitious renewable energy growth.
Don't miss the next installment of the Coming Clean blog series: California, how the Golden State is Winning the Renewable Energy Race.
The managing attorney of the Mid-Pacific Office in Honolulu, Isaac has extensive experience litigating before federal and state courts and agencies on a range of issues, including water rights, Native Hawaiian rights, shoreline protection, endangered species, environmental health and disclosure, and clean energy.
Established in 1988, Earthjustice's Mid-Pacific Office, located in Honolulu, Hawaiʻi, works on a broad range of environmental and community health issues, including to ensure water is a public trust and to achieve a cleaner energy future.