Communities Near Oil Refineries Must Demand Cleaner Air
Each year, the nation's nearly 150 oil refineries operating in 32 states emit thousands of tons of hazardous air pollutants, including substances that cause cancer.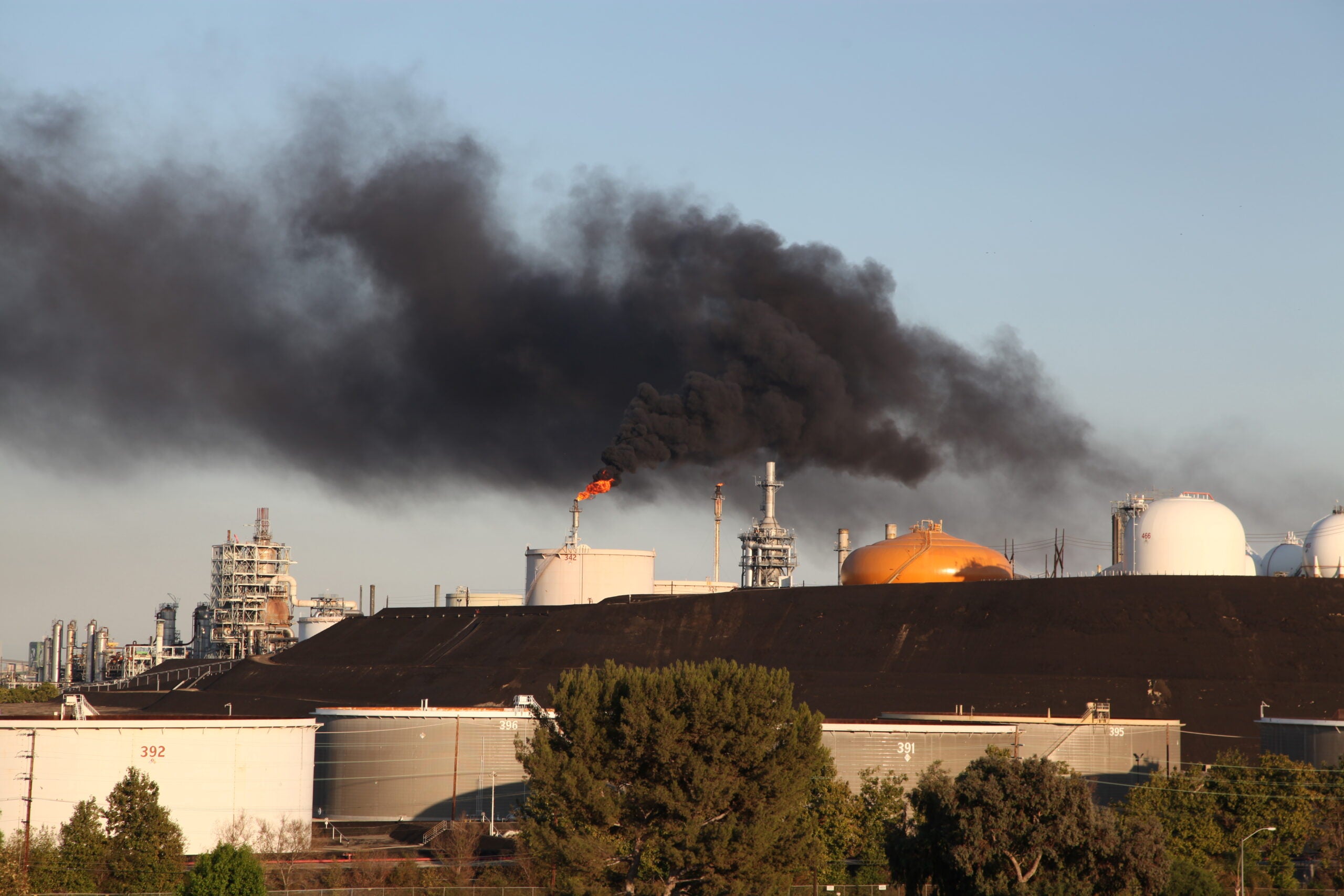 In Port Arthur Texas, home to eight oil and chemical industrial sites, the egg-like, putrid smell of toxic chemicals spews from oil refinery smokestacks every hour of every day.
That stench stands as a reminder to the people who live there that what they smell and breathe is, indeed, making them sick.
Port Arthur, comprised primarily of people of color, is located in an area where cancer rates are 15 percent higher among African Americans than they are for the average Texan. And mortality rates from cancer in Jefferson County where Port Arthur is situated are 40 percent higher, according to the Texas Cancer Registry.
In Houston, Texas, the largely Latino neighborhood of Manchester is home to the Valero oil refinery and lymphocytic leukemia rates are 56 percent higher for children.
This issue is not limited to these communities alone.
Each year, the nation's nearly 150 oil refineries operating in 32 states emit thousands of tons of hazardous air pollutants, including substances that cause cancer. This problem impacts everyone. Half of the people that are at an increased cancer risk from refineries' pollution are people of color. Latinos, African Americans and low-income people are more likely to live near refineries and, unfortunately, those groups face significantly higher cancer rates than other groups.
People shouldn't face disadvantages based on their race or income. We should all have a right to breathe, clean, healthy air. In fact, the federal government has a responsibility to make sure that people are not adversely impacted by this nation's pollution because of their race. Under Executive Order 12898, signed by President Bill Clinton in 1994, the federal government has an obligation to ensure that its decisions do not disproportionately impact affect low-income communities or communities of color.
As a former Environmental Protection Agency advisor on environmental justice issues, it was my job to inform cities, counties and community groups around the nation about ways they could avoid bearing the brunt of environmental hazards in our air and water. It was, indeed, difficult to get regulating agencies on the city, state and federal level to pay attention to who is being impacted by businesses that pollute. But it was also hard to get communities to learn all their rights while figuring out successful ways to organize so they could effectively demand equal protection under the U.S. Constitution.
At Earthjustice, a nonprofit that fights for a healthy environment and healthy communities, we will continue to talk with groups about tackling environmental problems. Currently, we're working to inform people about strengthening the regulation of hazardous air pollution that's coming from the oil refineries around the country because there is a chance to make a difference.
Recently, the EPA launched a 60-day public comment period for a new air pollution standard for oil refineries that would impose stricter pollution requirements by increasing the monitoring of hazardous air pollution and requiring refineries to reduce pollution emissions from various parts of their facilities.
The proposal, for the first time, includes fence-line monitoring for benzene which would require refineries to measure air pollution at the property line, where toxic air goes right into communities.
Many community-based groups have spent decades fighting for fence-line monitoring and for basic information about what is going into their air, so this proposal is indeed a step forward. However, we're calling on the EPA to strengthen the standards by mandating the use of the best technology available to give communities and regulators a real-time continuous measure of pollution and not just a snapshot or long-term average that masks peak exposure levels that often occur during dangerous leaks and events that can cause explosions.
We support the EPA's proposal to finally remove unlawful exemptions for startups, shutdowns, malfunctions and other uncontrolled emissions. But we also want to see tighter controls of emissions and an actual limit on excessive flaring, to end the unnecessary burning of waste gas.
Oil industry representatives are saying the proposal is unnecessary and too costly and are trying to stop EPA from finalizing it. But the EPA's analysis shows that its proposal will have no noticeable economic impact, for an industry with billions of dollars in revenue every year. So, we will be urging EPA to set strong up-to-date standards, and not give in to pressure to weaken the health improvements the new standards would provide.
For example, one million people who live near refineries would have a significantly reduced cancer risk, according to the EPA. I think that reducing cancer and saving lives is worth some significant expense.
During the public comment period you can let the EPA know what you think about the proposed changes. Your comments do matter and do get considered. And I hope that more of us start taking on the role of being the guardians of our air, our water and all our natural resources, otherwise the quality of our environment will be determined by people who care much more about profit than the cancer their polluting companies expose us to.
This blog post is part of a series produced by The Huffington Post and Earthjustice on air pollution from oil refineries. The series coincides with the beginning of the 60-day comment period following the EPA's newly proposed standards to curb such pollution, which are opposed by oil companies. For more information about the right to breathe campaign, click here.
Lisa worked at Earthjustice from 2014–2019, guiding the organization's groundbreaking litigation to protect communities and families from the wide range of pollution issues that confront them on a daily basis.
Earthjustice's Washington, D.C., office works at the federal level to prevent air and water pollution, combat climate change, and protect natural areas. We also work with communities in the Mid-Atlantic region and elsewhere to address severe local environmental health problems, including exposures to dangerous air contaminants in toxic hot spots, sewage backups and overflows, chemical disasters, and contamination of drinking water. The D.C. office has been in operation since 1978.