Concerns About Drinking Water Go Beyond Lead
The biggest source of water pollution in the United States remains largely outside the law. (Spanish language version available.)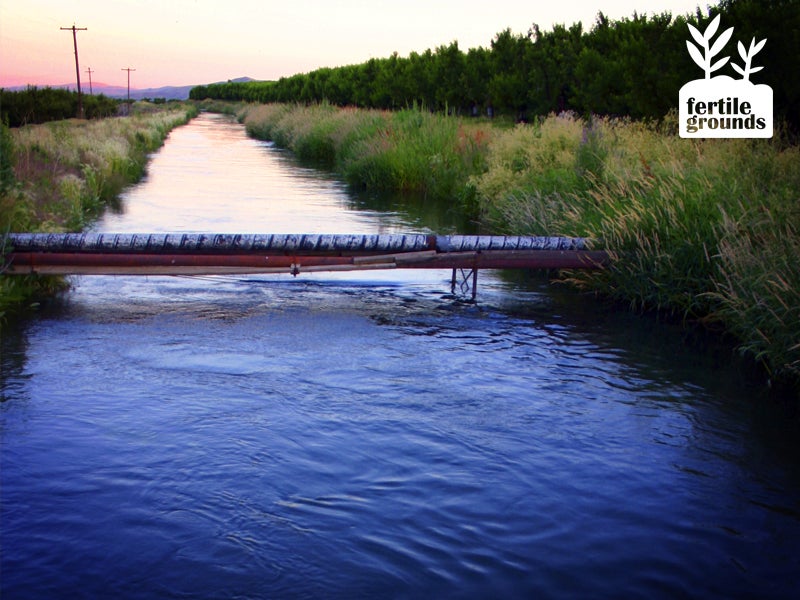 Este blog está disponible en español aquí.
A headline in the Des Moines Register recently attempted to reassure readers that "Iowa's Water Rarely Exceeds Lead Limits." This statement isn't the confidence-booster it's meant to be. For one thing, federal limits on lead in drinking water aren't protective enough, especially for those most vulnerable to lead poisoning: pregnant women and bottle-fed infants. And the foremost water issue for many in Des Moines isn't lead (although it may well be a concern). It's pollution from the farms that surround the city, which is infiltrating the city's drinking water supply.
Flint's water crisis has drawn national attention to a health threat faced by communities across the country: exposure to lead in drinking water. Stronger federal limits on lead and proper testing and treatment by water utilities, which often flout the law when it comes to lead, will help make drinking water safer. But water pollution from big industrial farms remains largely outside the purview of the law.
Agriculture is responsible for the majority of water pollution in the U.S. According to a report by the National Water Quality Inventory, agricultural pollution is "the leading source of water quality impacts on surveyed rivers and lakes, the second largest source of impairments to wetlands and a major contributor to contamination of surveyed estuaries and ground water." Agricultural pollution threatens the drinking water of millions of people from Midwestern cities to California farmworker communities to North Carolina's hog belt. Every time it rains, chemical fertilizers, pesticides and animal wastes from industrial farming operations wash off fields and into streams and rivers where they can contaminate drinking water supplies.
In Des Moines, heavy spring rains have driven nitrate pollution in the Raccoon and Des Moines Rivers to record highs in recent years. Nitrates have been linked to miscarriages and cancers, and they can cause a rare but sometimes fatal illness known as "blue baby syndrome." (Exposed infants lose the ability to transport oxygen in their blood, causing them to turn blue.)
The problem exists throughout much of the Midwest. Ninety percent of Iowa's land is used for agriculture, and more than 60 towns and cities across the state have battled high nitrate levels in drinking water over the past five years. In Ohio, many people are still wary after a 2014 toxic algae bloom in Lake Erie, linked to phosphorus fertilizer from cornfields, contaminated the city of Toledo's water system.
While Earthjustice and others fight on behalf of communities that lack safe drinking water, we also work to keep agricultural pollution out of waterways in the first place. One way to prevent water pollution is to scale up the use of more sustainable farming and animal husbandry techniques.
In Iowa, some farmers are beginning to adopt cover crops, which are planted during the off-season to protect soil. Rye and oats, for example, prevent soil from eroding in the winter. Peas and beans help lock nitrogen into the soil, keeping it out of the water and available for next season's crops. Since 2009, the amount of cover crop acreage in Iowa has grown from 10,000 to 300,000 acres. However, that's still only about 2 percent of Iowa's cropland.
Other farmers are rediscovering the ancient technique of intercropping—growing multiple crops like corn, beans and squash on the same field—which improves soil health and reduces the need for pesticides and fertilizers. Rotating crops throughout the year, rather than planting only corn, also helps farmers cut back on chemical use. Buffer strips of grass, planted alongside streams and wetlands, can help keep fertilizer out of waterways.
Some farmers in Ohio are experimenting with technological solutions, such as drones and GPS systems, to help make fertilizer application more precise and timely. The USDA just launched a three-year, $41 million initiative to support farmers who are working to keep pollution out of Lake Erie.
However, such initiatives pale in comparison to the billions of taxpayer dollars that support the industrial farming of corn and soy. As long as crop insurance and other subsidies make corn and soy the most secure crops a farmer can grow, there's little incentive to run a small-scale, diversified farm. And as long as agricultural operations are exempt from the Clean Water Act—the fundamental instrument that keeps water pollution at bay—there's little incentive for farmers to make investments in techniques that reduce pollution.
We need to ensure that utilities are adequately testing and treating our drinking water, and we also need to work harder to keep pollution out of waterways in the first place. If there's one thing we've learned from Flint, it's that failure to protect water supplies can be a tragic public health and economic miscalculation. Changing U.S. farm policy to encourage more sustainable farming, as well as holding the agriculture industry to the standards of the Clean Water Act, will help protect safe drinking water for millions of Americans. 
Fertile Grounds is a blog series that examines the challenges and opportunities in ensuring access to healthy, sustainable and affordable food for all. We talk about the entire lifecycle of food—from seed selection and planting to consumption and disposal—because there is potential for improvement throughout. We're informed by the expertise of our many clients and allies and by Earthjustice's years of work to ban harmful pesticides, encourage sustainable farming methods, reduce pollution, support farmworker justice and promote a healthy relationship between farmers and communities.
Preocupaciones por Agua Potable Van Más Allá del Plomo
Un encabezado en el periódico Des Moines Register recientemente intentó brindar confianza a sus lectores de que "El Agua de Iowa Raramente Excede Límites de Plomo." Este comunicado no brinda la confianza que se supone. En primer lugar, los límites federales sobre el nivel de plomo en el agua potable no protegen lo suficiente, especialmente para aquellos que son más vulnerables a la contaminación por plomo: las mujeres embarazadas y los bebés que toman fórmula. Y el problema principal para muchos en Des Moines no es el plomo (aunque puede que sea una preocupación). Sino que es la contaminación de las granjas que rodean la ciudad, la cual está filtrándose hacia la fuente de agua potable de la ciudad.
La crisis de agua potable en Flint, Michigan llamó la atención de todo el país a una amenaza para la salud a la que se enfrentan comunidades de todo el país: exposición al plomo en el agua potable. Límites federales más estrictos y vigilancia más estricta y un tratamiento apropiado por parte de la junta de agua potable de las ciudades, las cuales a menudo son laxas en lo que se refiere al plomo, ayudará a sanear el agua potable. Pero la contaminación del agua por parte de las grandes granjas industriales sigue estando fuera del alcance de la ley.
La agricultura es responsable de la mayoría de la contaminación del agua en Estados Unidos, de acuerdo a un reporte del Inventario Nacional de la Calidad del Agua (National Water Quality Inventory), la contaminación agrícola  es "la fuente principal del impacto en la calidad del agua en ríos y lagos, la segunda fuente de deterioro en los humedales y un contribuyente principal a la contaminación de los estuarios estudiados y del agua del suelo." La contaminación agrícola amenaza el agua potable de millones de personas desde ciudades del Medio Oeste hasta las comunidades de trabajadores agrícolas de California y la franja de Carolina del Norte donde se crían los puercos al por mayor. Cada vez que llueve, los fertilizantes químicos, pesticidas y desechos animales de las operaciones de la agroindustria van a dar a los campos y a los ríos y corrientes donde pueden contaminar las fuentes de agua potable.
En Des Moines, las fuertes lluvias de la primavera han llevado la contaminación por nitrato en los ríos Raccoon y Des Moines  hasta niveles récord en años recientes. Los nitratos han sido relacionados con abortos y diversos tipos de cáncer, y pueden causar una enfermedad rara, pero a veces fatal, llamada cianosis o "síndrome del niño azul." (Los bebés expuestos pierden la habilidad de transportar oxígeno en su sangre lo cual hace que tomen un tono azulado.)
El problema existe por casi toda la región del Medio Oeste. Noventa por ciento  de la tierra en  Iowa se usa para fines agrícolas, y más de 60 pueblos y ciudades por todo el estado han estado luchando contra los altos niveles de nitratos en el agua potable en los últimos cinco años. En Ohio, mucha gente todavía siente desconfianza  tras un incidente de proliferación de algas tóxicas en el Lago Erie, relacionado con fertilizante de fósforo de los campos de maíz, y que contaminó el sistema de agua potable de la ciudad de Toledo.
Mientras que Earthjustice y otros grupos luchan a nombre de las comunidades que carecen de agua potable confiable, también trabajamos para alejar la contaminación agrícola de las fuentes de agua del subsuelo. Una manera de prevenir la contaminación del agua es aumentando las técnicas sustentables de agricultura y de cría de ganado.
En Iowa, algunos agricultores están empezando a adoptar cultivos de cobertura, los cuales se plantan durante la temporada baja para proteger la tierra. El centeno y la avena, por ejemplo, evitan que el suelo se erosione en invierno. Chícharos y frijoles ayudan a depositar nitrógeno en la tierra, evitando que se vaya al agua y lo mantiene disponible para los cultivos del año siguiente. Desde el 2009, la cantidad de tierra en Iowa sembrada con la técnica de cultivos de cobertura ha crecido de 10,000 a 300,000 acres. Sin embargo, es solamente alrededor de un 2 por ciento de la tierra agrícola de Iowa.
Otros agricultores están redescubriendo la antigua técnica de cultivo intercalado—sembrar filas con cultivos múltiples como maíz, frijol y calabaza en el mismo campo—lo que mejora la salud de la tierra y reduce la necesidad de pesticidas y fertilizantes. Hacer rotación de cultivos por todo el año, en vez de sembrar maíz solamente, también ayuda a los agricultores a que reduzcan su uso de químicos. Franjas de pasto como protección, plantadas a los lados de arroyos y humedales, pueden alejar los fertilizantes de los cuerpos de agua.
Algunos agricultores en Ohio están experimentando con soluciones tecnológicas, como drones y sistemas de GPS, para ayudar a hacer la aplicación del fertilizante más precisa y a tiempo. La USDA acaba de echar a andar una iniciativa de 41 millones de dólares  de tres años de duración para apoyar a los agricultores que están trabajando en evitar la contaminación del Lago Erie.
Sin embargo, tales iniciativas son poca cosa comparadas con los miles de millones de dólares en dinero de los impuestos que respaldan a la agroindustria y su producción de maíz y soya. Mientras haya seguro para las cosechas y otros subsidios que hacen del maíz y la soya los cultivos más seguros que un agricultor pueda sembrar, hay poco incentivo para echar a andar una granja diversificada y de pequeña escala. Y mientras haya operaciones agrícolas que estén exentas de cumplir con la Ley del Agua Limpia—el instrumento fundamental que evita la contaminación del agua—hay poco incentivo para que los agricultores inviertan en técnicas que reduzcan la contaminación.
Necesitamos garantizar que las juntas municipales de administración del agua potable estén tratando y examinando nuestra agua, y también necesitamos trabajar más duro en evitar que la contaminación llegue a nuestras fuentes de agua desde el comienzo. Si hay algo que hemos aprendido de la crisis del agua en Flint es que el no haber protegido las fuentes de agua potable puede ser un error garrafal en materia de salud pública y de cálculos económicos. Cambiar la política agrícola de Estados Unidos para fomentar una agricultura sustentable, al igual que hacer que la agroindustria obedezca las normas de la Ley del Agua Limpia, ayudará a mantener limpia el agua potable para millones de estadounidenses. 
Fertile Grounds es una serie de blogs que examina los retos y oportunidades en el proceso de proveer comida sana, sustentable y a precios accesibles para todos. Hablamos del ciclo completo de la comida—desde la selección y plantación de las semillas hasta su consumo y eliminación—porque existe el potencial para hacer mejoras a todo lo largo del proceso. Nos enriquecemos de la experiencia de nuestros muchos clientes y aliados y de los años de experiencia de Earthjustice en trabajar para prohibir pesticidas nocivos, fomentar métodos agrícolas sustentables, reducir contaminación, lograr justicia para los trabajadores del campo, y promover una relación sana entre agricultores y comunidades.
Based in New York, Peter Lehner (@p_lehner) directs Earthjustice's Sustainable Food & Farming Program, developing litigation, administrative, and legislative strategies to promote a more just and environmentally sound agricultural system and to reduce health, environmental, and climate harms from production of our food.
Earthjustice's Sustainable Food and Farming program aims to make our nation's food system safer and more climate friendly.