Congress Moves to Bolster Pruitt's Agenda of Delay, Delay, Delay
Scott Pruitt's EPA directive and a bill in Congress seek to give industry the power to further delay or block public protections when EPA misses legal deadlines.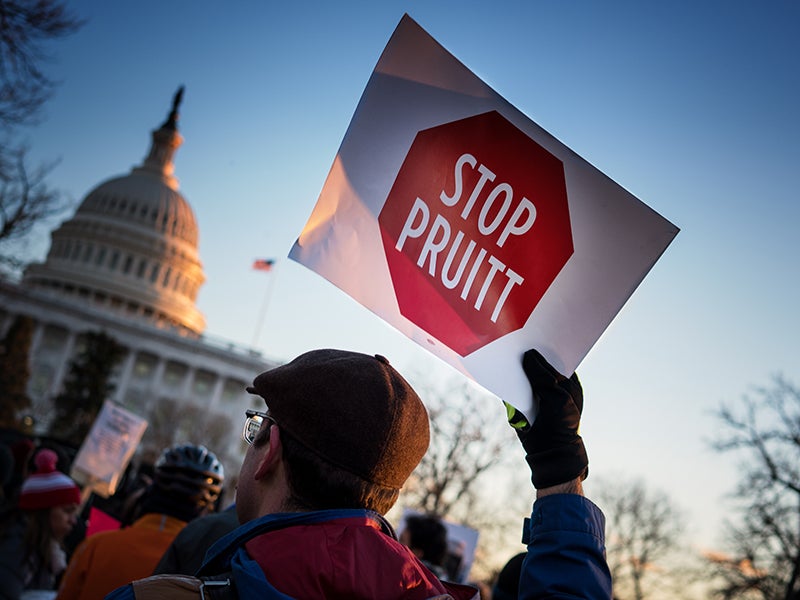 During the frigid winter months, the skies of Fairbanks, Alaska, should be lit up with the ghostly green of the Northern Lights. Instead, the city is often shrouded in a noxious fog made up of pollution from wood-burning heaters, idling cars and power plants. Fairbanks' residents are fighting to clear the air, and now, thanks to an Earthjustice lawsuit, the city's 32,000 residents can finally advance toward getting that long overdue reprieve.
But this all would not have been possible if EPA Administrator Scott Pruitt had his way.
Last Monday, Pruitt issued a directive to the EPA staff that they should no longer settle lawsuits without imposing a host of burdensome and unnecessary hurdles that allow the agency and polluters to further delay compliance with laws that protect public health and the environment.
As a former Oklahoma attorney general who's been on the losing side of many legal battles on behalf of oil and gas interests, Pruitt knows that polluters can only hide from the law for so long before the public, through the courts, forces them to comply. So as EPA administrator, Pruitt has set his sights on delaying such compliance as long as possible.
In his latest assault on public health protections, Pruitt seeks to deter people from going to court in the first place—and to make any efforts to hold the agency accountable for its legal obligations as drawn out and expensive as he can. Three days after issuing the directive, Pruitt headed to a meeting of oil industry executives to share the good news of his work on their behalf.
Pruitt claims he's responding to public abuse of litigation. But that problem doesn't actually exist, according to a 2014 Government of Accountability Office report. When federal agencies miss statutory deadlines and fail to comply with laws like the Clean Air Act and Clean Water Act, communities, organizations and individuals are able to go to court to push the agency to follow the law. Because a missed deadline is a clear, unarguably unlawful act, the most responsible course of action for the agency is to negotiate a settlement with the injured parties. In such negotiations, the only item on the table is identifying a new deadline for the agency to belatedly meet its legal obligations. These negotiations do not address the content or stringency of the required agency action, but only the need to get the agency on a schedule to adopt the protections that were already meant to be in place.  Moreover, before EPA takes the action required by the statute, it will engage in a detailed public process that is already prescribed by law.
Over the past few decades, Earthjustice has forced regulatory agencies through settlement agreements to take overdue action on toxic chemicals, air pollution and toxic waste disposal, and to uphold public health standards.
In the Fairbanks case, the EPA finally agreed to address the city's notoriously polluted air in January after Earthjustice sued the agency on behalf of a Fairbanks citizen group led by resident Patrice Lee. Though the area has some of the worst and most dangerous air quality in the nation, for years the EPA and state regulators failed to enforce Clean Air Act standards that would start to clean up the pollution. Under the court settlement, the agency agreed to approve or disapprove the state of Alaska's plan to address the city's air pollution, thereby advancing the Clean Air Act process that will lead to healthier air.
The only reason for Pruitt's new decree is to further delay the agency's already tardy compliance in cases like this where the EPA has missed the relevant statutory deadline for action. These delays, though seemingly benign, cost lives. While people like the residents in Fairbanks wait to see justice served, pollution goes unaddressed, subjecting communities to ongoing harm.
Unfortunately, Pruitt's directive isn't just a one-off: It's a sign of a larger problem afoot. At the oil executive meeting, Pruitt, anticipating industry desires, expressed his hope that this tactic of limiting settlements would "spur others in the U.S. government to do something similar."
Today, less than a week after Pruitt issued his directive, the House passed HR 469, the Sunshine for Regulatory Decrees and Settlements Act of 2017, introduced by Rep. Doug Collins (R-GA). The bill is aimed more broadly at cases involving the environment, consumer protections, anti-discrimination measures and public health. Like Pruitt's directive, it inhibits the federal government from agreeing to take responsibility for its own unlawful conduct, delaying implementation of public protections required by law. This could undermine the enforcement of federal laws and impede the resolution of various cases before federal courts.  If this bill gets voted through the Senate and sent to the President's desk, it would basically codify Pruitt's directive into law, not just for the EPA, but for all agencies with mandates to protect the public and the environment.
Since Trump first took office, polluter and wealthy industry allies in Congress have been rolling out a series of attacks on citizen enforcement and access to the courts. And the policies aimed at settlements are just the beginning. For years, polluting industries have been thwarted by public advocacy in the courts, so now they're trying to make that kind of advocacy harder to carry out. This effort, designed to enhance industry's already lopsided influence, flies in the face of the cherished principle of a democracy of the people, by the people and for the people.
A leading environmental attorney and legal scholar, Patrice began his career as an attorney in the U.S. Environmental Protection Agency's Office of General Counsel, and later served as a counsel to the agency's Environmental Appeals Board. As a Howard University School of Law professor, Patrice taught, wrote, and spoke on various subjects related to environmental law and environmental justice.
Established in 1989, Earthjustice's Policy & Legislation team works with champions in Congress to craft legislation that supports and extends our legal gains.
Earthjustice's Washington, D.C., office works at the federal level to prevent air and water pollution, combat climate change, and protect natural areas. We also work with communities in the Mid-Atlantic region and elsewhere to address severe local environmental health problems, including exposures to dangerous air contaminants in toxic hot spots, sewage backups and overflows, chemical disasters, and contamination of drinking water. The D.C. office has been in operation since 1978.