Connecting Communities of Color to the National Parks
Teresa Baker, the founder of the African American National Parks Event, talks to Earthjustice about what national parks can do to welcome communities of color. (Spanish language version available.)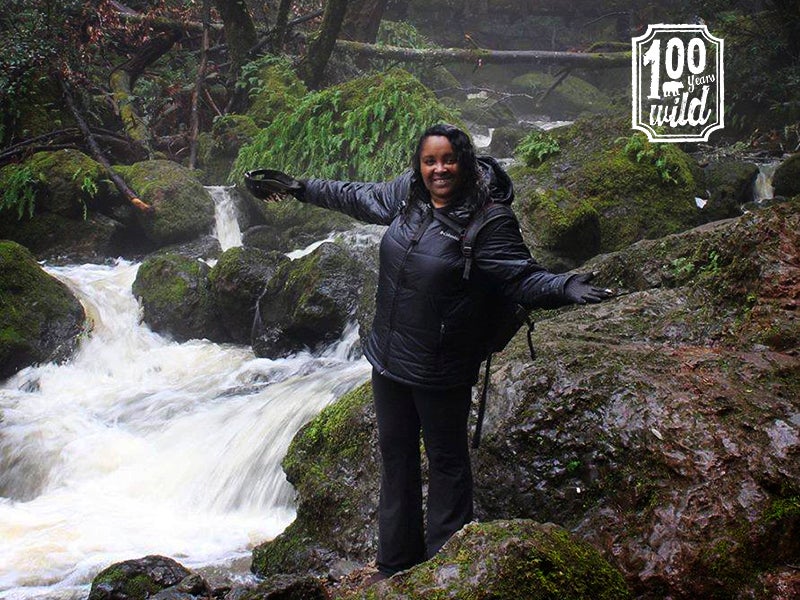 Este blog está disponible en español aquí.
Teresa Baker is the founder of African American National Parks Event, a nationwide initiative to encourage African Americans to get outdoors, explore the national parks and join the conservation movement. Below, Earthjustice talks to Teresa about what all of us – the parks and environmental organizations – can do better.
What was your relationship with nature growing up? How did it have an impact on the environmental work you're doing today?
It's funny, I never considered myself to be an environmentalist. I just have a love for the outdoors. I guess that's how I got started in this line of work. Always wanting to be outside in open spaces—hiking, camping, horseback riding.
I grew up in Richmond, California, and there is a national park there now, Rosie the Riveter, but not when I was growing up. We were surrounded by regional and city parks. We grew up hiking around the hills of Point Richmond, Tilden Park and Wildcat Canyon.
What are the biggest obstacles facing people of color in developing a relationship with nature?
Part of the problem is not being familiar or not having opportunities to experience nature. There is a lot our state and national parks can do to encourage communities of color to get out in to these open spaces. The reason I got involved with this work back in 2013 was because, after taking several trips to Yosemite, I grew frustrated at not seeing other African Americans. I reached out to one of the only African American rangers in Yosemite, Shelton Johnson, and mentioned my concerns to him. We talked about how some in the African American community do not feel connected or welcomed in our national parks. When you don't see park staff that look like you, it's intimidating. I think the parks can do a better job at hiring people of color to represent their agency.
What do people of color add to our environmental narrative?
It's not just a matter of connecting to these outdoor spaces but re-connecting. Native Americans, Latinos and African Americans have always had a relationship with the land but we have moved away from that over the past couple of generations. Right now, we need more people that care about the land and the number one demographic that's missing from all of this work around conservation is communities of color.
Have you encountered incidents where the historical legacy of racist violence towards African Americans has contributed to a fear of visiting remote areas away from other black people?
I personally have not, but you can do a search on Google and come up with incidents that have happened where African American families have been chased out of campgrounds here in northern California. This is not something that happened in the '50s or '60s; it's happening now. We let people know that incidents like this are not occurring daily, but it is something to take into consideration when we encourage African American communities to get out into our open spaces.
How can environmental organizations welcome African American into outdoor spaces?
They can do a better job of recruiting people of color into their organizations and reach out directly to African American communities. They have to move beyond what they've always done—publicizing in publications that do not reach communities of color. Welcome them into your organization and on your outings—your camping trips, hiking trips, the meetings that you hold on conservation measures.
What do you hear from African Americans who experience parks and camping for the first time?
I receive so many e-mails from African Americans who took their families out for the first time and absolutely loved it. There's no way you can see a waterfall in Yosemite or a giant Sequoia and not fall in love with these spaces. We have to put all of our efforts towards getting people outdoors because once they are there, they will continue to get out. It's the first experience that's the most difficult.
What initiatives do you see as having the biggest impact on making national parks more inclusive?
Every June, I do the African American National Parks Event where I put a call out across the country for African American communities to get out to our national parks—for hiking, discovering, exploring and camping.
I also did a "Hike like a Girl" campaign and received hundreds of emails with pictures of women being out on a hike for the very first time. A lot of them were African American. I think it helps people to know that on this particular weekend there are hundreds of people responding to this call so they don't feel alone.
What changes have you witnessed in the past few years? Have you seen more diversity in the parks?
Back in 2013 I could be in Yosemite for a week and not see another African American. I was in Yosemite four months ago and the very first couple I saw in Yosemite Lodge was African American. It used to be rare for African Americans to post photos of themselves in national parks on the African American Nature and Parks Experience Facebook page, but it happens at least once a week now. The message is getting out there that these places are safe to visit. It takes all of us, the National Park Service (NPS) and grassroots organizations, pushing this message and showing ourselves out in these spaces.
What are your hopes for the next generation of environmental caretakers?
I'm partnering with the NPS and a few other organizations on youth and inclusion in the National Park Services. It's happening next month at the Brower Center and this program will be completely in the hands of our young people. If we don't take the time to engage and listen to our youth, we are doing a disservice to our future and to our environment because the environment depends on action. And as adults, let's face it, we screwed up this environment. Why not give our youth what they need to fix some of the messes we've created?
Where should future diversity and inclusion efforts in conservation be focused?
Grassroots organizations and the NPS have to find a way to bridge the gap. We have to find common ground because we are the community they are trying to get out to these spaces. The NPS has been around for 100 years next month and they have managed in that 100 years to be about 80 percent white. I encourage the NPS as well as the organizations that work with them to reach out to some of the grassroots programs. Let's find common ground and work together to find a solution for the next 100 years.
As the National Park Service turns 100 this summer, the 100 Years Wild series is celebrating the value of public lands as refuges for wildlife and people, while also shining a light on the threats to these irreplaceable landscapes in a changing and warming world.
Conectando a Comunidades de Color con los Parques Nacionales 
Teresa Baker es la fundadora de African American National Parks Event, una iniciativa nacional para animar a la comunidad afro-americana a salir al aire libre, explorar los parques nacionales y unirse al movimiento en favor de la conservación. A continuación Earthjustice conversa con Teresa sobre lo que todos nosotros – los parques y las organizaciones ambientales – podemos hacer para mejorar.
¿Cuál era tu relación con la naturaleza en tu infancia? ¿Cómo ha impactado la labor por el medio ambiente que estás realizando hoy en día?
Es curioso, nunca me consideré ambientalista. Yo simplemente siento cariño hacia la naturaleza. Supongo que es así como comencé en este trabajo. Siempre queriendo estar afuera en espacios abiertos—en caminatas, acampando y paseando a caballo.
Me crié en Richmond, California, y ahí hay ahora un parque nacional, llamado Rosie the Riveter, pero no existía cuando yo era chica. Estábamos rodeados de parques regionales y parques de la ciudad. Crecimos haciendo caminatas en lugares como Point Richmond, Tilden Park y Wildcat Canyon.
¿Cuáles son los principales obstáculos que la gente de color enfrenta al establecer una relación con la naturaleza?
Parte del problema es no tener la familiaridad o no tener la oportunidad de experimentar la naturaleza. Hay mucho que nuestros parques estatales y nacionales pueden hacer para animar a las comunidades de color a que salgan a ver estos espacios abiertos. La razón por la que me involucré en esta labor en el 2013 es que tras haber hecho varios viajes a Yosemite, me empecé a sentir frustrada por no ver a otros afro-americanos. Me acerqué a uno de los pocos guardabosques afro-americanos en Yosemite, Shelton Johnson, y le mencioné mis preocupaciones. Platicamos de como algunas personas de la comunidad afro-americana no se sienten conectados o bienvenidos en nuestros parques nacionales. Cuando ves a personal del parque que no se parece a ti, es intimidante. Creo que los parques pueden hacer una mejor labor de contratar a gente de color para representar a su agencia.
¿Qué es lo que la gente de color añade a nuestra narrativa sobre el medio ambiente?
No se trata solamente de conectarlos a estos espacios al aire libre sino de re-conectarlos. Los nativos Americanos, latinos y afro-americanos siempre han tenido una relación con la tierra pero nos hemos alejado en las últimas dos generaciones. En estos momentos, necesitamos más gente que cuide la tierra y el grupo demográfico que falta en el tema de la conservación es la comunidad de color.
¿Te has topado con incidentes donde el legado histórico del racismo violento hacia los afro-americanos haya contribuido al miedo por parte de los negros a visitar sitios remotos?
Personalmente no me ha pasado, pero puedes hacer una búsqueda en Google y ver los incidentes en que familias afro-americanas han sido corridas de campamentos aquí en el norte de California. Esto no es algo que haya sucedido en los años '50s o '60s; está pasando ahorita. Le avisamos a la gente que incidentes como éste no ocurren diariamente, pero es algo que tomamos en consideración cuando invitamos a las comunidades afro-americanas a que salgan a disfrutar nuestros espacios naturales.
¿Qué pueden hacer las organizaciones ambientalistas para que los afro-americanos se sientan bienvenidos en espacios al aire libre?
Pueden mejorar su contratación de personas de color en sus organizaciones y hacer un llamado directo a las comunidades afro-americanas. Tienen que ir más allá de lo que han hecho siempre: hacerse publicidad en publicaciones que no llegan a las comunidades de color. Brindar la bienvenida a tu  organización y tus salidas—tus viajes de campamento, tus caminatas, las reuniones que organizas sobre medidas de conservación.
¿Qué te cuentan los afro-americanos que experimentan los parques y salen a acampar por primera vez?
Yo recibo muchos e-mails de afro-americanos que llevaron a sus familias por primera vez y la experiencia les encantó. No hay manera de que al ver una cascada en Yosemite o un gigantesco árbol de Sequoia no te enamores de estos espacios. Hemos puesto todos nuestros esfuerzos en sacar a la gente al aire libre porque una vez que lo hagan, seguirán saliendo. Es la primera experiencia la que cuesta más trabajo.
¿Qué iniciativas ves que están teniendo el mayor impacto en hacer que los parques nacionales se vuelvan más incluyentes?
Cada junio organizo el evento African American National Parks Event donde hago un llamado a todas las comunidades afro-americanas a que salgan a visitar nuestros parques nacionales—a caminar, descubrir, explorar y acampar.
También hice una campaña que nombré "Hike like a Girl" ("Camina como Niña") y recibí cientos de emails con fotos de mujeres haciendo caminata por primera vez en sus vidas. Muchas de ellas eran afro-americanas. Creo que ayuda a las personas saber que en ese fin de semana particular hay cientos de otras personas haciendo caso a ese llamado y así no se sienten solas.
¿Qué cambios has visto en años recientes? ¿Has visto más diversidad racial en los parques?
En el 2013 yo podía estar en Yosemite durante una semana completa y no ver a otro afro-americano. Estuve en Yosemite hace cuatro meses y la primera pareja que vi en el Albergue de Yosemite Lodge era  afro-americana. Era raro ver a los afro-americanos subir fotos de sí mismos en parques nacionales en la página de Facebook llamada Experiencia Afro-Americana de Parques y la Naturaleza, pero ahora sucede una vez a la semana. El mensaje de que estos lugares son seguros y listos para ser visitados se está diseminando. Se requiere que todos nosotros, el Servicio de Parques Nacionales (NPS, por sus siglas en inglés) y las organizaciones de las bases, saquen este mensaje mostrándonos en estos espacios naturales.
¿Cuáles son tus expectativas para la próxima generación de guardianes del medio ambiente?
Estoy colaborando con NPS y otras organizaciones juveniles y de inclusión dentro de la oficina de Servicios de Parques Nacionales. Va a llevarse a cabo en el Brower Center y este programa estará completamente en manos de nuestra gente joven. Si no nos tomamos el tiempo de involucrarnos y escuchar a nuestra juventud, le estamos fallando a nuestro futuro y a nuestro medio ambiente porque el medio ambiente depende de las acciones. Como adultos, seamos honestos, echamos a perder el medio ambiente. ¿Por qué no le damos a nuestra juventud lo que necesita para reparar algunos de los problemas que hemos creado?
¿Dónde se deben de concentrar los esfuerzos para lograr mayor diversidad e inclusión en la conservación?
Organizaciones de base y el NPS tienen que encontrar la manera de reducir esa distancia. Tenemos que encontrar un espacio común porque somos la audiencia que esos grupos están tratando de sacar a visitar estos espacios. NPS va a cumplir cien años el mes que entra y se ha mantenido cien años con una membresía que es casi 80 por ciento blanca. Quiero animar a NPS –al igual que a organizaciones que trabajan con ellos– a que tiendan la mano por medio de algunos de esos programas y así llegar a las bases. Busquemos un espacio común donde podamos trabajar juntos y encontrar una solución para los próximos cien años.
En conmemoración del centenario del Servicio de Parques Nacionales, la serie 100 Años Silvestre celebra el valor de las tierras públicas como refugio para la vida salvaje y para la gente mientras que al mismo tiempo le da un vistazo a las amenazas contra estos paisajes irremplazables en un mundo cambiante y cada vez más caluroso. 
Vivian was a Communications Intern at Headquarters in San Francisco.