Creating a Sustainable Clean Energy Transition
Transitioning to 100% clean energy is a huge opportunity to power our economy and create good jobs without sacrificing our communities or the climate. Here's how we do it.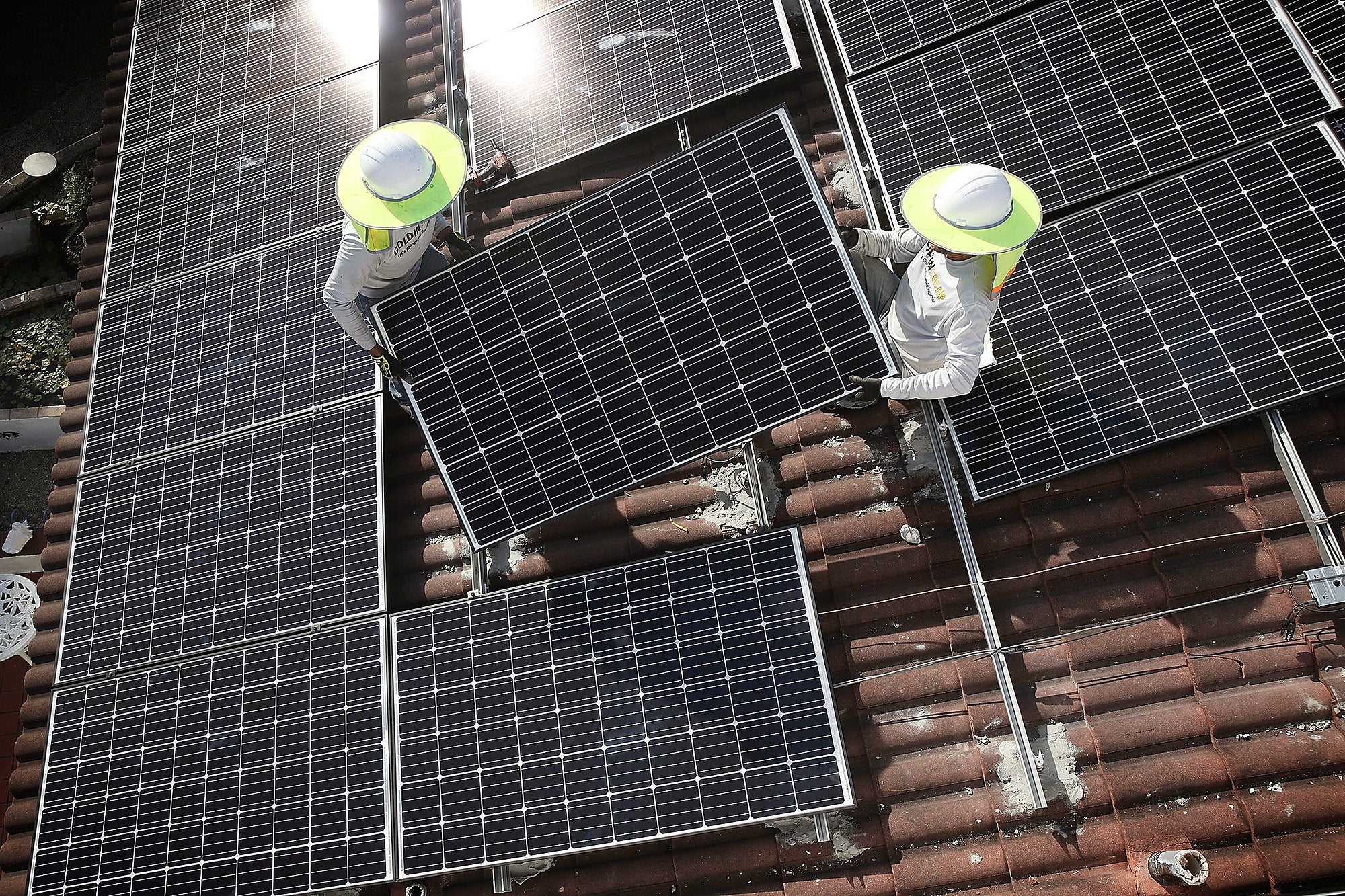 To get the U.S. off fossil fuels and avert catastrophic climate change, we need a quick transition to 100% clean energy, which will require dramatically scaling up the building of wind turbines, solar panels, and electric vehicles (EV) to power our economy over the next few decades. But clean energy technologies are currently made of lots of so-called "critical minerals" like aluminum and lithium. If done recklessly, mining for these minerals could perpetuate environment injustices by moving our energy sacrifice zones from communities near fossil fuel extraction to a different set of communities near mines.
In transitioning to clean energy, we have the opportunity to power our homes, businesses, and economy without sacrificing our air, water, and climate. A 100% clean energy transition will also reduce U.S. dependence on foreign powers and create millions of new jobs. Here's a breakdown of what the clean energy transition will require, the environmental impact of current mining practices, and our plan for both minimizing the need for new mining and strengthening existing mining regulations.
What kinds of resources will the clean energy transition require?
Zero emissions energy technologies like wind, solar, and electric vehicles have immense potential to both clean our air and protect our climate. And, unlike fossil fuel infrastructure that requires the endless extraction and burning of dirty fuels to generate power, clean energy infrastructure is powered by clean, renewable resources like the sun and wind that are often plentiful and readily available. Even when the sun doesn't shine or the wind doesn't blow, energy storage systems can make up the difference and create a more resilient and nimble power system overall.
That said, current technologies for clean energy infrastructure requires substantially more mineral inputs upfront than the fossil-fuel-powered technology its replacing. According to the International Energy Agency, demand for clean energy minerals such as graphite, lithium, and cobalt is expected to grow by up to 500% by 2050 to meet the needs of the clean energy transition. That increase in demand will mean more hardrock mining, which involves extracting non-fuel metal and mineral deposits of common minerals like copper, gold, and iron ore.
What's the environmental impact of hardrock mining?
Mining for minerals is a dirty business. According to the Environmental Protection Agency (EPA), mining is the country's most toxic industry and abandoned hardrock mines have contributed to the contamination of an estimated 40% of the country's rivers and 50% of its lakes. And cleaning up these mines is estimated to cost billions of dollars, an expense that is often left to the government, and taxpayers.
Hardrock mining involves blasting, excavating, and crushing millions of acres of land to move soil, rocks, and trees in order to access minerals. This can contribute to habitat loss, permanently scar landscapes, and pollute the local water supply through increased sedimentation and the dumping of toxic mining pollution. Mining for nickel and copper often unlocks other substances that are harmful to the environment, like sulfides. When exposed to air and water, sulfides turn into sulfuric acid, which can contaminate plants, animals, and our drinking water, as well as dissolve and release other harmful metals like arsenic from surrounding rock. Worse, once created, sulfuric acid is nearly impossible to clean up. Mining companies are not liable to clean up their sites under the current 1872 Mining Law, which hasn't been significantly updated in 150 years.
Who will hardrock mining impact the most?
At the heart of this work is a need to avoid replicating the harms of our current mining system, which continues to sacrifice communities around the world, poisoning people of color and Indigenous peoples in particular. For example, the deadly legacy of uranium mining spanning Utah, New Mexico, and Arizona between 1944 and 1986 continues to impact the nearby Navajo Nation today, with many Navajo people having died of kidney failure and cancer, both of which are linked to uranium contamination.
Without proactive steps, the impacts of mining in the U.S. and around the world will continue to fall on communities already disadvantaged in various ways. For example, with 97% of nickel, 79% of lithium, 68% of cobalt, and 89% of copper deposits located within 35 miles of Native American Reservations, we anticipate that Indigenous communities will continue to be adversely impacted by the proposed mining projects we expect to see over the next year.
Can recycling minimize the need for new mineral mining?
Yes! Recycling, reusing, and extending the life of materials and products we already have is the most sustainable way to meet the demand for minerals required for the clean energy transition. It's also an opportunity to transition from an extractive to a regenerative energy system.
The primary way to do this is by establishing a circular economy that frontloads reusing and recycling materials and products to keep them in circulation as long as possible, minimizing the overall resources needed and reducing waste. One key to a successful circular economy is to put the onus for recycling on manufacturers, taking the burden off individual people and incentivizing companies to redesign their products for easier recycling and reuse. According to research at Lawrence Berkeley National Laboratory, recycling could meet 37% to 91% of demand for critical raw materials in clean energy technologies in 2050.
Recycling innovation is happening constantly. For instance, in late 2022, researchers unveiled a new way to recycle lithium-ion batteries that both helps meet current demand and can perform better than new batteries. Additionally, four states are advancing laws to promote solar panel recycling, according to Yale Environment 360. A surge of expired solar panels is expected soon, and analysts predict this industry will continue to grow as more panels are decommissioned.
How can energy efficiency and innovation also reduce the need for mining?
Massively reducing energy use across all sectors is by far one of the quickest, cheapest, and most effective ways to decrease our need for new minerals and reach our climate goals. This could look like boosting the efficiency of energy-dependent technology like EV batteries, lightbulbs, and heat pumps, enhancing building efficiency, incentivizing vehicles with smaller batteries, and improving public transit to reduce one-person vehicle trips.
In the U.S., energy efficiency measures alone could cut energy needs and greenhouse gas emissions by half, while also saving people money on their electric and gas bills. The 2022 Inflation Reduction Act includes funding for many of these measures, like insulating homes and installing heat pumps, making energy efficiency more affordable than ever.
Finally, transportation is the number one source of carbon emissions in the United States, so a solution to both reducing those emissions and lessening the need for new mining is to reduce our dependence on cars. By increasing access to mass public transit and making more walkable and bikeable communities, new research by the Climate and Community Project has found that we can significantly reduce the need for new electric vehicles and, therefore, reduce the need for more lithium mining. By expanding public transit infrastructure, shrinking the size of electric vehicle batteries, and maximizing lithium recycling, the researchers found that the U.S. could decrease lithium demand up to 90% by 2050.
What is Earthjustice doing to lessen the environmental impact of the clean energy transition?
We're working on several fronts, including efforts to:
Create a sustainable mineral supply by supercharging the circular economy and calling for ethical sourcing.
On the Hill, Earthjustice is advocating to develop a first-of-its-kind comprehensive circular economy bill for critical minerals, which includes adopting policy tools like a "producer responsibility system" that puts the onus on companies to collect products for recycling and manage where they go. Unfortunately, the numbers indicate that recycling is not enough to meet our clean energy needs, but we remain committed to sourcing them in the most sustainable way possible. We have called for companies that supply these clean energy transition minerals to commit to implementing the highest safeguards for workers, communities, and the environment, and to obtaining "free, prior, and informed consent" from nearby communities before digging for minerals.
Increase energy efficiency standards.
For years, Earthjustice has pushed federal, state, and local regulators to strengthen energy efficiency standards, which reduces overall energy needs and the demand for new mining. In September 2022, for example, the U.S. Department of Energy agreed to review energy efficiency standards for 20 categories of consumer and commercial appliances and equipment as part of a settlement involving Earthjustice.Earthjustice is also advocating for regulatory agencies to expand energy efficiency in underserved communities. In March 2022, Michigan regulators agreed to target their plans for efficiency upgrades in places like Flint, Michigan, where the cost of energy can be almost 20% of a household's income.
Make cities more walkable and public transit more accessible.
In the Northeast, Earthjustice is working alongside the NAACP in Erie, Pennsylvania, to challenge a proposed development project that prioritizes cross-city commuters over the health and safety of downtown residents by increasing traffic and cutting off their access to the local waterfront. On the West Coast, Earthjustice advocacy pushed a transit agency in a semi-rural, southern California community to commit to an all-electric fleet, resulting in millions of cost savings that were then used to increase transit availability in previously underserved areas.
Reform outdated mining laws and regulations.
Earthjustice is supporting the Clean Energy Minerals Reform Act, which seeks to create a more sustainable mining future that protects special and sacred places, respects tribal consultation, and safeguards public health as we strengthen domestic supply chains for clean energy technologies. In addition to pushing for legislative updates, we are also calling for the outdated mining regulations to be updated. In 2022, a coalition of tribes, tribal organizations, and conservation groups submitted a petition to the Bureau of Land Management calling for mining standards to be strengthened to require more community input and higher environmental standards. We are currently awaiting the recommendations of the Interagency Working Group convened by the Biden administration.
Stop harmful mines
There are some places that are too sacred, special, or ecologically sensitive to mine. That is why Earthjustice is representing tribal nations, including the Mille Lacs Band of Ojibwe and Hualapai Tribe, against mining projects that threaten their natural resources, culture, and traditions. Over the last year, Earthjustice has been able to defeat several mining projects through advocacy and litigation. For example, Earthjustice successfully litigated and defeated the Rosemont Copper Project; successfully advocated for a 20-year mineral withdrawal in the headwaters of the Boundary Waters Canoe Area Wilderness; and successfully advocated to stop the current Pebble Mine in Alaska.
How can you help?
You can join us in supporting congressional efforts to reform our outdated mining law and regulations.
Jessica is a former award-winning journalist. She enjoys wild places and dispensing justice, so she considers her job here to be a pretty amazing fit.
Earthjustice's Clean Energy Program uses the power of the law and the strength of partnership to accelerate the transition to 100% clean energy.