Creating Spaces for Queer Environmentalists
Attorney and educator Lindi von Mutius invites us to explore the intersection of environmental conservation and justice for LGBTQIA+ communities.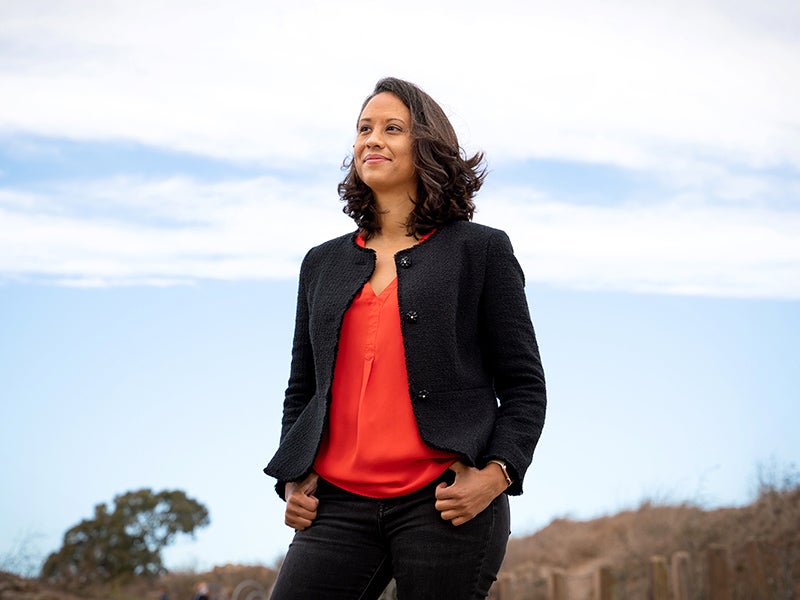 As environmental advocates push for a reimagined future, there is much we can learn from queer communities that have been organizing for generations. Any vision for environmental justice must address the needs of LGBTQIA+ people, because the upheavals of climate change will amplify the ways that prejudice already makes shelter, income, and safety more precarious. Lindi von Mutius — attorney, educator, director of board strategy and operations at Trust for Public Lands (TPL), and board member of Out for Sustainability (O4S) — is on the case.
Why is it valuable to create spaces for queer environmentalists?
Within the conservation space — non-profits, academia, field work — the queer community has historically had low, or hidden, representation. And the queer community, much like the Black community, has been whitewashed out of the environmental narrative and history. With O4S, we wanted to create visibility for our community.
If you're a queer person, and especially if you're a queer person of color, you're always code-switching, making thousands of daily adjustments to fit into the dominant culture. I identify as a bisexual queer woman, but I haven't always worn that on my sleeve, because when you're out, you become the person who always has to explain queerness to your colleagues.
O4S works intentionally to build a culture where folks can share their knowledge, contributions, and authentic selves in this work. We also wanted to create a space where we can talk about the overlap between social justice, racial justice, and queer justice.
Before the pandemic, O4S was powered by real-world gatherings. How has the strategy evolved?
When O4S started in 2008, we launched service projects like park and beach clean-ups, and we created salons and social gatherings. Then we wanted to grow in different regions, so we launched our conference, Fab Planet.
When the pandemic hit, it hit our community hard, and we knew we had to step up to meet an evolving set of needs. So we canceled Fab Planet and launched a fundraiser for queer community groups who were offering COVID-19 relief services.
We also recognized that we have a network of amazing people, and we want to tell their stories. So we became the fiscal sponsors for "Fire and Flood," a documentary that looks at what queer people are experiencing on the frontline of climate change. The project is led by Queer Ecojustice, and the filmmaker, Vanessa Raditz, is really leading this work into environmental conversations.
The focus of the film is also informing our transition at O4S to engage with social justice issues, as well as environmental issues. If the pandemic highlighted anything for us, it was that racial and queer justice, climate justice, and environmental sustainability are closely linked.
You've been an environmental advocate since you were a teenager. What drew you into this work?
In high school, I interned in Senator John Kerry's office, helping with research for the East Coast Greenway, which is now a 3,000-mile biking and walking route linking major East Coast cities from Calais, Maine, to Key West, Florida. That got me interested in how we can more equitably use and enjoy land, air, and water.
But my first exposure to environmental justice work was in Cairo, Egypt, for a nonprofit that helps people in marginalized communities get garbage out of their neighborhoods. Kids were dying of very preventable things. That's what happens when there's toxic waste in your front yard. They wanted to create opportunities by building a recycling center, building schools, and helping local women start businesses.
I thought, this is what I want to do — not just protect the environment, but also protect people. Working at TPL feels like coming full circle on my passion for community and conservation.
You also teach an environmental justice course at Harvard University. How has it been received?
Yes — we relaunched this year at Harvard Summer School. We reached full enrollment within 48 hours, so they decided to raise the enrollment cap. I could have told them that might happen; it's why I designed the course in the first place! I realized how disconnected traditional approaches to environmental education can be from the work practitioners are doing in communities.
Students today are seeing connections that their professors haven't, and there's burgeoning scholarship from people of color in academia exploring this nexus of environmental justice, community, and law. They want to fix these problems, and I'm excited to help them do that.
What's becoming clearer through your work with environmental powerhouses and grassroots networks?
We need our environmental regulations to have teeth. You know there's been an executive order on environmental justice on the books since the Clinton administration? But it didn't do much to change the system or environmental laws. I'm hopeful by what I see in this administration — we have real potential for legislation that addresses systemic inequities.
The point of government is to help and protect people, right? I'd like to see the Biden administration focus on righting systems of racism and injustice that create the environmental problems that cost us billions in health care and property damage.
By fixing these problems at the same time, we can all live better, less chaotic lives.
To learn more about Out for Sustainability, visit www.out4s.org.
Maz worked at Earthjustice from 2020–2021.