Crude-by-Rail Operations Threaten to Drown Out Black Community in Albany
Trains loaded with crude oil rumble past the Ezra Prentice Homes in Albany, New York, bringing air and noise pollution along for the ride. (Spanish language version available.)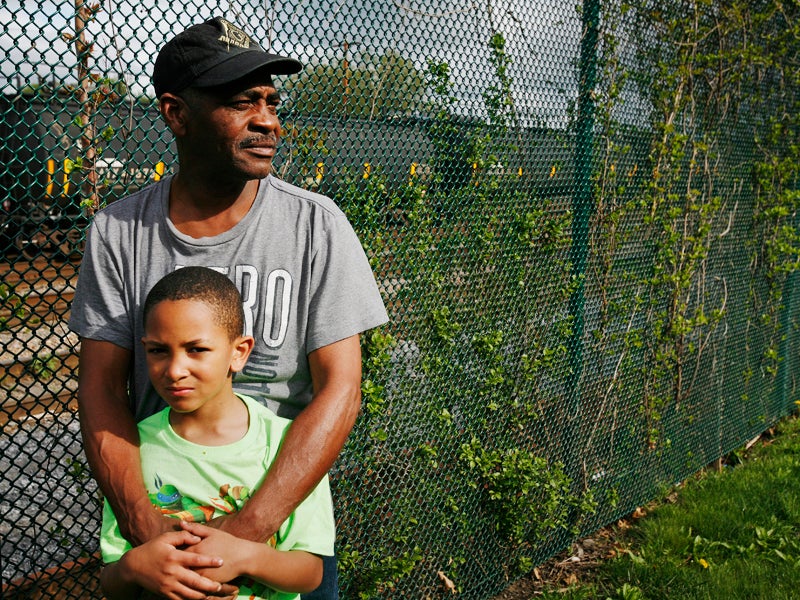 Este blog está disponible en español aquí.
Rail cars carrying Bakken crude oil bang and clang through the night, yards from Charlene Benton's home in Albany, New York. The noise keeps her awake, negatively affecting her health, but the racket is only where the trouble begins.
Global Companies, which is responsible for the noise, owns an oil operation at the Port of Albany on the Hudson River, a stone's throw from Benton's home. The company quadrupled the amount of oil it moves and processes in 2012, but failed to consider the impacts of the expansion on Benton's community. Not only did the neighborhood get noisier, Global Companies also violated the Clean Air Act by failing to obtain the proper permits for the expansion, threatening air quality too.
Beyond the noise, Benton's quality of life is made worse by the stench that comes from processing the crude oil, which forces her to keep her windows closed. Even so, her eyes and throat burn at times and her breathing becomes labored. These days, she avoids spending time outside altogether.
Despite the problems, Benton, who is 63 years old and gets around with the help of a wheelchair, is determined to fight to protect her community.
She lives in the Ezra Prentice Homes where she serves as the president of the tenants association. The Ezra Prentice Homes is a public housing complex with 400 mostly black residents, the majority of whom are children. Homes, health care facilities, parks and churches are also in close proximity to Global's crude oil operation. In fact, about half the homes at Ezra Prentice are within 100 feet of the facility.
The community where Ezra Prentice Homes is located in Albany's South End is at Global's doorstep and has been designated by the New York State Department of Environmental Conservation (NYSDEC) as an "environmental justice area," a community of color that bears a disproportionate impact from polluting facilities. NYSDEC's environmental justice policy imposes enhanced public notice and public participation requirements for permit applications that may result in additional pollution in an environmental justice area. However, NYSDEC ignored those requirements when it approved Global's massive expansion project in 2012. As a result, the disproportionate health impacts on this overwhelmingly African American community were never evaluated.
People living near the Port of Albany already face significant pollution impacts from another crude-by-rail operation, a sewage sludge incinerator and other industrial operations. In fact, people in Albany's South End are exposed to numerous hazardous air pollutants, including benzene, a component of crude oil and gas that can cause leukemia and other blood cancers.
In 2012, Global was permitted to increase the volume of petroleum products it handles at its Albany facility by a factor of five—from 450 million gallons per year to more than 2 billion gallons per year. Studies have shown, repeatedly, that African Americans, Latinos and other people of color face a greater burden of pollution than white Americans. Did race contribute to Global's decision to set up its crude-by-rail operation in Albany's South End? Somehow, time and time again, black communities are seen as suitable places for the stuff no one wants.
Race is more of a determining factor in where pollution is placed than economic class. For instance, in a 2014 study, researchers at the University of Minnesota found that communities of color are exposed to 38 percent higher levels of nitrogen dioxide (NO2) than white Americans. NO2—emitted by cars, construction equipment, power plants and industrial sources—leads to a higher risk of asthma and heart attacks.
Harmful pollution, including NO2, kills. The NO2 study, according to the Washington Post, showed that the differences in exposure based on race are equivalent to about 7,000 deaths each year from heart disease throughout the nation. Even people of color who fall within the middle class experience more NO2 pollution than their white peers.
In February, Earthjustice sued Global in federal court on behalf of the Ezra Prentice Homes Tenants Association, Albany County and several environmental groups. The suit alleges that Global's 2012 expansion violated the Clean Air Act because the company failed to obtain an air pollution permit that would have imposed needed pollution controls. The suit also asserts that Global is violating its current air pollution permit by handling crude oil from the Bakken region of North Dakota, which emits more air pollutants than conventional crude oil.
Also in February, Earthjustice, the Ezra Prentice Homes Tenants Association and others called on the Department of Environmental Conservation to conduct an environmental justice analysis of the Port of Albany's two crude-by-rail operations. The analysis will show the cumulative impacts of these facilities on the neighboring environmental justice community where Charlene Benton lives.
People have a right to breathe clean air. And state agencies issuing pollution permits should ensure that companies don't place additional health burdens on communities that already face higher rates of pollution, poverty and other social disparities.
The Ezra Prentice Homes Tenants Association and Earthjustice are resolved to continue fighting to protect the health of community residents. But until the courts or the state force Global to make changes to protect the community, Benton must bear the unrelenting noise at night and a diminished quality of life from bad smells and dirty air.
"The noises occur at different times of the day and night, seven days a week, throughout the year," she says. "The noises that sound like explosions scare me because I am never sure whether the sound is from a bad accident or is just from the rail cars banging into each other."
Las Maniobras De Transporte De Crudo Por Ferrocarril Amenazan
Los vagones de ferrocarril cargando petróleo crudo desde la lejana región Bakken en Dakota del Norte resuenan con un gran estampido durante toda la noche, a tan solo unos metros de la casa de Charlene Benton en Albany, Nueva York, al otro lado del país. El ruido la mantiene despierta, afectando su salud de forma negativa, pero el estrépito es solo el comienzo del problema.
Global Companies, los responsables por el ruido, son los dueños de la operación petrolera en el Puerto de Albany en el Río Hudson, a solo dos pasos de la casa de Benton. La compañía cuadriplicó la cantidad de petróleo que mueve y procesa en 2012, pero no consideró los impactos de la expansión sobre la comunidad de Benton. No solo aumentó el ruido en la vecindad, sino que Global Companies también violó La Ley de Aire Limpio al no obtener los permisos adecuados para la expansión, y por tal también está amenazando la calidad del aire.
Más allá del ruido, la calidad de vida de Benton ha empeorado debido al mal olor que proviene por el procesamiento del petróleo crudo, lo que obliga a los residentes a mantener sus ventanas cerradas. Aun así, tras ventanas cerradas, los ojos y la garganta les arden todo el tiempo y la respiración se les dificulta. Actualmente, evitan por completo el salir.
A pesar de los problemas, Benton, quien tiene 63 años de edad y se mueve con la ayuda de una silla de ruedas, está decidida a luchar para proteger a su comunidad.
Ella vive en Ezra Prentice Homes, donde sirve como presidenta de la asociación de vecinos. Ezra Prentice Homes es un complejo de viviendas con 400 residentes, mayormente de raza negra, y cuya mayoría son niños. También hay viviendas, centros de salud pública, parques e iglesias en las cercanías de la operación petrolera de Global. Es más, casi la mitad de las viviendas en Ezra Prentice están a 100 pies de distancia de la instalación.
La comunidad donde se encuentran las viviendas de Ezra Prentice Homes está ubicada en el extremo sur de Albany, justo a la entrada de Global y ha sido designada "área de justicia ecológica," una comunidad de color que sufre impactos desproporcionados por las instalaciones contaminantes. La política judicial ecológica de NYSDEC ignoró esos requisitos cuando aprobó el proyecto de expansión masiva de Global en 2012. Como resultado, el impacto desproporcionado a la salud de esta comunidad, mayormente afro-americana, nunca fue evaluado.
Las personas que viven cerca del Puerto de Albany ya enfrentan impactos significativos por la contaminación de otra operación petrolera de crudo transportado por ferrocarril, un incinerador de lodos provenientes de una depuradora y otras instalaciones industriales. Es más, las personas en el Sur de Albany están expuestas a numerosos contaminantes peligrosos del aire, que incluyen  benceno, un componente del petróleo crudo y del gas que puede causar leucemia y otros tipos de cáncer de sangre. 
En 2012, a Global se le permitió incrementar el volumen de productos de petróleo que maneja en sus instalaciones en Albany por un factor de cinco—de 450 millones galones por año a más de 2 mil millones de galones por año. Algunos estudios han demostrado, repetitivamente, que los afroamericanos, latinos y otras personas de color enfrentan una carga mayor de contaminación que los americanos blancos. ¿Habrá sido la raza un factor que contribuyó a la decisión de Global de establecer su operación de petróleo crudo por ferrocarril en el extremo sur de Albany? De alguna manera, una y otra vez, las comunidades negras son vistas como lugares adecuados para todo lo que nadie más quiere.
La raza es un factor más determinante en la ubicación de la contaminación que la clase económica. Por ejemplo, en un estudio en el 2014, investigadores en la Universidad de Minnesota encontraron que las comunidades de color están expuestas a niveles de dióxido de nitrógeno (NO2) 38% más elevados que los americanos blancos. El NO2—emitido por los vehículos, equipos de construcción, plantas de energía y fuentes industriales—conlleva un riesgo más elevado de asma y ataques cardíacos.
La contaminación dañina, que incluye al NO2, mata. El estudio de NO2, según el Washington Post, demostró que las diferencias en la exposición basada en raza equivalen a casi 7,000 muertes cada año por enfermedad cardíaca en toda la nación. Hasta las personas de color que caen dentro de la clase media sufren más contaminación por NO2 que sus pares blancos.
En febrero, Earthjustice demandó a Global en un tribunal federal a nombre de la asociación de inquilinos de Ezra Prentice Homes, el condado de Albany y múltiples grupos ecológicos. La demanda alega que la expansión de Global de 2012 violó la Ley de Aire Limpio ya que la compañía nunca obtuvo un permiso de contaminación que le hubiera impuesto controles necesarios de contaminación. La demanda también afirma que Global está violando su permiso actual de contaminación al manejar petróleo crudo desde la región Bakken de Dakota del Norte, que emite más contaminantes al aire que el petróleo crudo convencional.
Además, en febrero, Earthjustice, la Asociación de Inquilinos de Ezra Prentice Homes y otros llamaron al Departamento de Conservación Ambiental para conducir un análisis de justicia ecológica de las dos operaciones de crudo por ferrocarril en el Puerto de Albany. El análisis demostrará los impactos cumulativos de estas instalaciones en la comunidad de justicia ecológica cercana donde vive Charlene Benton.
Las personas tienen derecho a respirar aire limpio. Y las agencias estatales que entregan los permisos de contaminación deben garantizar que las compañías no coloquen cargas sanitarias adicionales en las comunidades que ya enfrentan altas tasas de contaminación, pobreza y otras desigualdades sociales.
La Asociación de Inquilinos de Ezra Prentice Homes y Earthjustice han decidido continuar luchando para proteger la salud de los residentes de la comunidad. Sin embargo, hasta que las cortes o el estado obliguen a Global a hacer cambios para proteger la comunidad, Benton debe soportar el ruido interminable por las noches y una calidad reducida de vida por los malos olores y el aire sucio.
 "Los ruidos se oyen en diferentes momentos del día y de la noche, siete días a la semana, durante todo el año," ella dice. "Los ruidos, que suenan como explosiones, me asustan porque nunca estoy segura si provienen de un accidente serio o de los vagones de crudo golpeándose entre sí."   
Based in Washington, D.C., Keith is the National Communications Strategist for Partnerships and Intersectional Justice.
Established in 2008, Earthjustice's Northeast Office, located in New York City, is at the forefront of issues at the intersection of energy, environmental health, and social justice.