Daughter of Murdered Environmental Activist Carries on Her Mother's Work in Honduras
In an interview with Earthjustice, Bertha Zúñiga Cáceres discusses the work she has inherited and the role the U.S. plays in Honduras' security woes.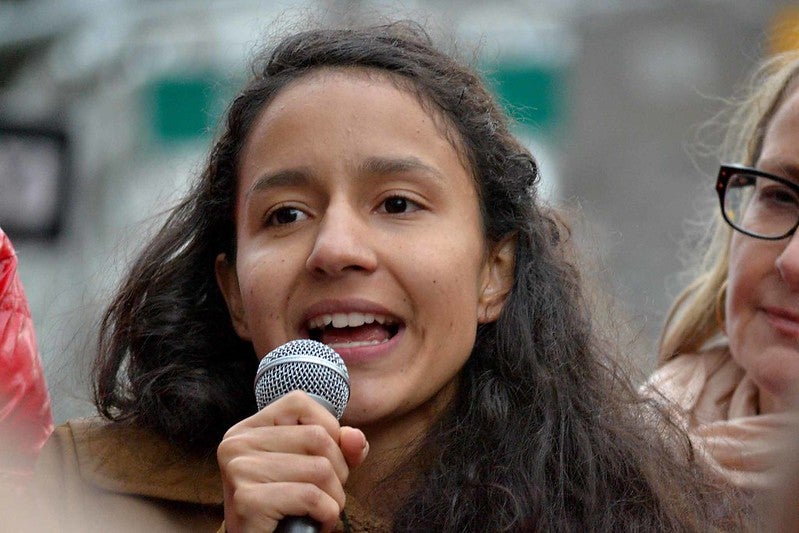 Update, 12/3/19: Seven men were were sentenced to decades in prison today after being found guilty of the murder of renowned environmental activist Berta Cáceres. However, the activist's daughter, Bertha Zúñiga, is still waiting on justice.
"The impunity in this crime against my mom does not end with the sentencing of the murder's material authors. We will continue fighting for comprehensive justice," she told Earthjustice."
She added, "This sentencing reaffirms the urgency that the public ministry initiate a process against the masterminds with maximum accountability. Berta, my mom, will continue to be a symbol of struggle and hope for the territories that keep on fighting [to preserve] life and who are persecuted and criminalized, as well. The sentencing is the start of a relentless path to justice for the peoples and for Honduras."
Original blog, published 11/7/19: When Honduran environmental defender Berta Cáceres was brutally murdered, it was a stark reminder of the perilous work environmental activists face in one of the world's most violent countries. Although her grassroots movement suffered a tremendous blow following her assassination, Cáceres's children are committed to keeping her activism alive, chief among them Bertha Isabel Zúñiga Cáceres. 
Cáceres relentlessly fought the construction of the Agua Zarca dam in the Gualcarque River, on behalf of the Lenca indigenous community and their sacred territories in Honduras's southwestern zone. Since 2017, Zúñiga Cáceres, an activist of Lenca descent, has been leading the National Council of Popular and Indigenous Organizations of Honduras (COPINH), the organization her mother cofounded.
Zúñiga Cáceres, 29, knows she has big shoes to fill. She stopped her graduate studies and instead focused on finding the truth about her mother's death. Weeks after she assumed COPINH's leadership, Zúñiga Cáceres and two of her colleagues were attacked by four men who brandished machetes and rocks in an attempt to veer their vehicle off a cliff. Nevertheless, Zúniga Cáceres has pledged to continue to keep fighting for Hondurans' rights. 
In an interview with Earthjustice, Zúñiga Cáceres discusses the challenges she has faced as the new leader of COPINH, her quest to find who really killed her mother, and why U.S. and European multinationals must be aware of their role in Honduras's security woes. 
How have these two years of leadership been at COPINH? What have been your biggest challenges?
It has been quite complicated. I had participated in this fight, but never from a management position. The murder of Berta Cáceres had to do with ending the fight over our territorial defense, so keeping COPINH alive is a responsibility of all communities. The big challenge is that I am a young person for leading the organization, so there are always doubts from many people outside. However, I have the ability to carry out this fight.
A hearing against [hydroelectric company executive] Roberto David Castillo [who was charged with helping to plan Cáceres' killing] was postponed in mid-October. What's your take on this?
We always have many doubts, because it is a justice system that protects people who attack communities, leaders and social leaders. We believe this suspension is part of the many irregularities that this process of investigation has had that is detrimental to the truth and justice. This is a desperate attempt in the face of such overwhelming evidence that is based on recordings.
Honduras faces many difficulties, such as gang-related crimes, drug trafficking, and corruption. How do these conditions affect your work?
Criminal structures, such as maras, were at first neighborhood gangs that had territorial controls. Now, senior military personnel involved in drug trafficking run gangs. Tony Hernández, President Juan Orlando Hernández's brother, and some state officials are also involved in drug trafficking. Young people recruited from marginal places fulfill tasks for these people linked to drug trafficking.
We know that senior military order extrajudicial executions such as my mom's case. Why do we say that impunity continues if seven people were sentenced already? It's because, of those seven people, four are impoverished young people who somehow belong to organized crime and who were recruited for the company's interests. Military personnel also participated in controlling the operation of the murder. These youth are easy to condemn. However, greater murderers who pay for that dirty work never get a trial.
Despite these difficulties, what motivates you to continue working?
It is the need to dignify ourselves as people. With so many people being murdered, I believe we are a country that deserves justice and we have to fight to live differently. We dream of a tranquility everyone wants, with justice and truth as tenets of our struggle. When I grow disappointed by this system of impunity, what strengthens me is to see Hondurans fighting on the streets, because if this struggle was only mine, then why should I go on?
Two years ago, you supported a legislation campaign in the United States to suspend military aid to Honduras until your country takes action on human rights issues. How did that go?
It is still in the works. More than 47 House representatives have backed the Berta Cáceres Human Rights in Honduras Act. What that bill says is that the U.S. must cut security assistance that it provides to Honduras until high-impact crimes like those against my mom and other people, where the military has participated, are brought to justice. It has exerted greater pressure on the Honduran government. Whether the law can pass or not, it has really been one of the most effective actions so far.
Although Washington's pressure is more aimed at preventing migration from the Northern Triangle to the United States than at the defense of human rights.
We work with people who have a critical vision of Trump's policies—policies whose only concern is to stop Honduran immigrants without understanding why that population is desperately leaving. Honduras is being promoted as a safe third country when in reality it is a country with the world's highest crime rate. We try to work with people who understand that these policies can deepen drug trafficking, crime and state corruption. We have encouraged pressure towards the economic support that the U.S. provides to Honduras because it ends up supporting military personnel that participate in high-impact crimes such as the one against Berta Cáceres.
You have remembered your mother in this interview. What is the most precious memory you have of Berta Cáceres?
I remember her as a hardworking person. But I also remember her with a big smile on her face, because I believe that this struggle cannot be just to martyrize ourselves. We fight with joy and hope because if we do not, more than half of the struggle is lost. We always say that the image of my mother multiplied because we found her present in the struggle of so many women from so many communities who continue to fight very hard.
Anything else you would like to add?
We have to keep holding U.S. investment companies accountable, as well as the role that country plays in Honduras's current situation. Many brave people here continue to defend their territories, the rights of communities and nature in order to live with dignity, but we need other people to support us and be clear of this situation in order to change it.
---
With more than 130 attorneys fighting to defend the health of humans and our planet, Earthjustice is the premier nonprofit environmental law organization. We recognize that the environmental issues of today know no borders. Sign up here to receive updates on our work.
Based in New York, Robert is the Public Affairs and Communications strategist for Latino Engagement and Outreach. He has more than a decade of experience working for mainstream media outlets, U.S. Hispanic and Latino news channels, and think tanks.
Established in 2008, Earthjustice's Northeast Office, located in New York City, is at the forefront of issues at the intersection of energy, environmental health, and social justice.