Dredging Florida's Corals to Death
After an expansion of the Port of Miami proved disastrous for Florida's coral reef tract, the U.S. Army Corps of Engineers is planning a similar project at Port Everglades in Fort Lauderdale.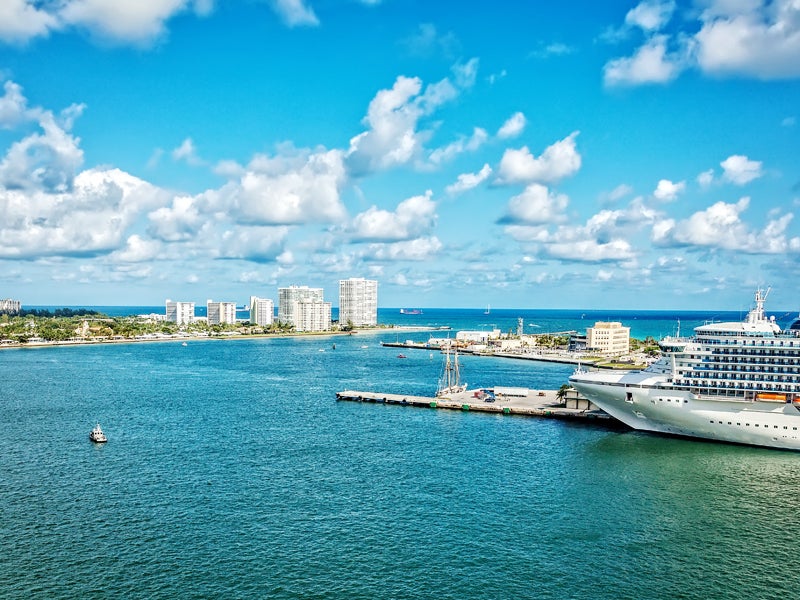 Coral reefs are suffering on a global scale. In late 2015, the National Oceanic and Atmospheric Administration announced that a third global coral bleaching event was beginning to unfold. Since then, warming temperatures have led to coral bleaching from Hawaii to the Caribbean, causing unprecedented damage to coral reefs worldwide. Reefs in the southern portions of Florida have also begun to disintegrate as a result of ocean acidification. In the face of such devastation, it is easy to lose hope or to feel helpless.
But, hope is not lost. Corals in Florida can still be restored and have even rebounded in some areas. The simplest thing we can do to help these reef systems is to remove direct stressors that can be easily identified, so that the coral are better-equipped to recover and deal with large-scale threats in the future. And Earthjustice is doing just that—working to prevent one direct threat to Florida's reefs that can be easily addressed, like harm from dredging. We're fighting to force the U.S. Army Corps of Engineers to prevent major harm to Florida's corals during a planned dredging project in Fort Lauderdale.
Florida's coral reef tract ranks as the third largest barrier reef ecosystem in the world, stretching from the Atlantic coast to the Gulf of Mexico. The proposed dredging at Port Everglades is part of an expansion project along the East Coast to accommodate larger, next-generation commercial ships. This is the second port dredging project in Florida, following a disastrously executed expansion of Port Miami, in which dredging caused massive sediment plumes that smothered more than 200 acres of nearby reef—10 times more habitat than the Corps predicted.
A recent report from coral scientists at the National Marine Fisheries Service found that 95 percent of the reef the scientists surveyed suffered harm from sedimentation that did not allow for normal ecosystem processes to take place. The sedimentation permanently converted parts of the reef from living structure to sand. Scientists attributed these impacts directly to the dredging in Miami.
Sadly, the Corps is gearing up to do it again at Port Everglades, without adjusting the faulty approach it first executed in Miami. The plans in place for Port Everglades' dredging only identify a 500-foot indirect impact area on the reef (about one and a half football fields), but dredging at Port Miami stirred up plumes of sediment that stretched as far as 4,900 feet, smothering corals as much as 3,300 feet (11 football fields) away, and potentially even farther.
The Corps has refused to conduct a comprehensive study that would document the full extent of impacts. It is also using six-year old surveys that vastly underestimated the number of coral colonies present in Miami.
These aren't just any corals. They include staghorn coral, a threatened species whose population has declined by 98 percent, as well as six other corals listed under the Endangered Species Act (ESA). It's likely that hundreds, possibly thousands, of these corals were killed during the Miami dredging project, and the same will probably happen again if the Corps doesn't make any changes to its Port Everglades plan.
In October 2014, shortly after the impacts from dredging in Miami came to light, Miami Waterkeeper, filed a citizen suit to enforce the protections for threatened species of coral legally required by the ESA. Although the dredging in Miami ended in August 2015, the Army still hasn't planned any restoration efforts for the reef in that area. Not only does reef destruction hurt biodiversity, but the state's economy could suffer as well. Local residents and millions of vacationers come to South Florida every year to enjoy scuba diving, snorkeling and fishing on Florida's reef, generating billions of dollars in sales and supporting tens of thousands of jobs.
Earthjustice, on behalf of a coalition of environmental and diving groups, including Miami Waterkeeper, has submitted a letter to the Army Corps of Engineers demanding that the Corps make changes to the current Port Everglades dredging plan that would protect seven species of Endangered Species Act-listed corals. The Corps is continuing to violate the ESA by refusing to consult further with marine experts and modify its plans in order to incorporate lessons from Miami that would protect coral. We hope that the Corps will address these concerns quickly in order to protect the vitality of Florida's coral reef—before the agency begins its dredging.
The corals living in and around Port Everglades have survived a myriad of threats, including bleaching, pollution, disease, and warming temperatures. They are the strong survivors of their species and need to be nourished. The Corps has the power to ensure dredging will not harm these treasured corals. But if the Corps will not take action to mitigate its impacts, Earthjustice is prepared to stand up for Florida's imperiled corals in court. We are working on behalf of Maimi Waterkeeper, The Center for Biological Diversity, Florida Wildlife Federation, Sea Experience in this fight to protect Florida's beautiful corals.
Read our letter to the U.S. Army Corps of Engineers announcing our intent to sue for violations of the Endangered Species Act in response to the proposed Port Everglades expansion project.
As a communications strategist, Miranda covers Earthjustice's Mid-Pacific and California regional offices. She has campaigned to defend public water resources in North America and is a graduate of the Master's in Global Studies program at the University of California, Santa Barbara where her research focused on climate change.
Earthjustice's Oceans Program uses the power of the law to safeguard imperiled marine life, reform fisheries management, stop the expansion of offshore oil and gas drilling, and increase the resiliency of ocean ecosystems to climate change.