50 Years On, Earth Day's Legal Legacy Looms Large
As Earth Day reaches a milestone anniversary, we're more committed than ever to building on the progress of the past while moving forward toward a healthy, sustainable future for all.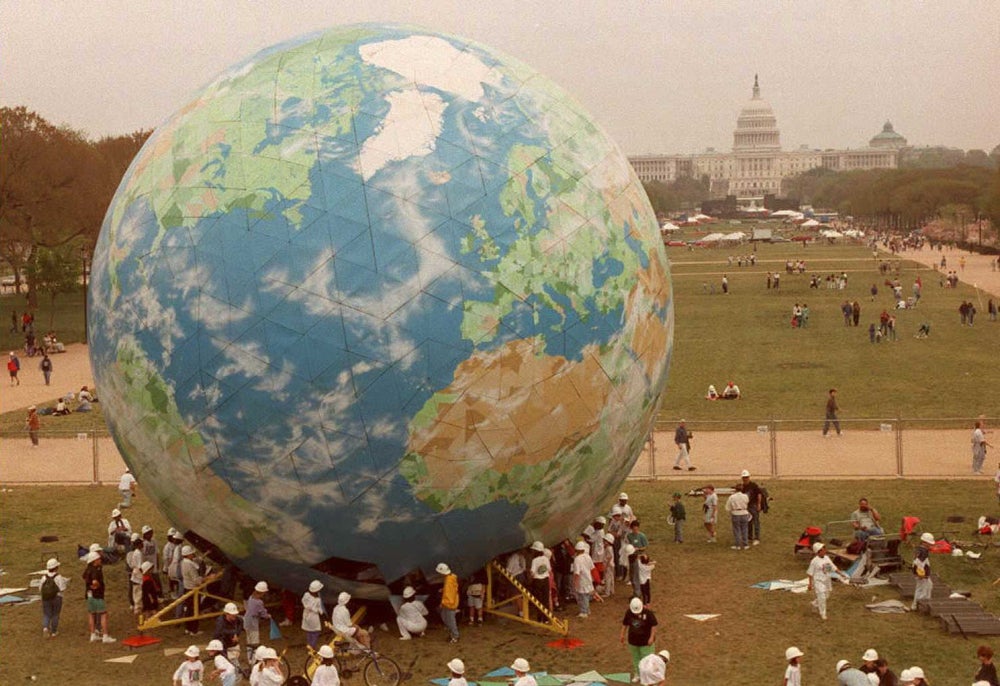 Fifty years ago, it wasn't unusual for rivers to catch fire, for overflowing landfills to seep toxic gases, or for smog-filled skies to dominate our landscapes. While we still have a long way to go toward a healthy, sustainable planet for all, we've also come a long way since the first Earth Day brought 20 million Americans into the streets and the modern environmental movement was born.
Five decades of groundbreaking legislation, scientific and technological advancements — as well as dogged, determined work by activists and policymakers — led to a decrease in air and water pollution, the protection of countless endangered species and millions of acres of wild spaces, and the beginning of the clean energy revolution.
Much of this progress was made possible by the creation of the U.S. Environmental Protection Agency and a series of landmark laws. For environmental lawyers, the National Environmental Policy Act, the Clean Air Act, the Clean Water Act, the Endangered Species Act, and the Toxic Substances Control Act have become the fundamental tools of our trade.
Today, progress is threatened by new challenges. Climate change is our new normal. Our federal government is controlled by those intent on taking us backward by propping up fossil fuels and dismantling our foundational environmental laws. As we celebrate 50 years of Earth Day, we are forced to defend the achievements of the past five decades, despite a desperate need to move forward at a breakneck pace.
The next 50 years are crucial for the future of our planet. At Earthjustice, we are committed to building on the progress of the past while moving forward toward a healthy, sustainable future for all.
National Environmental Policy Act
The National Environmental Policy Act (NEPA) is our nation's bedrock environmental law. Passed by broad, overwhelmingly bipartisan majorities and signed into law on January 1, 1970, by a Republican president, the law ensures that communities have a voice in decisions and can protect themselves from dangerous, rushed, or poorly planned federal projects by mandating environmental reviews and allowing for public comment and disclosure. NEPA's process often results in smarter, healthier alternatives to polluting projects.
NEPA's common sense approach to federal decisionmaking is at the core of democracy: it enshrines review, disclosure, and public input into all major decisions. The codification of these values is why it one of the most imitated laws the U.S. has ever come up with — over 160 countries have adopted similar legislation. Despite overwhelming evidence of its necessity and success, NEPA is in danger of being dismantled by the Trump administration, which has released a sweeping proposal to rewrite NEPA to benefit big polluters and corporate special interests.
Earthjustice is partnering with indigenous leaders, activists, and frontline communities across the nation to fight back against the Trump administration's efforts to destroy this essential tool of our democracy and ensure that the voices of the people are heard.
"The White House completely underestimated the American people," says Stephen Schima, senior legislative counsel of Earthjustice. "NEPA has been vital in protecting vulnerable communities and now the White House is trying to gut it so that industry can have another handout? Not on our watch."
The Clean Air Act
The Clean Air Act of 1970 controls pollution that's harmful to people and the environment. Since then, the law has reduced emissions of key air pollutants by 73%, saving hundreds of thousands of lives a year.
However, the fight for clean air hasn't been won for everyone. Today, one in three Americans lives in communities where the air is unsafe to breathe because of pollution. Meanwhile, the Trump administration's EPA is holding up protections against power plants emissions, smog, gasoline, carbon pollution, industrial air toxics, and more.
Earthjustice has fought — and won — dozens of Clean Air Act cases to ratchet up public health protections and hold polluters accountable. Recently, we challenged the Trump administration's attack on California's right to regulate car emissions more strictly than federal standards ,which the Clean Air Act allows. California's Clean Car standards protect the environment and health of 40% of the U.S. population, as more than a dozen states have adopted them.
The Clean Water Act
The 1972 Clean Water Act ensures our drinking water is safe and protects rivers, lakes, streams, and other water bodies from destructive pollution. One of the most popular environmental laws in U.S. history, it has contributed to steady progress in cleaning up our nation's waterways.
However, the Trump administration has bowed to polluter pressure and moved to exclude a significant proportion of U.S. waterways from Clean Water Act protections. The "Dirty Water Rule" the administration unveiled in January 2020 would negatively affect nearly one in every five streams, more than half of all wetlands, and many other lakes, ponds, and other waters. Earthjustice is using every available tool to fight back against this attack on clean water and public health.
In addition, Earthjustice lawyer David Henkin appeared before the U.S. Supreme Court last fall in a case that could have wide-ranging implications for clean water. In Hawaiʻi Wildlife Fund v. County of Maui, Henkin argued that a wastewater treatment facility in Maui is violating the Clean Water Act by polluting the ocean indirectly through groundwater.
"At the end of the day, the water is still polluted," says Henkin. "And, under the county's twisted logic, the polluter would get off scot-free."
If the Supreme Court sides with Maui County, it would allow industry to freely pollute U.S. waters as long as the pollution isn't directly discharged into a water source. A decision is expected in 2020.
Endangered Species Act
Extinction is irreversible. The United States recognized that and did in 1973 what no country had done before, establishing a commitment to protect and restore the species that are most at risk of extinction. In the nearly five decades since the Endangered Species Act became law, 99% of species protected under the law have not perished.
Despite a landmark UN report in 2019 warning that 1 million plant and animal species face extinction due to human activity, the Trump administration has announced a plan to dramatically weaken the ESA's protective powers. The administration's sweeping reforms would eliminate requirements to consult with expert wildlife agencies and scientists and consider impacts from climate change, while requiring that economic considerations be incorporated into decisions about protecting species on the brink of extinction. Who benefits? Developers and extractive industries.
For the past 50 years, Earthjustice has been at the forefront of efforts to ensure the ESA is enforced, acting in the interest of hundreds of at-risk plant and animal species. Shortly after the Trump administration announced its dangerous new rules, Earthjustice sued to protect threatened and endangered species for future generations.
Toxic Substances Control Act
The Toxic Substances Control Act (TSCA) was created in 1976 to give the EPA the authority to protect the public from unsafe chemicals. However, the original TSCA largely failed — preventing EPA from regulating even the most dangerous chemicals, like asbestos. Congress passed a badly needed upgrade in 2016, with stronger stipulations for reviewing the safety of existing chemicals, preventing new chemicals from going on the market without adequate safeguards, and ensuring that most exposed and vulnerable individuals — such as workers, children, and pregnant women — are protected.
But in 2020, an Earthjustice and Environmental Defense Fund investigation found that the Trump administration's EPA is approving hundreds of new chemicals each year without giving the public access to important health information or opportunities to provide input. Earthjustice filed a lawsuit in March 2020 to stop the Trump administration from ignoring TSCA's transparency requirements.
"Congress reformed TSCA just a few years ago to protect people's health from new chemicals. It said, unequivocally, that the public has a right to know about these chemicals before they are put out on the market," says Earthjustice attorney Tosh Sagar. "Trump's EPA instead hides health and safety studies and other key information, just so that industry can have it easier. Ignoring TSCA's transparency requirements makes it more likely that dangerous chemicals are reaching our homes and workplaces."
U.S. Environmental Protection Agency
The EPA was established on December 2, 1970 as the federal agency responsible for writing and enforcing regulations to protect public health and the environment. The EPA's publicly stated mission is "to ensure that all Americans are protected from significant risks to human health and the environment where they live, learn and work."
While the EPA is tasked with regulating ground, water, and air pollution and hazardous waste disposal, the Trump administration has worked to weaken the agency's ability to protect the environment and public health. From the appointment of pro-industry officials to the rollback of dozens of environmental rules, Trump's EPA continues to put the interests of polluters ahead of people and the planet.
Earthjustice needs robust environmental rules to hold violators accountable in court and ensure public health and the environment are protected. Earthjustice works with the EPA and challenges the EPA to make sure that rules safeguarding our air, water, and environment are revised when needed, or kept strong when challenged by industry. New sources of pollution are constantly emerging, and given the reality that climate change is worsening at an alarming rate, a bold EPA led by an environmentally responsible administrator is essential to keeping our air clean, our water clear, and our environment safe.
Emilie has spent the past two decades as a journalist, speechwriter and communications strategist in Washington, D.C. At Earthjustice, she shares the stories of the people and issues at the heart of our clean energy litigation and policy work.