Earthjustice Petitions to Protect South L.A. Community from Oil Drilling
We cannot allow South Los Angeles to be a sacrifice zone for fossil fuel extraction. (Spanish language version available.)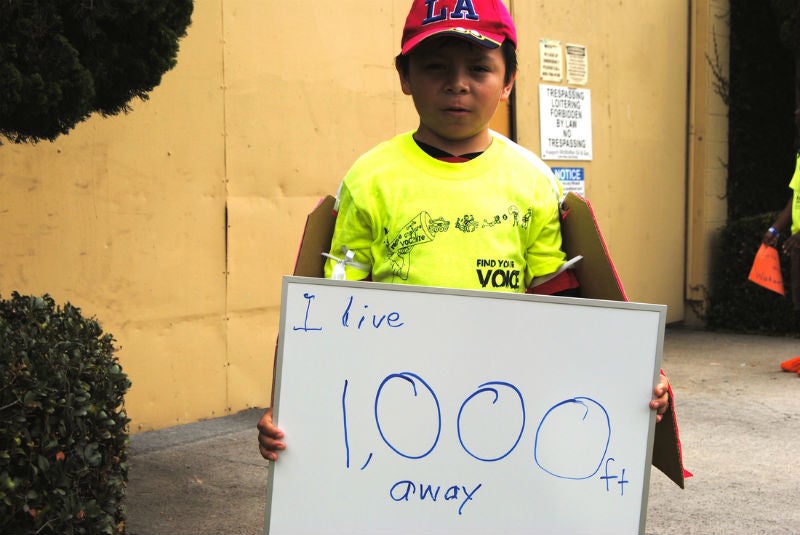 Editor's note: On October 13, 2017, the City of Los Angeles' Department of Zoning Administration issued a determination in response to the June 2016 petition submitted by Earthjustice on behalf of Redeemer Community Partnership.
The determination said, in part: "Following the public hearing, the Office of Zoning Administration researched the claims and found that the Jefferson Oil drilling operation was in violation of several of the conditions of approval imposed by the initial Zoning Administrator's grant and subsequent Plan Approvals. Also, it was learned that some of the initial conditions of approval imposed on the oil drilling and production operation were not sufficient to preserve the health, safety and general welfare of the nearby residential neighborhood. It was also discovered that the oil drilling and production operation had violated several regulations established by other government agencies as detailed in the Petroleum Administrator's [attached report]." Read the full document.
Este blog está disponible en español aquí.
In Los Angeles, we like to drive. 
If you drive by the Jefferson Boulevard drill site in South Los Angeles, you won't see that the densely populated community around it sits atop an oil field. You also won't see all of the houses and businesses that the city tore down in 1965 in order to make space for a nearly two-acre drill site to extract that oil.
But for residents in this largely African American and Latino community, the Jefferson drill site is inescapable. They smell pungent fumes with a stench like oil and diesel exhaust. They see bright spotlights kept on late into the night. And they hear thunderous noises that make it nearly impossible to hold a conversation.  
Today, Earthjustice and its partner Redeemer Community Partnership, a non-profit organization with deep roots in South Los Angeles, filed a petition for abatement of public nuisance with the Los Angeles Director of City Planning, Vincent Bertoni. The groups insist that Bertoni use his authority to address the ongoing disruption that this site causes the neighborhood. The community residents are asking the city to take action so they can live in a neighborhood that is treated like a neighborhood, not a sacrifice zone for dirty fossil fuels. 
In the petition, local resident Myrna Gallardo describes how the drill site intrudes on her life and impacts her children: "I live two houses away from the site, on the same block…Most of the time I have to close all my windows and close the door—the back door also—because of the smell. The smell is worse when it's hot. The noise is very loud when they are working with the machines. And I have children; when they were very young, I had to go outside.  I had to go to the library or I had to go to the park because the sound, the noise, was very loud."
Locally, we know what it looks like when a neighborhood is truly treated like a neighborhood. The city of Los Angeles has required other drill sites in West Los Angeles—in neighborhoods that are whiter and wealthier—to be fully enclosed in order to minimize the impacts to the surrounding communities. 
Nationally, we all saw what it looks like when a neighborhood is treated like a neighborhood when a well at SoCal Gas' Aliso Canyon natural gas storage facility failed near the community of Porter Ranch. There, SoCal Gas was ordered to provide temporary housing for residents and schools were temporarily closed. The housing relocation reportedly cost SoCal Gas around two million dollars a day.  While some might say that the enclosures and the evacuations do little to address the underlying issues, they at least acknowledge that the neighborhoods' residents deserve something for the impacts caused by those sites. So far, the city of Los Angeles has said that the neighborhood near the Jefferson drill site in South L.A. deserves nothing.
The point here is not that communities should be forced to live with the negative impacts of dirty fossil fuel extraction or storage as long as they receive something in return. The point is that certain communities seem to merit a level of protection or response when dirty fossil fuels negatively impact them—while others do not. As a matter of law and equity, the city should provide the same protections for every community in Los Angeles.
As explained in the petition:
In Los Angeles, we love to drive, but powering our cars cannot come at the expense of fellow Angelenos. We cannot allow South Los Angeles to be a sacrifice zone. The city can and should do far more to protect this community—and we will keep fighting until they do. 
Earthjustice Presenta Petición para Proteger a Comunidades del Sur de Los Ángeles de la Perforación Petrolera
En Los Ángeles, nos gusta manejar. 
Si manejas por el sitio de perforación de petróleo en el Boulevard Jefferson al sur de Los Ángeles, no verás que la comunidad tan densamente poblada está colocada justo encima de un campo petrolero. Tampoco verás todas las casas y negocios que la Ciudad derribó en 1965 para poder abrir espacio para este campo de perforación de casi dos acres de superficie para extraer ese petróleo.
Pero para los residentes de esta comunidad, en su mayoría afro-americanos o latinos, el Campo de Perforación Jefferson es imposible de evadir. Ven faros luminosos encendidos hasta la madrugada y escuchan ruidos ensordecedores que hacen que una conversación sea casi imposible de sostener. 
El día de hoy, Earthjustice y su aliado Redeemer Community Partnership, una organización sin fines de lucro con raíces profundas en la zona sur de Los Ángeles, presentaron una petición para reducir las molestias públicas con el Director de Planeación de Los Ángeles, Vincent Bertoni. Los grupos le están insistiendo a Bertoni que use su autoridad para abordar el problema del ruido constante que este sitio causa en el vecindario. Los residentes de la comunidad están solicitando a la Ciudad que tome cartas en el asunto para que puedan vivir en un vecindario al que se le trate como tal, y no una turbia área de trabajo y de desechos de combustibles fósiles. 
En la petición, una vecina del lugar, Myrna Gallardo describe la manera en que la zona de perforación interrumpe su vida y afecta a sus hijos: "Vivo a dos casas del sitio, en la misma cuadra. La mayor parte del tiempo tengo que cerrar todas mis ventanas y la puerta del frente—y la de atrás—por la peste. El olor es peor cuando hace calor. El ruido es muy alto cuando están trabajando con las máquinas. Y tengo hijos, cuando eran muy chiquitos tenía que salirme. Tenía que ir a la biblioteca o tenía que llevármelos al parque por el ruido; el escándalo era muy fuerte."
A nivel local, sabemos bien cómo es cuando un vecindario es tratado como si fuera un vecindario de verdad. La Ciudad de Los Ángeles ha exigido cambios en otros campos de perforación en la zona poniente de Los Ángeles—en vecindarios que son más blancos y más ricos—para que estén cubiertos totalmente y así poder minimizar los impactos a las comunidades vecinas. 
A nivel nacional, todos vimos el tratamiento que se le da a un vecindario al que se le tiene más consideración cuando un estanque de almacentamiento de la compañía SoCal Gas en el Cañón de Aliso se reventó cerca de la comunidad de Porter Ranch. Ahí, SoCal Gas fue obligada a brindar vivienda temporal para los habitantes de la zona y las escuelas tuvieron que cerrar temporalmente. La vivienda temporal le costó a SoCal Gas alrededor de dos millones de dólares al día. Algunos dirán que tanto los recintos exteriores como las evacuaciones servirían de poco para ultimadamente resolver los problemas mayores; pero al menos admiten que los habitantes de esos vecindarios merecen algo por los impactos causados en esas zonas. Hasta ahora, la Ciudad de Los Ángeles ha dicho que los vecindarios de la zona sur de Los Ángeles no se merecen nada. 
El punto aquí no es que las comunidades deban ser obligadas a vivir con el impacto negativo causado por la extracción o almacenamiento de combustibles fósiles a cambio de recibir algo por aguantar las molestias. El punto es que ciertas comunidades parece como que merecieran un nivel de protección o respuesta cuando los turbios combustibles fósiles los afectan—mientras que otras no. Ya sea en materia de ley o por equidad, la Ciudad debería brindar las mismas protecciones a todas las comunidades en Los Ángeles.
Según se explicó en la petición::
En Los Ángeles nos encanta manejar, pero echar a andar nuestros autos no debe suceder a costillas de otros Angelinos. No podemos permitir que Los Ángeles sea un pozo negro para los residuos tóxicos. La Ciudad puede y debe hacer mucho más para proteger a la comunidad. Y seguiremos luchando hasta que lo hagan.
Angela's docket focuses on working with communities of color on issues related to air pollution, energy, and the urban environment. Over nearly 25 years, Angela has used a range of tools to enhance the health, safety, and quality of life in communities impacted by environmental hazards. She works in the Los Angeles location of the California Regional Office.
Earthjustice's Community Partnerships Program works hand-in-hand with frontline communities fighting for a safe, just, and healthy environment.