Groups Provide a Solar Energy Stopgap for Puerto Ricans Living without Power
An environmental coalition has distributed 6,000 solar lanterns among Puerto Ricans who are still living without power.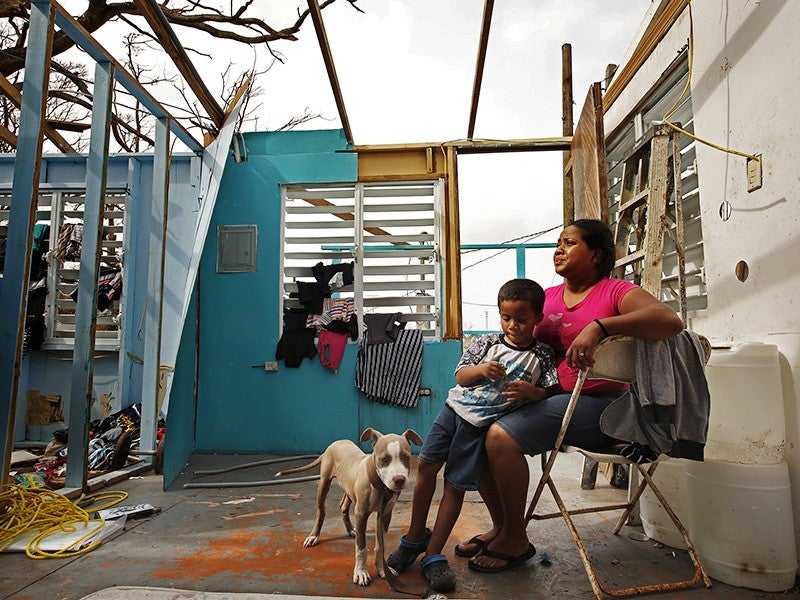 As Hurricane Maria began moving off Puerto Rico after laying waste to the island, David Ortiz ventured outside with a blade and a humanitarian heart.
"We went out there with machetes in hand and started clearing [downed] trees to get seniors out and to get women and children out," said Ortiz, the program director of El Puente's Puerto Rico office. "Otherwise they could not get out of their houses."
El Puente, founded 35 years ago in Brooklyn, works to empower community residents and focuses on health, education, the arts and environmental justice.
Ortiz said the can-do, must-do attitude has kept Puerto Ricans on the island surviving, he said, despite the slow federal response. And it's this do-it-yourself attitude that led several environmental organizations in Puerto Rico and on the mainland U.S., including El Puente, to launch a project that gets solar lanterns to those in greatest need.
So far, the coalition has distributed 6,000 solar lanterns among the 31 percent of Puerto Ricans who are still living without power. Earthjustice, which works with El Puente to promote renewable energy on the island, donated $30,000 to El Puente to support the effort.
Ortiz has been mobilizing volunteers who use their own cars and gas, going door-to-door, canvassing communities to get the lanterns to residents—predominantly seniors, those living with disabilities and families with children.
He spent 30 minutes convincing one fearful woman in her 90s, who was using a walker, to open the gate to her yard so that he could give her a lantern and show her how to operate it. But her family told her not to talk to strangers. Ortiz said he told her he would leave the lantern by the gate anyway and perhaps someone else would take it and she finally let her guard down and opened the gate.  "I knew she needed it," he said.
It's been deeply moving for Ortiz to see the difference the lanterns have made in people's lives: One elderly woman with Alzheimer's disease was able to see the dinner she was eating for the first time since the storm hit.
In addition to illuminating a dark room with bright light, the lanterns serve as cellphone chargers and radios. Cellphones provide the only way to stay in touch with relatives and access radio reports with relevant information about the recovery effort.
Ortiz himself spent the night of Hurricane Maria hunkered down with his wife and 5-year-old daughter in their home in San Juan, using towels and then old clothes to sop up water that poured in through the seams of window frames in his home.
At one point, he said, he and his wife both said they hoped this wouldn't be the last time they'd see each other. "It was scary," Ortiz said. "When it was coming down, it was hitting so hard that the rain was as white as snow in a blizzard."
When the ferocity subsided, neighbors immediately began helping one another.
The power grid was knocked off line. Houses had been destroyed. Trees blocked streets and barricaded many in their homes.
"You knew you couldn't wait for anyone," says Ortiz. "You couldn't wait on the local government or federal government."
The lanterns, which power up after several hours of charging and offer energy for up to three days, have helped immensely, Ortiz said.
The U.S.-based groups collaborating with El Puente include the Institute for Energy Economic and Financial Analysis and the Institute for Competiveness and Sustainable Economics. Also involved are numerous Puerto Rico-based groups, including SER of Puerto Rico, the Institute Psicopedagógico, Centro Para Puerto Rico, Proyecto Enlace, Proyecto Caras and Centros Sor Isolina.
IEEFA Executive Director Sandy Buchanan said the Ohio-based think tank helped develop the idea based on input from their partners in Puerto Rico. The groups considered distributing solar generators, which are far more costly, and settled on solar lanterns made by the Haiti-based company Ekotek Energy, which sold them at a discount for this project.
Buchanan said Ekotek's lanterns seemed far superior to others on the market because of the amount of energy they provide and their fast charging capacity.
This project also supported the goals these groups have to support and expand the use of  renewable energy in Puerto Rico.
"This was a way to help in the immediate emergency and get a way to solve some problems with renewables," said Otiz.Island residents who need a solar lantern can reach Ortiz at Dortiz@elpuente.us
Click here to donate to El Puente.
Based in Washington, D.C., Keith is the National Communications Strategist for Partnerships and Intersectional Justice.