Environmental Justice Leaders Confront The 'Value Gap'
At a convention of black and Hispanic journalists, environmental justice advocates talk about the lasting impacts of discrimination. (English language version available.)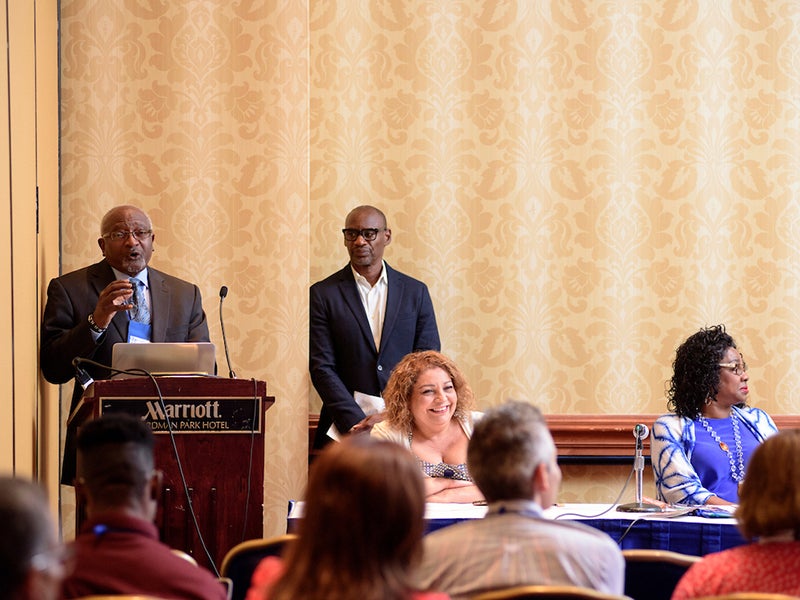 Este blog está disponible en español aquí.
There's a photograph in my office that serves as a poignant reminder. It depicts a sign pointing to a "colored waiting area" from a Greyhound bus terminal.
The image reminds me that the nation's benefits and burdens are still distributed in ways that privilege white skin over black and brown skin. African Americans and other people of color still suffer disproportionate burdens in so many areas of life. While blatantly race-based laws and "colored" signs are no longer used to engineer privileges for whites while subjugating people of color, implicit racism is still at work, continuing to reaffirm social and economic inequality.
White Americans still benefit from generational wealth and color privilege in nearly every measurable aspect of life. They earn more, have better healthcare and more educational resources than people of color. And people of color have less access to drinking water and modern sanitation and face more environmental pollution.
Princeton Professor Eddie Glaude addresses how the unequal distribution in jobs and housing has been intentionally structured in "Democracy in Black: How Race Still Enslaves the American Soul." The book calls attention to what Glaude calls a "value gap" in the way one's race is perceived, which leads to valuing white life more than black life. If black life is worth less, he argues, it is easy to ignore the crises black communities face and the way the financial, political and economic structures contribute to those crises.
This message was made clear when leaders of the environmental justice movement spoke recently at the joint National Association of Black Journalists – National Association of Hispanic Journalists Convention.
"Race trumps class," Dr. Bob Bullard, a distinguished professor at Texas Southern University, told those gathered at a panel on environmental justice sponsored by Earthjustice. Bullard, considered the "Father of Environmental Justice," was an expert witness in the first lawsuit filed under the Civil Rights Act in 1979 that charged environmental discrimination. The case, Bean v. Southwestern Waste Management Corp., involved a plan to site a dump next to a middle-class community in Houston that was 82 percent African American.
At the time, Bullard worked with graduate students on the first major research that examined environmental pollution through the prism of race. He found that all five city garbage dumps, six of eight city-owned incinerators and three of four privately owned dumps in Houston were sited in black communities—even though black people in Houston represented just 25 percent of the population.
Bullard, who teaches urban planning and environmental policy, noted that locating landfills, power plants, highways and other sources of toxic and hazardous pollution in communities of color is a systemic problem most obvious in the South.
"Even middle-class blacks breathe worse air," Bullard said, referencing a national study that showed that communities of color are exposed to 38 percent higher levels of nitrogen oxide than whites. That pollutant, emitted by power plants, cars and heavy construction, is linked to asthma.
Dr. Beverly Wright, a professor of sociology at Dillard University, said she grew up near chemical plants in New Orleans with little understanding of the physical harm they caused.
Wright began working on environmental issues as a graduate student in the 1970s in Niagara Falls, N.Y., after people living in the Love Canal neighborhood learned that their homes were built on a landfill where thousands of tons of chemical waste had been buried. Activism around Love Canal made toxic chemical waste a national issue and led to passage of the Superfund Act, taxing chemical and oil industries and allowing federal assistance to address hazardous substances that affect health and the environment.
Wright later learned that the 85-mile stretch of land between Baton Rouge and New Orleans known as the Mississippi River Chemical Corridor, or Cancer Alley, was even worse. In that corridor, where she grew up, are some 150 industrial polluters that emit toxic pollution. And the majority of people living closest to these industries are people of color.
Louisiana has the third highest death rate from cancer in the United States. And black people have even higher cancer rates, said Wright.
While the environmental movement fights for stronger protection from pollution, equity and fairness have been missing from the conversation, she said. Wright has been working with Bullard to fight back against environmental discrimination. She assists local communities to fight for improved environmental protections through the Deep South Center for Environmental Justice. And, together, they've worked to build the Historically Black Colleges and Universities Climate Change Consortium. The consortium was founded in 2011 to boost awareness of the disparate impacts of climate change on marginalized communities and to develop environmental leaders to work on environmental issues.
Although Wright and Bullard focus primarily on the impacts of environmental discrimination in the South, Dr. Martha Dina Arguello, executive director of Physicians for Social Responsibility – Los Angeles, finds the same disparities in Los Angeles with black and Latino residents enduring the worst pollution impacts.
As a child, Arguello remembers swimming in Echo Park and Silver Lake in Los Angeles and getting out with oily water covering her legs. She later learned that exposure to oil pollution was common in L.A.'s communities of color.
"There are more than 1,000 active oil wells where we live work and play in the city of Los Angeles—all in areas where people of color live," she said. Arguello has worked to strengthen protections for communities. In L.A., they've begun using a special tool to measure the cumulative risk of 19 different pollutants.
Lisa Garcia, vice president of healthy communities for Earthjustice, spoke of riding her bike in the Bronx and developing asthma that might've been related to poor air quality. Later, she learned that there were 23 waste transfer stations in the Bronx that emitted substantial pollution. After graduating from law school, Garcia became active in fighting to halt plans to build power plants in communities of color.
"I began asking: 'What is the energy need? Why do we need it?'," Garcia said. "These were all communities of color and asthma rates were skyrocketing in these areas." Garcia mapped the health and environmental disparities, reached out to health advocates and encouraged people to turn out for public meetings.
The pattern of communities of color facing more pollution and less resources to combat the problems remains unchanged, according to these environmental justice advocates. But hopes comes from their commitment to the fight for a healthy, equitable world and their dedication to teaching the next generation to continue the struggle.
This blog was first published by the Huffington Post on September 8, 2016. 
Líderes de Justicia Ambiental Confrontan la 'Diferencia de Valores'
Hay una fotografía en mi oficina que sirve como penoso recordatorio. Muestra un anuncio que señala donde está la "sala de espera para la gente de color" en una terminal de autobuses de Greyhound.
La imagen me recuerda que los beneficios y las molestias están todavía distribuidos de manera tal que favorece la piel blanca sobre la piel oscura o la morena. Los afroamericanos y otros grupos de color todavía tienen que soportar cargas en demasiadas áreas de la vida. Si bien es cierto que las leyes con base en la raza, y anuncios para la "gente de color" ya no se usan para brindar privilegios a los blancos mientras se somete a las personas de color, hay un racismo implícito que todavía está en juego, y sigue  reafirmando la desigualdad social y económica.
Los americanos blancos todavía son los beneficiarios de riqueza que pasa de generación en generación y privilegios por su color en casi todos los aspectos cuantificables de la vida. Ganan más, tienen mejor cuidados médicos y más recursos educativos que la gente de color. Y la gente de color tiene menos acceso al agua potable y a servicios modernos de sanidad y se enfrentan con mayor contaminación ambiental.
El profesor de Princeton Eddie Glaude aborda cómo la distribución desigual en empleos y en vivienda han sido estructurados de manera intencional en su libro  "Democracia en Negro: Cómo la Raza Sigue Esclavizando el Alma Americana."  En su obra, Glaude llama la atención sobre lo que él denomina una "diferencia de valores" y de cómo se percibe la raza de un individuo, lo cual lleva a valorar la vida de un blanco más que la vida de un negro. Si la vida de un negro vale menos, argumenta, es fácil ignorar las crisis que las comunidades negras enfrentan y la manera en que las estructuras financieras, políticas y económicas contribuyen a esas crisis.
Este mensaje se volvió claro cuando los líderes del movimiento de justicia ambiental hablaron recientemente en una Convención conjunta de la Asociación Nacional de Periodistas Negros y la Asociación Nacional de Periodistas Hispanos.
"Raza supera a clase," dijo el Dr. Bob Bullard, profesor distinguido en Texas Southern University, a un grupo de justicia ambiental patrocinado por Earthjustice. Bullard, considerado el "Padre de la Justicia Ambiental," fungió como testigo experto en la primera demanda ambiental presentada bajo la Ley de los Derechos Civiles en 1979 que acusaba discriminación ambiental. El caso, Bean v. Southwestern Waste Management Corp., tenía que ver con un plan para ubicar un relleno sanitario de residuos sólidos en una comunidad de clase media en Houston que era 82 por ciento afroamericana.
En ese entonces, Bullard trabajaba con estudiantes de posgrado en el primer proyecto de investigación de gran relevancia que examinó la contaminación ambiental desde el punto de vista de raza. Encontró que cinco rellenos de basura, seis de los ocho incineradores propiedad de la ciudad y tres de los cuatro rellenos sanitarios privados en Houston estaban ubicados en comunidades negras—a pesar de que la gente de raza negra en Houston representaba solamente un 25 por ciento de la población.
Bullard, que enseña planeación urbana y política ambiental, notó que la localización de rellenos sanitarios, plantas generadoras de electricidad, carreteras y otras fuentes de contaminación dañina en comunidades de color es un problema sistémico más obvio en el Sur.
"Incluso los negros de clase media respiran peor aire," Bullard dijo, basándose en un estudio nacional que demostró que las comunidades de color están expuestas a un 38 por ciento de niveles de nitrógeno más altos que los blancos. Ese contaminante, emitido por plantas generadoras de electricidad, coches y construcción pesada, está relacionado con el asma.
La Dra. Beverly Wright, profesora de sociología en Dillard University, dijo que ella creció cerca de plantas químicas en Nuevo Orleans con escasos conocimientos del daño físico que causaban.
Wright empezó a trabajar en problemas ambientales cuando era estudiante de posgrado en los años 70s en Niagara Falls, N.Y., después de que la gente que vivía en el vecindario llamado  Love Canal se enteraron de que sus hogares fueron construidos en el mismo lugar donde miles de desperdicios químicos habían sido enterrados. El activismo por Love Canal convirtió a los desperdicios tóxicos en un tema nacional y llevó a la aprobación de la Ley Superfund, que cobra impuestos a las industrias química y petrolera y permite recibir fondos federales para atacar las sustancias tóxicas que afectan la salud y el medio ambiente.
Wright se dio cuenta más tarde que un tramo de 85 millas de tierra entre Baton Rouge y New Orleans conocido como el Corredor Químico del Río Mississippi, o Callejón del cáncer, era incluso peor. En ese corredor, donde ella se crió, hay alrededor de 150 contaminadores industriales que emiten sustancias  tóxicas. Y la mayoría de la gente que vive cerca de estas industrias son gente de color.
Louisiana tiene la tercera tasa de muerte por cáncer más alta en Estados Unidos. Y la gente negra tiene tasas de cancer incluso más altas, dijo Wright.
Mientras que el movimiento ambiental lucha por protecciones más estrictas contra la contaminación, la equidad y la justicia han estado ausentes de la conversación, dijo. Wright ha estado trabajando con Bullard para luchar contra la discriminación ambiental. Ofrece asistencia a comunidades locales para luchar por mejores protecciones ambientales a través del grupo Deep South Center for Environmental Justice. Y, conjuntamente, han trabajado para construir El Consorcio de Universidades Históricamente Negras sobre Cambio Climático. El consorcio fue fundado en el 2011 para aumentar conciencia de los impactos desiguales en comunidades marginadas y así fomentar el desarrollo de líderes ambientales para trabajar en temas ecológicos.
Aunque Wright y Bullard se concentraron de manera primordial en los impactos de la discriminación ambiental en el Sur, la Dra. Martha Dina Argüello, directora ejecutiva del grupo Physicians for Social Responsibility – Los Angeles, encuentra las mismas disparidades en Los Angeles con residentes negros y latinos padeciendo los peores impactos por la contaminación.
De niña, Argüello recuerda sus salidas a nadar en Echo Park y Silver Lake en Los Angeles y salir del agua con las piernas cubiertas de aceite. Luego se enteró que la exposición a la contaminación por petróleo era común en comunidades de color en L.A.
"Hay más de 1,000 pozos petroleros activos donde vivimos, trabajamos y jugamos en la ciudad de Los  Angeles—y todos ellos en áreas donde la gente de color vive," dijo. Argüello ha trabajado para fortalecer protecciones para las comunidades. En L.A., han empezado a usar una herramienta especial para medir los riesgos acumulativos de 19 contaminantes diferentes.
Lisa García, vice presidente de comunidades saludables para Earthjustice, platicó de cuando paseaba en bicicleta por el Bronx y desarrolló asma que pudo haber sido causada por la mala calidad del aire. Tiempo después, se enteró que había 23 estaciones para la transferencia de residuos industriales en el Bronx que emitían cantidades significativas de contaminación. Después de haberse graduado de la facultad de derecho, García se volvió activa en la lucha para detener proyectos de construcción de plantas generadoras de electricidad en comunidades de color.
"Empecé a preguntar: '¿Cuáles son las necesidades energéticas? ¿Por qué la necesitamos?", García dijo. "Todas éstas eran comunidades de color y las tasas de asma estaban subiendo a niveles alarmantes en estas áreas." García hizo un mapa con las disparidades de salud y del medio ambiente, se comunicó con promotores de salud y animó a la gente a asistir a reuniones públicas.
El patrón de comunidades de color enfrentando más contaminación y menos recursos para combatir los problemas sigue sin cambiar, de acuerdo a estos defensores de justicia ambiental. Pero las esperanzas provienen de su compromiso con la lucha para un mundo saludable y equitativo y su dedicación a enseñar a la nueva generación a seguir en la contienda.
Este artículo fue publicado por primera vez en el Huffington Post el 8 de Septiembre, 2016.
Based in Washington, D.C., Keith is the National Communications Strategist for Partnerships and Intersectional Justice.