EPA Puts Public Health at Risk in Delaying Chemical Accident Safety Regulations
The EPA has delayed a chemical safety rule that would protect children, workers and communities at risk from chemical accidents.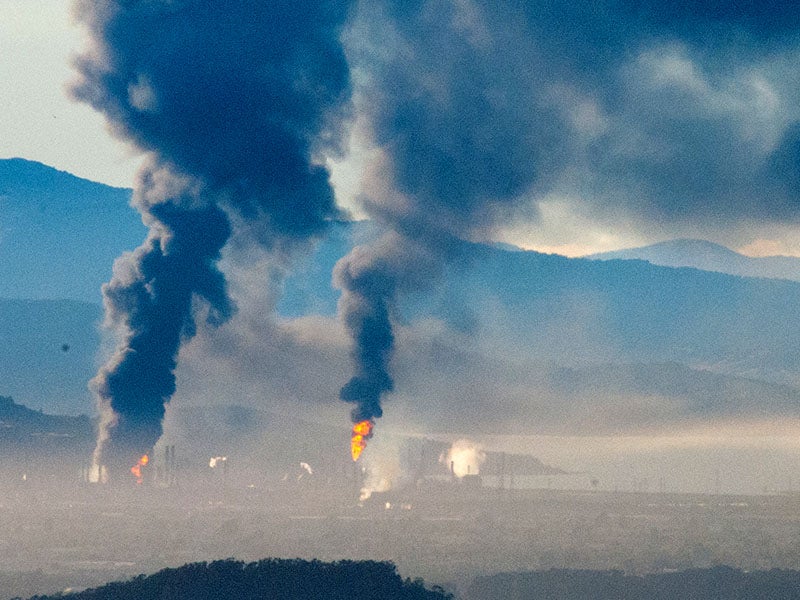 Update: On July 24, 2017, a group of 11 state prosecutors sued the EPA to force it to implement rules designed to prevent chemical spills and other industrial accidents at facilities such as refineries and fertilizer plants, according to a federal court filing.
On a summer evening in 2012, a series of explosions and fires tore through Chevron's Richmond refinery. Flames quickly engulfed 19 refinery workers. Minutes later, the vapor cloud ignited into a massive fireball and a plume of smoke spread over the northeastern Bay Area, causing thousands of nearby residents to evacuate and thousands more to seek medical attention.
Dangerous accidents like this Chevron refinery incident happen all too frequently in this country. From 2004 to 2013 alone, there were over 1,500 reported incidents nationally, including chemical releases, fires and explosions at facilities that caused harm to workers and communities. These incidents resulted in over $2 billion in property damage, orders to evacuate or seek shelter for half a million people, and caused 17,099 injuries and 58 deaths. 
And yet, the oversight program designed to ensure these accidents present fewer public risks—the Risk Management Program (RMP)—is being undermined by the Environmental Protection Agency (EPA). EPA administrator Scott Pruitt delayed the proposed amendments to the RMP until February 19, 2019.
Only one public hearing was held—heavily attended by chemical industry representatives—before Pruitt made his decision to delay the long overdue and critical improvements to the RMP.
This delay only puts children, factory workers and communities in greater peril who are in close proximity to chemical facilities.
The Center for Effective Government released a report, Living in the Shadow of Danger, with some startling statistics:
Nearly 23 million residents—7.5 percent of the total U.S. population—live within one mile of a chemical facility.
At least one in every three schoolchildren in the U.S. attends a school within the vulnerability zone of a hazardous chemical facility.  
Over 50 percent of students in the states of Utah, Rhode Island, Texas, Louisiana, Nevada, Delaware and Florida are in danger zones.
Nearly one in 10 U.S. schoolchildren (4.9 million) attends one of the 12,000 schools that are located within one mile of a dangerous chemical facility.
More than one-quarter (1.6 million) of children living near chemical facilities are under the age of five, whose developing bodies are especially vulnerable to toxic exposure.
Too many Americans have had to evacuate, seek temporary shelter, or race to pick up their children from school as an industrial fire burns or a chemical release heads their way.
Companies have a responsibility to inform their communities about the dangers their facilities may bring to their neighborhoods. Workers, first responders and communities deserve to have the information needed to make sure they are safe and prepared to respond in the case of a dangerous accident. However, very few actually live up to this responsibility.
A key update to the RMP, the "Chemical Disaster Rule," puts common-sense measures in place to prevent and reduce harm to workers, first-responders and communities who are the most vulnerable to chemical disasters, such as fires, explosions and gas leaks. The rule covers the 12,500 facilities across the country that use or store highly toxic or flammable chemicals. It forces chemical facilities to implement emergency preparedness and safety precautions to save lives and prevent harm.  
This rule would help ensure that accidents like the Chevron Refinery explosion would not happen.
Scott Pruitt's delay is a thinly veiled attempt to dismantle worker protections. Industry is lobbying the EPA and members of Congress to stop these updated rules from going into effect.
The RMP needs to be given more muscle—and sooner than later before more deadly accidents occur.
BlueGreen Alliance, a coalition of the nation's largest labor unions and environmental organizations, advocates for workers and communities whose lives are endangered by chemical facilities.
In February, we wrote a strong letter to Congress urging Congress members to oppose any effort to overturn amendments for Risk Management Programs.
We will continue to hold industry accountable and stand with workers, first responders and communities to demand these protections that will save lives and keep our children safe.
Jessica Eckdish is the Senior Policy Advisor with the BlueGreen Alliance in Washington, D.C.
Jessica Eckdish is the Senior Policy Advisor with the BlueGreen Alliance in Washington, D.C.
Earthjustice's Washington, D.C., office works at the federal level to prevent air and water pollution, combat climate change, and protect natural areas. We also work with communities in the Mid-Atlantic region and elsewhere to address severe local environmental health problems, including exposures to dangerous air contaminants in toxic hot spots, sewage backups and overflows, chemical disasters, and contamination of drinking water. The D.C. office has been in operation since 1978.