EPA's Mixed Bag of Options on Power Plant Water Pollution
One option protects waters from toxic pollution; other options fall far short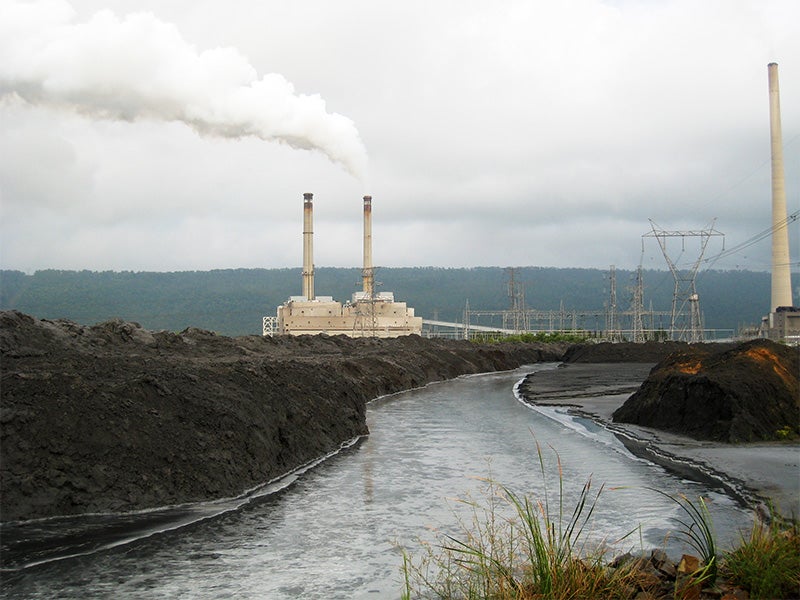 Coal-fired power plant pollution is contaminating our water, not just our air. Here's how: when plants install scrubbers and other emission control devices onto smokestacks to capture air pollution, the chemical waste they pull from the air is then discharged into our waterways.
Not good.
This discharge contains mercury, arsenic, selenium and other toxic chemicals that can cause neurological and developmental damage, harm unborn fetuses in utero, damage internal organs, and cause cancer. Coal plants are the number one toxic discharger into our country's waterways, yet the Environmental Protection Agrency has not reviewed clean water regulations for this industry in more than 30 years.
Until now.
On Friday, the EPA  proposed multiple options for regulation of this waste. Options 4 and 5 are sufficient to effectively clean up water pollution from more than 1,000 power plants. However, the EPA identified "four preferred" regulatory options – none of was options 4 or 5. Known as effluent limitation guidelines (ELGs) for power plants, one option among the four would require dry handling of and/or treatment of enormous metal-laden waste stream, like fly ash and flue gas desulfurization sludge, generated by the coal burning process. Consequently, under this option power plants would no longer be able to add huge volumes of liquid waste to impoundments and discharge this waste into our rivers and streams.
The EPA's other preferred options, however, would do little to clean up the nation's biggest sources of water pollution. Overall, we give the administration a failing grade—since three of their four preferred options pander to industry and fail to change the pattern of power plants dumping toxic waste into American waterways.
Environmental groups filed a lawsuit in 2010 to force the EPA to take action and regulate this dirty industry. Here is what Clean Water Action, Environmental Integrity Project, Earthjustice, Sierra Club, and Waterkeeper Alliance had to say on the new proposal:
After thirty years of inaction, the EPA has finally offered a plan that utilizes affordable, available pollution controls to clean up power plant water discharges. Unfortunately, the agency also included additional options for this waste that cater to industry and deny communities the relief they deserve from toxic water pollution.

We need strong protections that limit the amount of mercury, lead, arsenic and other heavy metals that power plants are dumping into the rivers, lakes and streams where we fish, boat, swim and drink.

The technology to clean up power plant water discharges exists, and in some cases is already being used. But without any oversight from the federal agency charged with keeping America's waters safe and clean, power plants will simply continue to dump poisons unabated.
According to the consent decree, the EPA must publish a final ELG rule by May 2014. The EPA still has time to get this right.
Jared was the head coach of Earthjustice's advocacy campaign team from 2004 to 2014.
Established in 2008, Earthjustice's Northeast Office, located in New York City, is at the forefront of issues at the intersection of energy, environmental health, and social justice.