EPA to Farmworkers: Ask the Boss to Show You the Papers
After more than two decades, the EPA has announced revisions to the Agricultural Worker Protection Standard, an outdated standard intended to protect farmworkers from pesticide exposure. While advocates welcomed signs of life in progress to provide stronger protections from pesticides for approximately 2 million farmworkers, the proposal raises questions about the EPA's understanding of the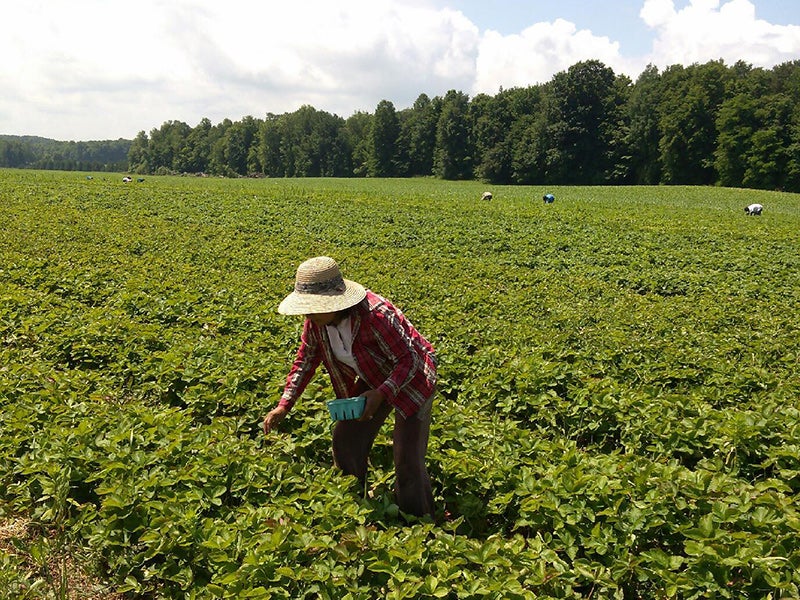 After more than two decades, the Environmental Protection Agency announced revisions to the Agricultural Worker Protection Standard, an outdated standard intended to protect farmworkers from pesticide exposure.
While advocates welcomed signs of life in the Obama administration's progress to provide stronger protections from pesticides for approximately 2 million farmworkers, the proposal raises questions about the EPA's understanding of the population the WPS is meant to serve.
When Earthjustice and Farmworker Justice submitted a petition to the EPA, they urged the agency to improve protections for farmworkers and to comply with its obligations under existing law and Executive Order 12898 (Federal Actions to Address Environmental Justice in Minority Populations and Low-Income Populations). Signed by President Bill Clinton on Feb. 11, 1994, the order required all federal agencies to "make achieving environmental justice part of its mission by identifying and addressing, as appropriate, disproportionately high and adverse human health or environmental effects of its programs, policies, and activities on minority populations and low-income populations."
While it was not surprising that the recent release of the WPS came on the heels of the 20th anniversary of this historic Executive Order, ironically, the current EPA proposal missed the mark. To meaningfully strengthen the WPS, the EPA must address the double standard that leaves farmworkers less protected from harmful chemicals than other workers across the country, recognizing the demography of this population and the inherent challenges in ensuring that they are protected on the job.
Farmworkers are predominantly Latino, majority foreign-born, with varying immigration status and English language proficiency, and failure to account for the barriers that prevent these workers from learning and speaking out about the hazards they encounter at work is a recipe for failure.
If my experience as an immigrant and workers' rights advocate has taught me anything, it is that Latino workers and immigrants in particular have a lot to lose if they stand up for their rights in the workplace. Whether it's fighting against wage-theft, sexual harassment, or pesticide poisoning, workers across industry sectors fear retaliation, job loss and even family separation when employers use the threat of deportation as a tool to keep them quiet.
When nearly 1 of every 2 farmworkers are still waiting for a path to citizenship and 70 percent have limited English proficiency, by the very nature of their demographics, their ability to challenge employment practices is inhibited. With that in mind you can imagine my astonishment when I learned that the EPA had proposed to make it more difficult for farmworkers to obtain information about the chemicals they are working with.
What is the exact protocol, you ask? If you are a farmworker and you want to know specific information about pesticides applied in the areas you work in, you must ask the employer to show you the papers and you no longer have a central posting location where you can find that information. This is a weakening of the outdated standard advocates and members of Congress urged the EPA to revise.
The proposed changes leave things to be desired. The EPA can choose to set additional hurdles for farmworkers or seize this opportunity to thoughtfully strengthen the Worker Protection Standard and minimize the uphill climb these workers already face in securing a safe workplace.
Andrea L. Delgado believes that hazardous waste, chemicals and pesticides shouldn't threaten communities. She was a part of Earthjustice's Policy & Legislation team, working with Congress and federal agencies to strengthen policies to protect the public from harmful substances.
Earthjustice's Washington, D.C., office works at the federal level to prevent air and water pollution, combat climate change, and protect natural areas. We also work with communities in the Mid-Atlantic region and elsewhere to address severe local environmental health problems, including exposures to dangerous air contaminants in toxic hot spots, sewage backups and overflows, chemical disasters, and contamination of drinking water. The D.C. office has been in operation since 1978.