Farmworker Awareness Week: Cultivating Awareness and Celebrating Change
It's National Farmworker Awareness Week, and people from all walks of life are taking action. They're speaking up for their families and communities, advocating for stronger protections and redesigning agricultural practices to eliminate pesticides. (Spanish language version available.)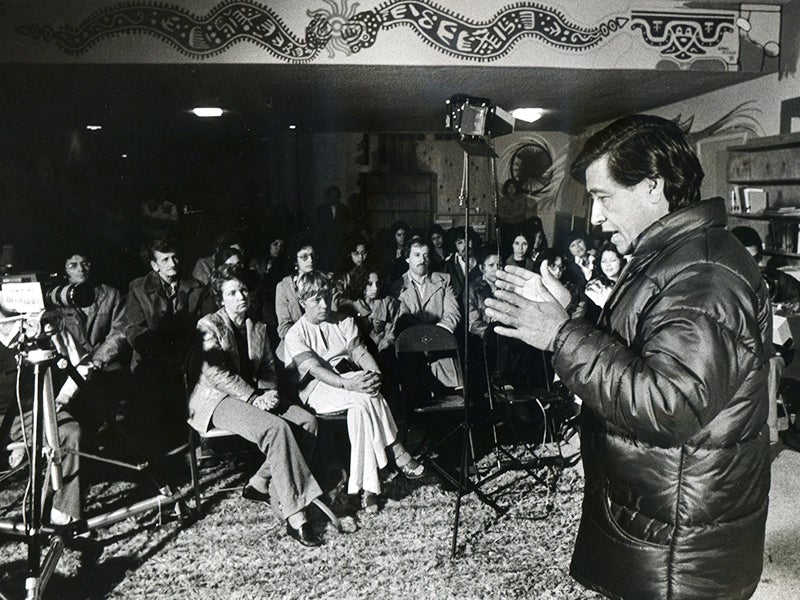 Este blog está disponible en español aquí.
Although changes have been made to advance protections for farmworkers, National Farmworker Awareness Week is a crucial time not just to reflect on the victories, but also to prepare for the work that is yet to come. Underprotected by federal laws and out of sight for the average citizen, more than 2 million farmworker men, women and children continue to be among the most vulnerable members of the U.S. workforce.
Farmworker communities suffer the highest rate of toxic chemical injuries of any workers in the nation, and they have more incidences of heat stress, dermatitis, urinary tract infections, parasitic infections and tuberculosis than other wage-earners, according to the non-profit Student Action with Farmworkers. That makes farm work the third most dangerous job in the United States. It wasn't until 1966 that the Fair Labor Standards Act was amended to include farmworkers in its minimum wage regulations. That happened only after farmworker labor rights had been brought to the nation's attention by labor organizations and prominent figures, such as Cesar E. Chavez.
Over the years, Earthjustice has had the honor and privilege of working alongside brave individuals who have demonstrated their courage in paving a new path for future generations to follow, in which people's health and the environment are not compromised for profit. Read their stories below.
Marie Bongarcon
"People need to push the company to do better. Why are custodians protected but not field workers?"
Marie Bongarcon worked in ferneries for 20 years after she arrived in the U.S. from Haiti. She now works as a high school custodian. She describes how common it was for farmworkers like her to be exposed to pesticides on a daily basis: "The plants you pick have been sprayed, but they don't tell you that."
With an estimated 5.6 billion pounds of pesticides used per year worldwide, exposure to toxic pesticides and the frequency of poisonings among farmworkers are far too high. As a former farmworker, Marie advocates for more protective policies that will help inform farmworkers about the personal safety measures they need to take when using hazardous chemicals.
Juan Fernando Rodriguez Tellez
"When you have teenagers, young mothers and kids out there [in the farm fields] helping to support their families, I feel like some people see them as replaceable individuals."
Having suffered from pesticide exposure at the age of 14, Juan never imagined that he would have his first visit with EPA officials at the age of 17. With as many as 20,000 pesticide poisonings a year, Juan was left with no other choice but to join the fight to advocate for stronger protective standards for farmworkers.
Juan was part of a collective and successful effort to update the EPA's Agricultural Worker Protection Standard, which had not been updated in over 20 years. The changes have been significant, though Juan says, "Our job isn't over, but the new standards are definitely a step in the right direction."
Amelia Ceja
"I care very deeply about farmworkers' well-being because that's me"
Courageous employers like Amelia Ceja are taking steps in the right direction. She was a farmworker at a young age and was inspired by the efforts of Dolores Huerta and Cesar E. Chavez. Amelia wanted to continue their legacy by creating pesticide-free vineyards where workers are paid fair wages and are treated with dignity and respect. "The team that works [the] vineyards has been with [us] for a very long time and they are part of our familia," she says of her employees.
This is uncommon, but the trend can continue if more employers like Amelia work to transition to pesticide-free farms. Amelia reminds us, "We as consumers are the ones who have the power to change how farmworkers are treated." She continues to be an outstanding example of how profit and prestige go hand-in-hand with fair wages and safe working conditions.
Jim Cochran
"For me, it isn't enough to say the world is screwed up … I'm the guy who says, 'Okay I'm gonna try to fix it.'"
Growing strawberries is difficult and can use up to 1,100 percent more pesticides per acre than growing the average food crop, but this didn't stop Jim Cochran from becoming the first farmer to competitively grow organic strawberries in California. The USDA has found as many as 9 carcinogens, 11 neurotoxins that affect humans and 19 toxins that affect honey bees in samples of typically grown strawberries. A former farmworker himself, Cochran first experienced pesticide poisoning in 1981.
Determined to find an alternative way to grow the pesticide-intensive crop, Cochran decreased the use of water and fertilizers, incorporated beneficial bugs, replaced fungicides with single-row planting and adopted crop-rotation methods. Soon, he was not only harvesting delicious strawberries, but a profit as well.
He then shifted his focus to helping the workers on his farm. He became the first organic farmer in America to unionize his workforce when he signed a contract with the United Farm Workers of America. His workers make three times the national average for strawberry work, which is back-breaking and skill-intensive, and they have health care, vacation pay and an employee-owned stock plan.
People from all walks of life are taking action and speaking out in defense of their families and communities, advocating for stronger policies and redesigning agricultural practices to eliminate pesticides altogether. In honor of #NFAW2016, find out how you can take action to support sustainable and ethical initiatives here.
Semana Nacional de Campesinos: Cultivando el Conocimiento y Celebrando el Cambio
Aunque se han hecho cambios para ofrecer protecciones a los trabajadores del campo, La Semana Nacional de Campesinos es crucial para reflexionar sobre las victorias, pero también para prepararnos para el trabajo que está por venir. Sin protección bajo las leyes federales, y fuera del ojo del público del ciudadano promedio, más de 2 millones de hombres, mujeres y niños que trabajan en el campo continúan siendo los miembros más vulnerables de la fuerza laboral de Estados Unidos.
Las comunidades de trabajadores agrícolas sufren la tasa más alta de daños ocasionados por químicos tóxicos en la nación, y tienen más incidencias por golpes de calor, dermatitis, infecciones urinarias, infecciones por parásitos y tuberculosis comparados con otros trabajadores, de acuerdo al grupo sin fines de lucro Student Action with Farmworkers. Este estado de cosas hace que la labor agrícola sea el tercer trabajo más peligroso  en Estados Unidos. No fue sino hasta 1966 que la Ley de Normas de Trabajo Justo  fue enmendada para incluir a los trabajadores agrícolas en sus reglamentos de salarios mínimos. Esto no sucedió hasta que los derechos laborales de los trabajadores agrícolas fueron expuestos a la luz pública por intervención de organizaciones laborales y figuras prominentes, como César E. Chávez.
Con el paso de los años, Earthjustice ha tenido el honor y el privilegio de trabajar cercanamente con personas valientes que han demostrado su audacia al preparar el camino poniendo el ejemplo para futuras  generaciones, de que la salud de la gente y el medio ambiente no serán vulneradas por las ganancias. Lee sus historias a continuación.
Marie Bongarcon
"La gente necesita animar a la compañía a que mejore. ¿Por qué se protege a los conserjes y no a los trabajadores del campo?"
Marie Bongarcon trabajó en jardines de helechos por 20 años después de haber llegado a Estados Unidos de Haití. Ahora trabaja como conserje en una escuela preparatoria. Ella  describe cuán común era para los trabajadores del campo como ella estar expuestos a los pesticidas diariamente: "Las plantas que recoges han sido rociadas, pero no te lo advierten."
Con alrededor de 5.6 mil millones de libras de pesticidas al año usados alrededor del mundo, la exposición a los pesticidas tóxicos y la frecuencia de las intoxicaciones entre los trabajadores agrícolas son demasiado altos. Por su experiencia previa como trabajadora agrícola, Marie exige más leyes protectivas que ayuden a informar a los trabajadores sobre medidas de seguridad personal que necesitan adoptar al usar químicos dañinos.
Juan Fernando Rodríguez Téllez
"Cuando tienes adolescentes, madres jóvenes y hasta niños allí [en los campos agrícolas] que están ayudando a mantener a sus familias, siento que algunas personas los ven como individuos desechables."
Al haber sufrido de exposición a los pesticidas a la edad de 14 años, Juan nunca se imaginó que se reuniría por primera vez con funcionarios de la EPA a los 17 años de edad. Con aproximadamente 20,000 intoxicaciones por pesticidas al año, Juan no tuvo otro remedio más que unirse a la lucha por normas de protección más fuertes para los trabajadores agrícolas.
Juan fue parte de un esfuerzo colectivo y exitoso para actualizar la Norma de Protección para el Trabajador Agrícola, de la EPA la cual no había sido actualizada en más de 20 años. Los cambios han sido significativos, pero Juan dice que, "Nuestro trabajo no ha terminado, pero las nuevas medidas son definitivamente un paso en la dirección correcta."
Amelia Ceja
"Me importa mucho el bienestar de los trabajadores agrícolas porque esa era yo."
Empresarios valientes como Amelia Ceja están tomando pasos en la dirección correcta. Ella trabajó en los campos a una edad temprana y se sintió inspirada por los esfuerzos de Dolores Huerta y César E. Chávez. Amelia quiso seguir su ejemplo y fundó viñedos libres de pesticidas donde los trabajadores reciben un salario justo y son tratados con dignidad y respeto. "El equipo que trabaja [los] viñedos ha estado con [nosotros] por mucho tiempo y son parte de nuestra familia," ella dice de sus empleados.
Esta situación es poco común, pero la tendencia puede continuar si más empresarios como Amelia trabajan para lograr una transición a cultivos libres de pesticidas. Amelia nos recuerda, "Nosotros como consumidores somos los que tenemos el poder para cambiar cómo se trata a los trabajadores del campo." Ceja sigue siendo un ejemplo extraordinario de cómo las ganancias y el prestigio van de la mano con salarios justos y condiciones seguras de trabajo.
Jim Cochran
"Para mi, no es suficiente decir que el mundo está deteriorado… Soy el tipo que dice, 'Ok. Yo voy a tratar de arreglarlo.'"
Cultivar fresas es difícil y puede llevarse hasta 1,100 por ciento más pesticidas por acre que el cultivo promedio de plantas alimenticias, pero esto no impidió que Jim Cochran se convirtiera en el primer agricultor en cultivar fresas orgánicas con ventaja competitiva en California. La USDA ha encontrado casi 9 carcinógenos, 11 neurotoxinas que afectan a los humanos y 19 toxinas que afectan a las abejas en muestras de fresas cultivadas de manera convencional. Cuando fue trabajador de campo, Cochran se intoxicó por primera vez con pesticidas en 1981.
Decidido a encontrar un modo alternativo para sembrar una planta que tantos pesticidas necesita, Cochran disminuyó el uso de agua y fertilizantes, incorporó insectos benéficos con plantación de una sola hilera y adoptó métodos de rotación de cultivos. En poco tiempo, no tan sólo estaba cosechando fresas deliciosas sino que también sus ganancias crecieron.
En poco tiempo, se concentró en ayudar a los trabajadores en su rancho y se convirtió en el primer agricultor orgánico en todo Estados Unidos en sindicalizar a sus trabajadores cuando firmó un contrato con United Farm Workers of America. Sus trabajadores ganan tres veces el promedio nacional de lo que perciben otros trabajadores que cultivan y cosechan fresas, la cual es un trabajo arduo que requiere muchas habilidades y lastima la espalda, aparte tienen seguro médico, vacaciones pagadas y un fondo de ahorro con bonos y acciones.
Gente de todo tipo está entablando acciones y alzando la voz en defensa de familias y comunidades, buscando la aprobación de políticas más estrictas que eliminen los pesticidas de manera total. Para hacer valer la medida #NFAW2016, entérate de cómo puedes tú hacer lo mismo y apoyar iniciativas sustentables y éticas aquí.
Niria Garcia was a communications intern at Headquarters during the spring and summer of 2016. She is a graduate of the University of Oregon where she studied Environmental Studies, Latin American Studies and Non-profit Administration. Her research focused on women-led grassroots environmental justice movements in Brazil.