Feds Should Close Loopholes, Tighten Enforcement in Methane Rule
Controlling methane emissions is a critical step toward addressing climate change, and more stringent regulations for the oil and gas industry would be a good start for public lands, taxpayers and the planet.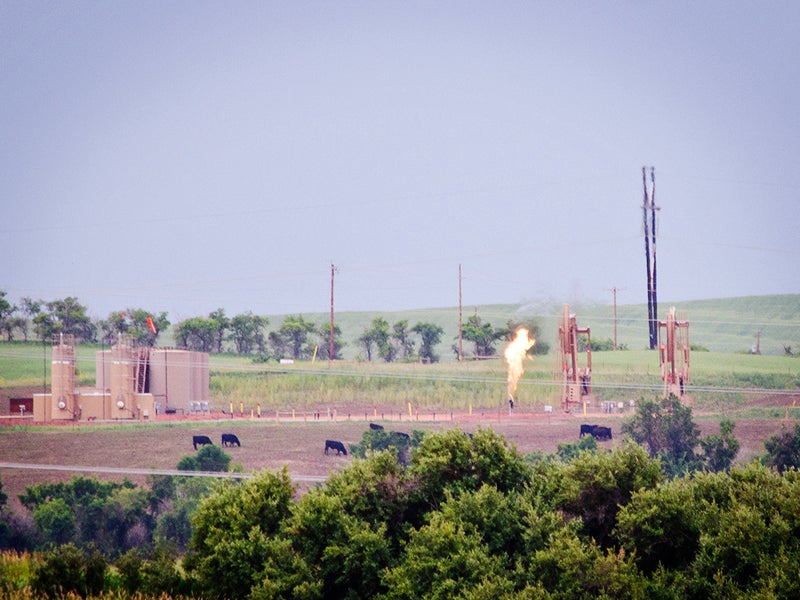 When I visited North Dakota's Bakken oil field in December 2012, the open, snowy prairie was dotted with countless drilling rigs and well pads—and plenty of flares burning excess natural gas. A month after my visit, a nighttime satellite image showed the Bakken as brightly lit as metropolises like Chicago.
The flares lighting up North Dakota's night sky are evidence of a broader trend. Every year, while fracking on our public lands, the oil and gas industry wastes hundreds of millions of dollars worth of natural gas by burning it in flares or by not repairing leaky equipment. This needless waste of a valuable natural resource squanders tax revenue and damages the environment.
Luckily, the U.S. Bureau of Land Management (BLM) has proposed common-sense updates to its 30-year-old rules requiring oil and gas companies to reduce natural gas waste on our public and tribal lands. Earthjustice and a broad coalition of environmentalists filed comments in support of the BLM's proposal, while at the same time urging the BLM to eliminate loopholes to ensure that the new rule will be effective in combating waste, fighting climate change and reducing toxic air pollution.
Because the main ingredient in natural gas is methane, the long-overdue rule is a big deal for the climate. Methane is a climate pollutant 86 times more powerful than carbon dioxide, responsible for about 25 percent of the warming our planet is experiencing today. Fortunately, methane typically lasts only 10 years in the atmosphere. So if we cut methane emissions quickly, we can make a big difference in fighting climate change in the short term.
Targeting the oil and gas industry is the logical place to start.
The EPA's latest data show that the oil and gas industry is America's largest source of methane emissions. Recognizing this, in March President Obama and Canadian Prime Minister Justin Trudeau pledged to cut oil and gas sector methane emissions 40 to 45 percent below 2012 levels by 2025.
The BLM's proposed methane rule is a crucial step toward fulfilling that pledge. Unlike the rule released on May 12 by the EPA that covers only new oil and gas equipment (which, nevertheless, is a big first step in the right direction), the BLM's proposed rule covers both new and existing equipment. That's a big deal, since existing equipment will account for 90 percent of oil and gas emissions by 2018. The BLM's proposed rule also requires oil and gas companies to reduce flaring, which the EPA's rule does not. 
Instead of leaking away, being burned or intentionally being vented into the atmosphere, gas—and lots of it—will be captured under the BLM's proposal. Between 2009 and 2014, oil and gas companies on public lands wasted enough gas to fuel 5.1 million households for a year. That's every household in Colorado, Montana, New Mexico, Utah and Wyoming combined.
If gas isn't wasted, oil and gas companies will pay royalties on it, benefiting federal, state and tribal governments that can use the money to fund schools, health care and infrastructure. The BLM's proposed rule could capture up to $800 million in taxpayer revenue over the next decade. The proposal is also highly cost-effective: By some estimates, oil and gas companies can reduce methane emissions for just over a penny per thousand cubic feet of natural gas produced.
Indeed, the BLM's proposed rule follows in the footsteps of Colorado's trailblazing 2014 methane reduction rules, which Earthjustice was involved in crafting. Colorado's rules have proven cost-effective and successful. A recent survey found that even seven out of 10 oil and gas company representatives believed that the benefits of Colorado's rules outweigh the costs. Another recent poll by Colorado College's "State of the Rockies" Project found that 80 percent of people in seven mountain west states support rules to reduce wasteful methane leaks and flaring on public lands.
Aside from benefits for the climate and the public, the BLM's proposed rule will also protect our public lands by reducing smog that stunts plant growth, reduces visibility and makes it harder to breathe. And the rule will protect our health from carcinogenic air pollutants, such as benzene.
Despite its many strengths, the BLM's proposed rule needs improvements to close loopholes that will allow oil and gas companies to continue wasting our public resources. Earthjustice and our partners have called on the agency to:
require more frequent inspections for leaks at all facilities
close loopholes that allow many of the largest oil and gas companies to evade leak inspection requirements
tighten allowances for flaring
make waste minimization plans enforceable
improve transparency
Earthjustice will keep pressure on the BLM to strengthen the methane rule and finalize it quickly because our climate, our tax dollars and our public lands are at stake.
From 2015–2019, Joel was based in the Rocky Mountain regional office in Denver, working to protect communities from the harmful impacts of energy development
Earthjustice's Rocky Mountain office protects the region's iconic public lands, wildlife species, and precious water resources; defends Tribes and disparately impacted communities fighting to live in a healthy environment; and works to accelerate the region's transition to 100% clean energy.