Fighting for a Clean Energy Makeover at the Largest Ports in the Nation
Freight pollution is a major player in poor air quality and greenhouse gas emissions in the U.S. Here's what we're doing about it.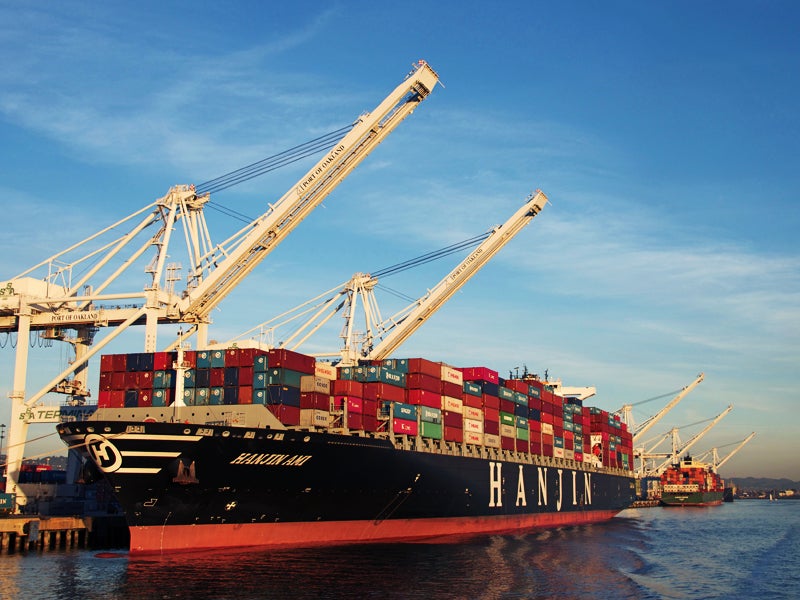 Ten years ago, the Ports of Los Angeles and Long Beach adopted their first version of the Clean Air Action Plan. This plan marked the first time in history that large port authorities put forward a comprehensive plan to address the toxic diesel emissions that spew into fenceline neighborhoods. The plan was especially notable because these ports are big players in our nation's freight system and can set major trends. Combined, the Ports of Los Angeles and Long Beach handle approximately 40 percent of container ship imports and 25 percent of container ship exports in the county.
Despite the progress made to date, the Ports of Los Angeles and Long Beach continue to be the largest fixed source of pollution in the Los Angeles area. This region takes the top slot in the American Lung Association's study of the most polluted cities in the country year after dreadful year.
Now, the ports are working on a new Clean Air Action Plan to guide their efforts. While we applaud the general trend toward using cleaner, greener technologies, the ports are not offering the dauntless plan we need. At Earthjustice, we're working with community groups to reshape the plan to make it bolder and bigger.
If the Ports of Los Angeles and Long Beach want to be global leaders, they need to move into the 21st century with a zero-emissions container movement system powered by clean energy. We've seen some glimmers of hope in the Long Beach Container Terminal and the Pasha project, which are beginning to usher in a freight system that uses zero-emissions technology powered by renewable energy. But they can do more and they can do it faster.
Innovation and planning now from these monumental ports can spark major trends in the freight industry, charting the future course for the 13 million Americans who live near freight hubs in the United States and bringing us a cleaner freight system that won't contribute to climate change.
The ports have an opportunity to forge ahead with a big, bold vision to modernize this historically dirty industry. This necessarily entails significant commitments on zero-emissions technologies, and it requires vision from port leaders to see beyond small, incremental moves to a more aggressive clean energy makeover. Let's bring ingenuity and technology to bear on some of our oldest and dirtiest pollution problems.
The first Clean Air Action Plan was unanimously passed by both the Port of Los Angeles and the Port of Long Beach. It artfully made the case for prompt action on zero-emissions technologies:
"The ultimate goal is a 21st-century electric powered system that will move cargo from our docks to the destinations within 200 miles that today are moved by truck. It may take 20 years to complete such a system, but it will always be 20 years away unless in the next five years we build and test a demonstration prototype and perfect a detailed plan for widespread construction."
I hope that when my daughter turns 21 in 20 years, we're not still at the starting line.
I do want to note that the ports have made improvements over the past decade because of a robust grassroots effort that insisted on citizens' right to clean air. These brave community members and organizations fought many a fight during long commission hearings, in court and in the press. They made the case for the disproportionate harms the ports bring to communities of color in the area. These same fighters and many others continue this legacy of struggle. The message from many of these individuals and groups is simple: We need zero-emissions technologies now to bring us relief from air heavy with diesel fumes.
Based in Los Angeles, Adrian works on clean air, clean energy, and healthy communities issues as a deputy managing attorney for Earthjustice's Right to Zero campaign. Follow him on Twitter @LASmogGuy.
The California Regional Office fights for the rights of all to a healthy environment regardless of where in the state they live; we fight to protect the magnificent natural spaces and wildlife found in California; and we fight to transition California to a zero-emissions future where cars, trucks, buildings, and power plants run on clean energy, not fossil fuels.