Fighting Fracking: A Love Story
The Slotterback's journey began with a day hike on their favorite trail, and now, as Jim told me, "We're prepared to spend the rest of our lives working on this issue."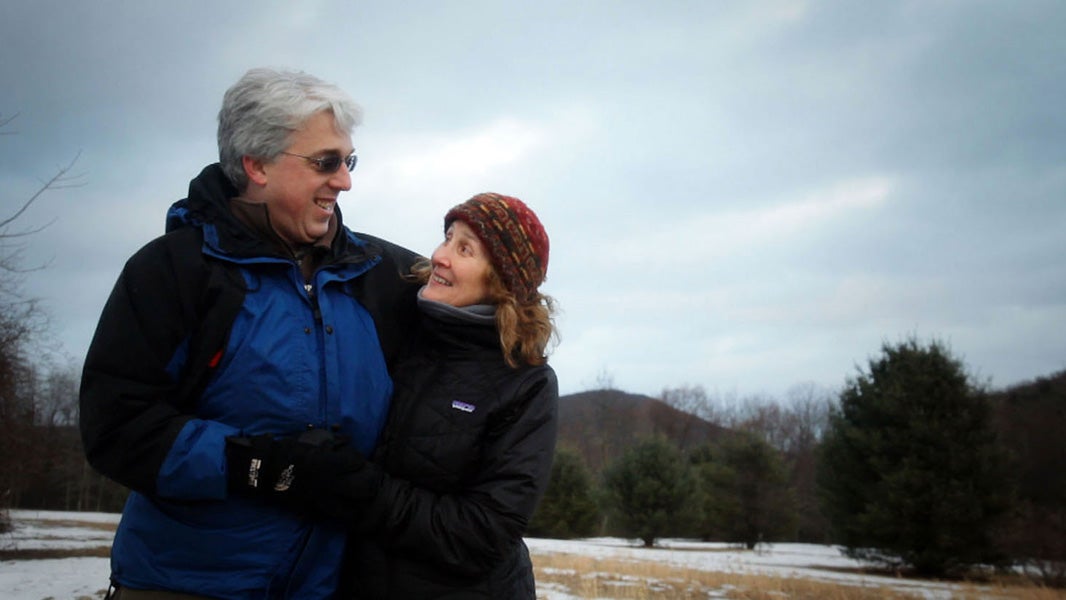 A few months ago, Earthjustice campaign manager Kathleen Sutcliffe came to me with an interesting request—she wanted to tell an uplifting story about fracking. Hydraulic fracturing, or fracking, is a drilling technique that involves blasting chemically treated water into the earth to release oil and gas trapped in underground rock formations. Most of the stories about fracking involve stuff like gas well explosions, chemical spills, tap water catching on fire, rivers being polluted, and air quality being degraded. So needless to say, it's not the most obvious place to find a positive story.
For the most part, oil and gas companies are fracking as they please and raking in huge profits at the expense of small communities and their local environments. But maybe, just maybe, we thought, there are some people out there who have stood up and used their voices to battle the bank accounts of the gas industry.
So we started reading and researching. And what we found surprised us.
We learned about the late Linda Bivin who organized all of the farmers in one Oklahoma county against gas company abuses. The effort succeeded in pushing the state to adopt protective regulations.
We learned about Leyana Dessauer, a 16-year-old high school sophomore from Syracuse, New York who organized a march in support of a local ban on drilling. She succeeded in raising the profile of the issue in her town.
We learned about the Chapman, Pennsylvania zoning board members John P. Rathmell Jr., Alice Tarr and John Drake, who resigned in protest rather than approve a zoning permit for a drilling operation. They helped put the brakes on drilling in their area.
We learned that there are actually dozens of examples of people standing up and winning seemingly impossible fights against fracking.
One story, however, really caught our attention. Jen Slotterback was hiking in her favorite park when she discovered surveying for future gas drilling. She raced home to tell her husband Jim that the place they love—the place where they had fallen in love—might be forever changed. They had never been involved in activism, but they knew they had to save that place, an 850-acre tract of land named Rider Park.
We called up Jim and Jen and they welcomed us into their amazing story. A few weeks later, I was in in their living room, learning about the fight to save the park and how that fight had become a mission to save state forests and special places throughout Pennsylvania.
Before I came out to visit, I asked Jim if there would be anything for me to film while I was there.
"Oh there's something going on every single day here. And it's only speeding up," Jim told me.
He was not mistaken. In town, there were gas drillers conferencing, community members meeting and scientists lecturing. Outside of town, there were land being surveyed, wells being fracked and groups forming to raise concern about the pace of the drilling and it's effects on their land, water and lives.
It's massive industrialization at an intense pace. Amid all of this, the Slotterbacks and their petition to save 850 acres may seem inconsequential, but as Confucius said, "A journey of a thousand miles begins with a single step."
The Slotterback's journey began with a day hike on their favorite trail, and now, as Jim told me, "We're prepared to spend the rest of our lives working on this issue."
We'd like to send our sincerest thanks to the Slotterbacks, the Responsible Drilling Alliance and the good people of Williamsport for sharing their story with us. You're an inspiration to us all. If you want to support the Slotterback's new petition, you can sign it here, and if you want to learn more about fracking and take other actions on the issue, you can do so here.
Chris Jordan-Bloch is a photographer and filmmaker for Earthjustice. He uses videos, photos, audio and words to tell the stories of Earthjustice and the people and places we fight to protect.
Established in 2008, Earthjustice's Northeast Office, located in New York City, is at the forefront of issues at the intersection of energy, environmental health, and social justice.