Firefighters Feel the Burn of Climate Change
California is experiencing a lengthier fire season, part of a global trend that puts firefighters on the front lines of a changing climate.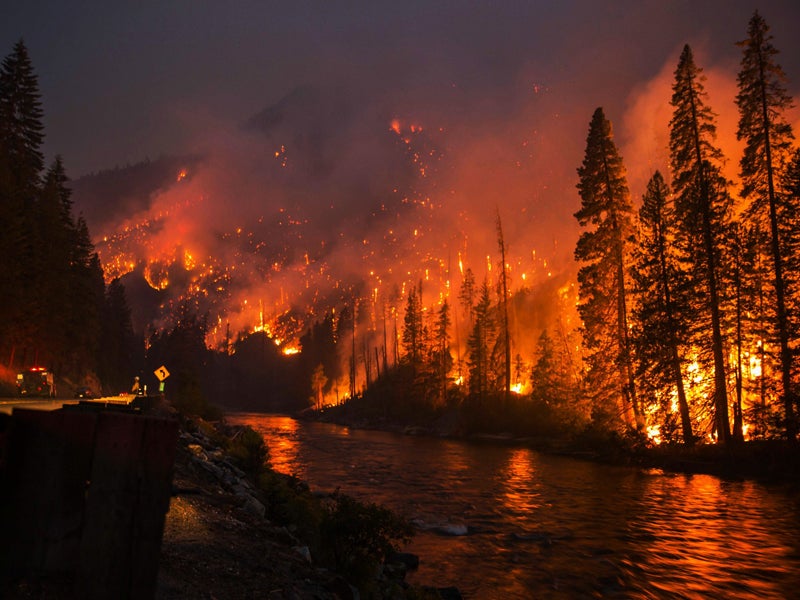 Editor's Update, September 15, 2015: Northern California is on fire. If residents aren't evacuating their homes, many of them are choking on plumes of thick smoke from one of 12 active fires that have so far burned more than 700,000 acres. Meanwhile, the Sierra Nevada snowpack is at its lowest level in 500 years—just five percent of normal.
The worst California fire season in memory has consumed more than 1,000 buildings and taken at least one life. The small towns of Middletown, Cobb and Hidden Valley Lake have been all but decimated, along with Harbin Hot Springs, a clothing-optional resort that was a favorite retreat for San Francisco's hippie set. Oregon is contending with seven large fires of its own, and Washington state has 14 active blazes larger than 100 acres.
High temperatures, gusting winds and vegetation scorched by years of drought have created "explosive" conditions for fast-moving, voracious wildfires, a California Department of Forestry and Fire Protection (Cal Fire) spokesman told The New York Times. Cal Fire crews are on the ever-shifting frontlines of a fire season that, at least in Southern California, blended from 2014 into 2015 without a pause for breath. The Times reports there are 15,000 firefighters from Cal Fire, the U.S. Forest Service and other organizations currently battling blazes in towns, forests and national parks.
From January 1 to September 12, 2015, Cal Fire responded to 5,225 wildfires across the state, more than 70 percent over the five-year average. To help deal with this increase, Cal Fire has hired hundreds more firefighters this year and put more firefighting tankers in the air.
Firefighters working in Type 1-PLUS crews deal with the worst fires. These Type 1 crews, more commonly known as hotshot crews, labor in the hottest sections of the blaze. Hotshot crews are comprised of 18 to 20 firefighters who are available seven days a week during fire season. They work and train together at least 40 hours per week, can be assigned to any geographic area, and must be able to mobilize within two hours of any call. Hotshot members must meet stringent fitness requirements, including running 1.5 miles in 10:35 or less and completing 25 pushups in 60 seconds or less. They arrive with their own gear and transportation, fully equipped to battle wildfires.
One inspiring hotshot crew, the Geronimo Hotshots, is based on the San Carlos Apache reservation in Arizona. The Atlantic documented the crew's 2013 fire season in an informative and touching video.
In the video, members of the hotshots lament their tough schedules; they're sometimes home for a day or two and then absent for weeks. But their schedules, and those of other firefighters, might get even worse. In 2014 and 2015, Cal Fire hired its seasonal firefighters during January, much earlier than normal.
Despite the herculean efforts of hotshot crews and other firefighters, fire season is indeed lengthening. One recent study shows that fire weather seasons lengthened across more than 25 percent of Earth's vegetative surface from 1979 to 2013. The global average fire season increased by more than 18 percent. With longer fire seasons, the area of the globe labeled "burnable" increased by more than 108 percent.
California is already feeling that longer fire season, as well as an increase in the amount of burnable land. University of California, Davis Professor Mark Schwartz says that fire danger is also increasing at higher altitudes, as a warmer climate leads to more vegetative growth at high elevations and less snow leads to drier forests in general.
Meanwhile, low water levels across the state mean that there are fewer locally available water sources for firefighters. Bill Shaw of Cal Fire told NPR, "In a rural firefighting, we don't always have hydrant systems. We don't have municipal water plumbed everywhere. So when we fight a fire, whether it be a wildland or a structure fire, we need large amounts of water most of the time to handle that. So we have to haul it on wheels."
The devastation of wildfire and the efforts of firefighters were evident to me last summer when I was hiking in Yosemite. A fire raged nearby, spewing smoke across the valley. From the top of a peak, Yosemite looked like a lunar landscape, not a national park famed for its beauty.
With the drought raging on, more of California may be transformed by smoke and fire. We can help prevent some blazes by taking basic precautions, like extinguishing campfires, but larger sacrifices may be in order to protect the lives of Californians and state firefighters.
Cate is a junior at Wellesley College and press team intern in San Francisco. She enjoys exploring in the National Parks and is an avid San Francisco Giants fan.