Crawfisherman's Fight Brings Pipeline to a Halt
Crawfisherman Jody Meche's family has lived off Louisiana's Atchafalaya Basin for generations. Now he's fighting to protect it—and his way of life—from a destructive oil pipeline.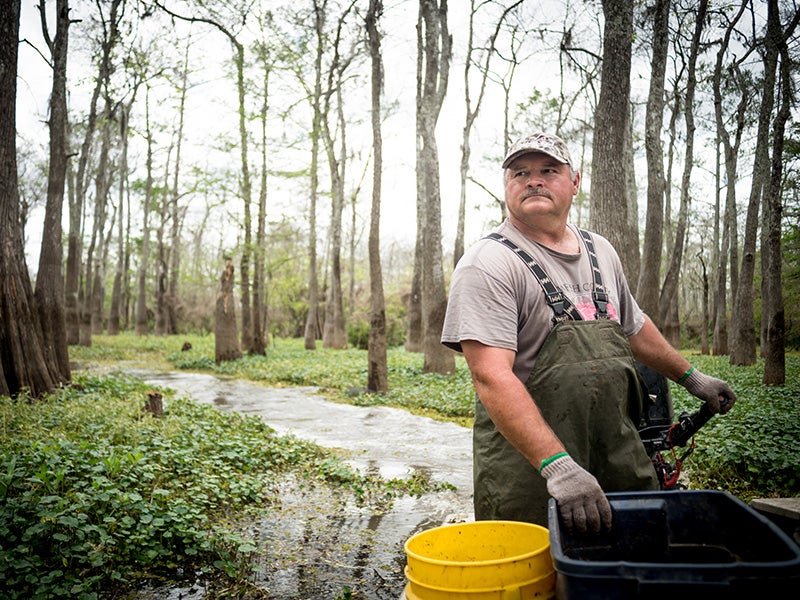 Jody Meche and his family have harvested crawfish from Louisiana's Atchafalaya Basin for generations. When he set his first trap in the 1980s, he hauled in an abundant catch. These days, his traps come back full of dead crawfish.
Meche holds the oil and gas industry responsible for the steady destruction of a way of life that depends on the bounty of our nation's largest river swamp. Now he's fighting against the controversial Bayou Bridge oil pipeline, a proposed project that could blight the Atchafalaya with oil spills and the permanent destruction of old-growth trees.
Earthjustice has challenged that project in a Louisiana federal district court. On February 23, after hearing the testimony of Meche and others who would be affected by the pipeline, a judge halted its construction. The injunction will prevent irreparable harm to the Atchafalaya Basin while our lawsuit is being heard.
When Meche learned that construction on the pipeline had been halted, he said, "I was so choked up I could hardly talk. It was a feeling of great satisfaction – we've been fighting these people for all these years and we finally got a glimmer of hope that maybe we can stop the destruction."
The oil and gas industry has dodged regulations and built hundreds of pipelines throughout the basin. The construction left behind mounds of dirt—known as spoil banks—that have systematically destroyed the water quality and created so much sediment that crawfish and other living organisms suffocate.
Energy Transfer Partners, a company with a long record of environmental destruction, aims to build a new 162-mile pipeline across the basin to connect its controversial Dakota Access pipeline to the Gulf of Mexico. (Earthjustice attorneys are representing the Standing Rock Sioux Tribe in their legal challenges against that pipeline.)
Earthjustice's clients in the Bayou Bridge suit–Atchafalaya Basinkeeper, the Louisiana Crawfish Producers Association (West), Gulf Restoration Network, Waterkeeper Alliance and Sierra Club—testified that pipeline construction would further degrade nearby fishing grounds and threaten the survival of Cajun culture.
"The court's ruling recognizes the serious threat this pipeline poses to the Atchafalaya Basin, one of our country's ecological and cultural crown jewels," says Jan Hasselman, an attorney from Earthjustice litigating against the pipeline. "For now, at least, the Atchafalaya is safe from this company's incompetence and greed."
The fight doesn't end here, however. In Meche's words, "We've had victories in the past but never any fix. We want the basin fixed, we want the damage repaired. We want it to be productive again just like it used to be."
As Earthjustice prepared to file suit in January, Meche shared his experience with the dangers of the pipeline and why the swamp is worth saving.
What is special about the Atchafalaya Basin?
"The Atchafalaya Basin is unique to the whole world. There's nowhere else like it. It's home to hundreds of species of migratory birds—there's bald eagles, so many bald eagles—and alligators, fish, and so much more. It provides subsistence for the Cajun people.
"We've made our living from the basin for over a century, it gives us food for our families. For me, it's my way of life. It's where I grew up. It's what I know, it's what I've learned."
How has oil and gas development affected the Basin?
"They created these pipeline right-of-ways, and instead of flattening out the dirt they excavated, they left it. They interrupted the water flow. And every year, the ecosystem has been on the decline. The crawfish is to the point where they won't live in our crawfish traps unless we let the traps stick out above the top of the water so they can come up for air. The water quality is so poor they can't get enough oxygen out of the water.
"When I first started fishing, you hardly had any problems with crawfish dying. You could set your traps on the bottom, five or six feet in the water, and the crawfish would all be alive.
"Now you go back, and all the crawfish are dead underwater."
How could additional oil and gas development in the basin affect the region's ability to fight flooding and other types of damage during hurricane season?
"It's unbelievable how much these pipelines have caused the bottom to fill up with sand. The bottom used to be below sea level in a lot of areas, and now it's 20 to 30 feet above sea level. In the springtime when you see all these rivers and all these houses flooding all up and down the Mississippi Valley, the Ohio River Valley, the basin is supposed to be able to receive a lot of that water and flow it through to the Gulf of Mexico. They know it can't—so they flirt with disaster every year."
Why don't you trust Energy Transfer Partners to do the right thing?
"It would be a hell of a feat to gain my trust. These companies don't hold up to their end of the bargain. They don't abide by the permits. They don't abide by the regulations. And nobody has held them accountable.
"I'm not opposed to oil and gas. We have a need—we have a tremendous dependence. But with the amount of money these companies make, there's no excuse for them to destroy our Earth the way they have. They have to go back and fix the problems they've caused for the environment.
"With the amount of money these companies make, there's no excuse for them to destroy our Earth the way they have."
"I've worked in the oil and gas industry. I know they can do a better job than the way it's been done."
Why did you reach out to Earthjustice for help on this issue?
"It seemed like our only hope. We've tried everything. We've met with governors; we've met with legislators; we've met with colonels with the Army Corps of Engineers, with state agencies, federal agencies—we've met with everybody. We can't hold these people accountable. The state of Louisiana is so controlled by the oil and gas industry, you can't get anything done. It seemed like we had to go outside the state, to someone who cares about our natural world."
What keeps you going in this fight?
"My love for the world I live in. I believe it's my God that's guiding me. He's working through human beings—I'm one of the human beings that he's working through so I can't give up the fight.
"Our natural resources out there, our natural environment, and our ecosystems, I've got to give a voice to them and try to scream foul for what has taken place over so many decades. They can't speak for themselves. They can't defend themselves. The trees and the fish and the water and the animals and the birds, somebody has to speak for them."
Around the world, a powerful shift away from fossil fuels toward clean energy is underway—but change won't come fast enough without a concerted fight.
Alongside communities in states across the country, Earthjustice attorneys are fighting pipelines like Bayou Bridge, export terminals and other major fossil fuel infrastructure projects that would seek to lock us into a fossil fuel-fired future.
The challenges we face are not insurmountable. The path to a clean energy transformation is rapidly emerging—and we can all play a role in clearing that path in time to limit temperature rise and guarantee our future. Stay updated on this fight.
Emilie has spent the past two decades as a journalist, speechwriter and communications strategist in Washington, D.C. At Earthjustice, she shares the stories of the people and issues at the heart of our clean energy litigation and policy work.
Earthjustice's Fossil Fuels Program is taking on the fossil fuel industry's efforts to pursue new paths to profit that not only accelerate the climate crisis, but also continue to cause harm to marginalized communities.
Established in 1987, Earthjustice's Northwest Regional Office has been at the forefront of many of the most significant legal decisions safeguarding the Pacific Northwest's imperiled species, ancient forests, and waterways.