Florida's Waters Are Rising, But So Are Its People
Residents, city leaders, and frontline workers are rallying around climate resilience strategies in the absence of federal leadership.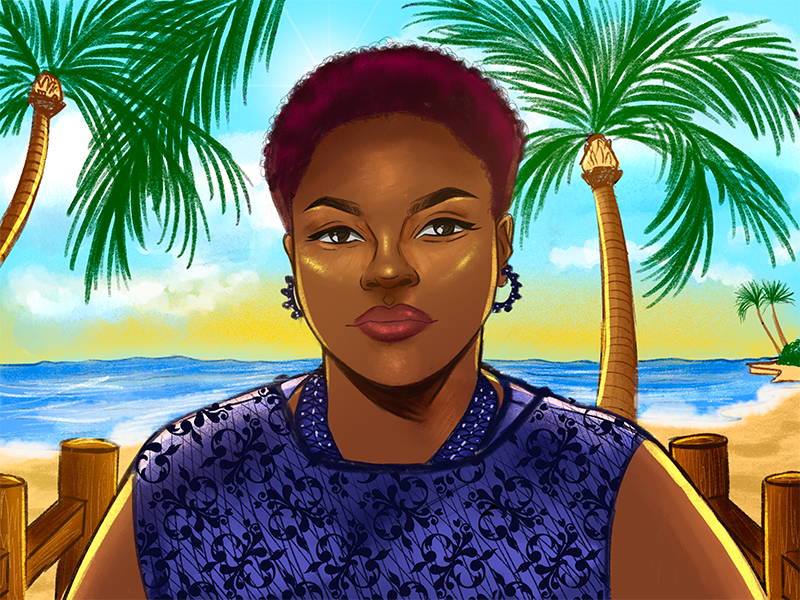 In 2017, the most powerful Atlantic storm in history hit Florida.
Longtime Florida resident Crystal Johnson remembers how cars clogged every highway leading out of the state as people fled to overcrowded hotels in Alabama or Georgia. Outside Johnson's apartment, Hurricane Irma unleashed 110-mile-per-hour winds that tossed garbage cans and smashed windows. By the time the hurricane made landfall, over 77,000 people around Florida had crammed themselves into emergency shelters.
Down in the majority African-American neighborhood of Dunbar in Fort Myers where Johnson lives, Hurricane Irma flooded streets and knocked out power for 12 days. After the storm, Johnson and her fellow Dunbar residents made their way to the neighborhood community center, which they expected to function as a basecamp for emergency services.
Instead, they found locked doors.
"This should have been a respite site after the storm, where we could come and recharge, share food, connect with people," says Johnson. "It was really disheartening."
Johnson is well known as a staunch advocate for her community. The same year Irma flooded Dunbar's streets, Johnson ran for city council, aiming to represent the voices of her community amid Fort Myers' large population of wealthy vacationers. Prominent real estate developers grumble at the mention of her name, while local patrons of a family-owned restaurant along Dunbar's main road jump to greet her with updates.
After Irma cut Dunbar's power, Johnson asked the city government to aid her community, which lacks hospitals or even a major grocery store. With no city response forthcoming, Johnson stepped in to get Dunbar back on its feet. She set up a makeshift aid site in front of the community center's locked doors, and organized the distribution of food cooked by local church members and her city councilwoman. Using social media as her bullhorn, Johnson shared emergency updates from her state representative, including locations where people could get food, water, and other supplies. As word spread, residents started showing up to lend a hand.
"We took care of each other," Johnson says. "Even though it was a devastating time, it was also something that brought the community together."
Dealing with the whiplash effects from climate change — sea level rise, record-breaking heat waves, monster hurricanes, and sunny day flooding, when seasonal tides send Florida's water rushing into city streets — is Florida's new normal. Yet for all these planetary distress signals, state leaders vacillate between pushing climate mitigation legislation and climate denial. In 2015, for example, former Governor Rick Scott banned the words "climate change" from policy discussions.
Like many Floridians on the frontlines of climate change impacts, Johnson isn't waiting for her government to see the writing on the sea wall. City leaders and grassroots advocates are pushing for climate resiliency plans, rallying voters, and collaborating on infrastructure projects that will protect cities from the rising sea.
---
Hurricane Irma was a turning point for many Floridians who hadn't previously thought about climate change affecting their lives.
"I would hear about climate change on the news and think the problem was so big," says Miami resident Bereatha Howard. "There was nothing I could do within my power. What am I going to do — get a rope and tie it around the sun? It just seemed the solution would be so out-of-this-world, it was hard to understand that our actions can make a difference."
That view changed after Howard decided to take the CLEO Institute's Empowering Resilient Women class, where speakers described the trickle-down effects of an ecosystem in chaos. Howard learned that she could strengthen her and her family's resilience to climate change by preparing for hurricanes, increasing her financial literacy, pushing for access to green jobs, and demanding climate action from her local leaders through civic engagement.
"We encourage average citizens to use their voice," says Yoca Arditi-Rocha, the executive director of CLEO. "We tell them they have three superpowers: the power of their voice, the power of their purse, and the power of their vote. We give them the tools, knowledge, and empowerment they need to become change agents in their community."
Howard was most inspired by how the speakers shifted the conversation from an amorphous scientific concept to an issue that directly affected vulnerable communities.
"You can't get people engaged just by saying 'climate change,'" Howard explains. "How does that relate to my life? You get people's attention by saying their children won't get enough to eat after a hurricane closes grocery stores, or explaining why only some neighborhoods won't have power."
According to the UN, women suffer disproportionately from climate change's effects due to gender inequity both in the home and professionally. That's why the CLEO institute centers women as leaders within their families. The organization has continued to offer virtual resources on climate resilience during the pandemic, including hurricane preparedness, town halls with local leaders, climate career sessions, and webinars linking climate change and systemic racism.
"It really does make a difference when a woman who is head of her household is informed," Howard says. "When I was living with my elderly father during Hurricane Irma, I was confident because I had prepared everything we would need."
---
The need for climate resilience doesn't end at people's doorsteps — it extends to their jobs, where climate change can hinder a person's ability to work. In a city known as the fern capital of the world, farmworkers are pushing for actions that will help them survive a warming planet.
On a 95-degree day in Pierson, a town of less than 2,000 residents in Central Florida, workers sweat as they harvest soft, leathery plants destined to grace the air-conditioned environment of corporate offices.
During these hot days, farmworkers can suffer from "heat stress," an innocuous-sounding term for an agonizing physiological attack that can lead to heat stroke and even kidney failure if not treated properly. At the fernery in Pierson, where farmworkers are paid by how much they can produce in a day, any worker can describe the agony of heat stress, and the fear that pausing will jeopardize their daily quota.
"I feel like I'm drowning," says Griselda Lomeli, a worker at the nursery who has experienced heat stress. "I'm suffocating. My heart beats very quickly, and I can hear it accelerating."
The Centers for Disease Control recommend that employers limit farmworkers hours during very hot days, so that their workers' bodies can safely acclimate to the punishing environment. But a bunch of ferns yields only 30 cents per barrel, and missing a day's quota reduces an already low paycheck.
Faced with this untenable situation, farmworkers are uniting to agitate for better conditions. Antonia Aguirre, who began working at the ferneries when she was 14, now organizes with the Farmworker Association of Florida, a grassroots group that aims to build worker power.
A key demand of the group's 10,000 members is the creation of state-level policies that protect farmworkers from extreme temperatures. This year, in coordination with the association, two Democratic state legislators introduced bills that would require company training on recognizing and treating heat stress. The bill also requires employers to provide outdoor laborers with water, breaks, and protection from the sun.
"The industry isn't prepared to handle climate change," says Aguirre. "Employers need to give workers at least a paid hour when they have to rest. The temperatures have gotten too hot."
---
While Floridians push for stronger climate change policies in their communities, city leaders are joining forces to strengthen resilience to the climate crisis across the region.
In 2010, the counties of Broward, Miami-Dade, Monroe, and Palm Beach established the Southeast Florida Regional Climate Change Compact, which created an action plan to prepare cities for flooding, sea level rise, and economic and social disruption from climate change.
"The compact has provided an acknowledgement from the elected level of county and city government, that this is an issue we couldn't avoid — we can't wait for the right governor [to take action]," says Jim Murley, the chief resilience officer for Miami-Dade County.
The compact has yielded significant successes, including development of a coastal sea-level rise projection, an inventory of regional greenhouse gas emissions, and a unified Regional Climate Action Plan. Other coastal regions in Florida have since formed their own compacts, including the Southwest Florida Regional Resiliency Compact, which includes Fort Myers.
To enact solutions that match the scope of the climate crisis, Florida communities will ultimately need buy-in from state leaders. Yet while many local governments are moving to address the impacts of the climate crisis, the state has been slow to act. Governor Ron DeSantis has spoken about the need to address the climate crisis, but hasn't taken any steps to slow fossil fuel use or promote energy efficiency. He did appoint a Chief Resilience Officer, Dr. Julia Nesheiwat, and charged her with looking at the environmental, physical, and economic impacts of sea level rise. But she left the job after just six months to take a position in former President Trump's homeland security office, leaving Florida's new climate leadership role unfilled.
Meanwhile in Fort Myers, Crystal Johnson isn't sitting idle. She's on a mission to ensure that her community is better equipped for the next storm. Last year, she traveled to the state capital, Tallahassee, to advocate for the creation of "resiliency hubs": one-stop locations where residents could receive service updates, pick up emergency supplies, and access backup power.
Since the hurricane, Johnson has also worked with emergency preparedness groups to teach the community disaster relief skills, and she has received a grant to distribute free emergency packs throughout Dunbar. She also coordinates after-school sessions at the Dunbar community center, training students to do basic emergency medical procedures.
"This is a resourceful community," says Johnson. "We do whatever we have to do to make it, because we're used to going without."
Alison Cagle is a writer at Earthjustice. She is based in San Francisco. Alison tells the stories of the earth: the systems that govern it, the ripple effects of those systems, and the people who are fighting to change them — to protect our planet and all its inhabitants.
The Florida regional office wields the power of the law to protect our waterways and biodiversity, promote a just and reliable transition to clean energy, and defend communities disproportionately burdened by pollution.
Established in 1989, Earthjustice's Policy & Legislation team works with champions in Congress to craft legislation that supports and extends our legal gains.