Fractivism 2.0: Fractivists Seek To Make History Once Again
The anti-fracking activists of New York made history once. Can they do it again?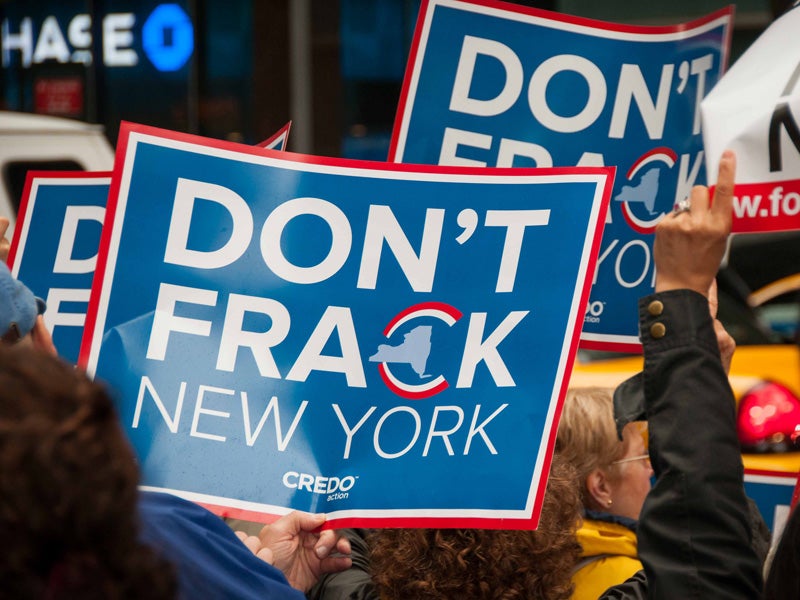 The following is an excerpt of an essay from FossilFreeTompkins.org. To read the complete piece, click here. 
This past week, New Yorkers marked six months since Governor Andrew Cuomo declared that their state would be the first in the nation with proven gas reserves to ban fracking. [UPDATE June 29: And today, Governor Cuomo made the ban official releasing the 43-page document that outlines the specifics of the statewide ban].
Those at the heart of that victory paused ever so briefly to celebrate their historic win before resuming work on their current goal: speeding the transition to communities powered by 100 percent renewable energy.
In Tompkins County, where community members fought in court and won the right to ban fracking locally (a precedent-setting decision that paved the way for the statewide ban), anti-fracking leaders have launched a new effort called Fossil Free Tompkins.
They've kept fracking out of their towns and their state but soon found out it wasn't enough. Like many communities across New York, Tompkins County residents are being threatened by fracked gas infrastructure like the proposed conversion of the old, inefficient Cayuga coal-burning power plant to a gas plant that can burn fracking gas as well as coal, and the new gas pipeline that will supply it.  
Call it Fractivism 2.0. While fractivists' outrage may have been sparked by concerns about the local impacts of fracking, it didn't take long to connect the dots between the ills of fracking and the global climate crisis brought on by the continued mining and burning of fossil fuels. So the fractivists of Tompkins County decided to take on catastrophic climate change the best way they knew how: by organizing their neighbors and working locally.
The first order of business for Fossil Free Tompkins is pushing for electric transmission line upgrades, which will eliminate the need for a $145 million bailout to add fracked gas capacity to the failing Cayuga coal plant. With legal help from Earthjustice attorneys, they're calling on Governor Cuomo to close the plant and instead invest a small fraction of the proposed $145 million to improve the grid—an expense they consider an investment in the infrastructure of the future.
But their plan doesn't end there. They want to ensure that their neighbors and the community that has been economically dependent on the fossil fuel industry are made whole again—a principle referred to as a "just transition." So they're calling on Gov. Cuomo to provide funding to train displaced workers for new jobs and to give financial assistance to the local town and school district that currently depends on tax revenue from the Cayuga plant. What's more, they want the 60-year-old plant—an eyesore on the shores of beautiful Cayuga Lake—to be deconstructed and the site to be remediated. They hope that in its place a utility scale solar farm will be installed where the fossil fuel relic once stood.    
Thinking globally, acting locally: the mantra and largely successful strategy at the heart of the anti-nuclear movement is being employed once again. And this time it's being married to solutions—not just for our climate crisis but for our growing crisis of economic inequality.
The people of Fossil Free Tompkins are daring to imagine that we can solve multiple problems at once. It's ambitious. But these are the same people who—when told they'd never be able to keep fracking out of New York—went ahead and did it anyway, one community at a time. If anyone can accomplish the seemingly impossible, it's these folks.
Learn more about the people behind Fossil Free Tompkins here.
From 2007–2018, Kathleen partnered with clean energy coalitions and grassroots organizations, empowered communities to fight against fracking, and worked with the Policy & Legislation team to have their messages heard by legislators.
Established in 2008, Earthjustice's Northeast Office, located in New York City, is at the forefront of issues at the intersection of energy, environmental health, and social justice.