As huge corporations patent and genetically alter seeds across the globe, independent seed companies are sowing a different future for our food system. (Spanish language version available.)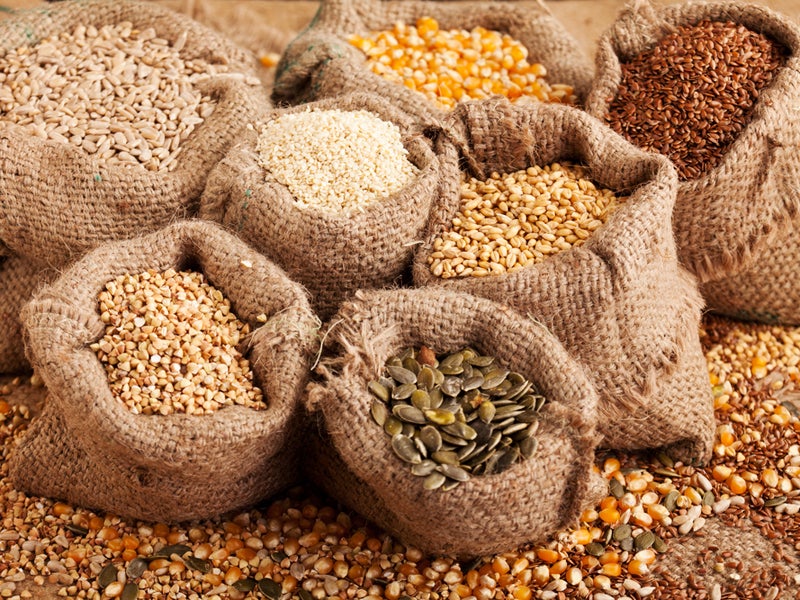 Editor's Note: On September 14, Bayer purchased Monsanto for $56.5 billion, the largest corporate takeover of 2016. Bayer is a multinational chemical and pharmaceutical company hoping to expand its reach into agribusiness. If the deal survives regulatory hurdles, Bayer's purchase of the leading agrochemical and biotechnology company, known for genetically engineered seeds and Roundup, will further consolidate the handful of companies controlling much of the world's seed supply. To learn more, click here.
Este blog está disponible en español aquí.
For the modern farmer, seeds are easy to come by. Seed companies supply catalogs and mail the seeds direct. What's not so easy, depending on the crop, is finding seeds that aren't genetically engineered.
In the past few decades, the world has seen a radical consolidation of seed ownership. The top 10 multinational seed companies now control 73 percent of the world's seed market—up from 37 percent in 1995. Possible mergers among the largest companies, such as Bayer and Monsanto, could further consolidate the control of the world's seeds into just a few corporations' hands. These mega-corporations sell both genetically engineered (GE) seeds and the harmful pesticides that the GE crops are modified to withstand.
At the same time that large corporations are gobbling up the seed market, the number of small, independent seed companies in the U.S. is rapidly declining. In 1996, there were 300 independent seed companies; by 2009, there were only around 100. However, some small businesses remain, including Wild Garden Seed in Oregon, High Mowing Organic Seeds in Vermont and the Living Seed Company in California. Rather than rely on genetic engineering, these companies are carrying on the millennia-old tradition of plant breeding by conducting trait selection experiments in the field. For local farmers, the companies provide a constantly evolving collection of plant varieties adapted to their respective regions.
Independent seed companies typically don't patent their seeds, which allows farmers the autonomy to save seeds and breed new plant varieties on their own. Large seed corporations, on the other hand, force farmers to buy new GE seeds every year. While companies like Monsanto argue that GE seeds are more productive and profitable (claims that are certainly debatable), the high overhead expense of buying a new GE seed and pesticide package each season leaves some farmers economically vulnerable.
"[Monsanto] controls the world's seed supply through genetic engineering and through patents."
"[Monsanto] controls the world's seed supply through genetic engineering and through patents," says Dr. Vandana Shiva, a scholar and activist who has fought against the farmer debt crisis in India that Monsanto's seed industry domination has caused. "Monsanto is killing the freedom of farmers of the world."
Large corporations take family farmers, activists like Shiva and small seed producers seriously. Lawsuits over genetic property litter the commercial farming industry, effectively sinking many small farms. A Center for Food Safety report concluded that as early as 2003, Monsanto had a budget of $10 million for the sole purpose of pursuing farmers for patent infringement. As of December 2012, Monsanto had filed 142 lawsuits alleging seed patent infringement, which recently led one judge to brand the company "incredibly litigious." Sums awarded to Monsanto in 72 of the recorded judgments total more than $23 million, and this doesn't include the sums extracted through settlements.
Some lawsuits involved cases in which farmers were saving GE seeds they originally purchased from Monsanto. Others concerned issues of unintended contamination, in which GE seeds had simply blown into neighboring fields. The introduction of GE sugar beets in Oregon's Willamette Valley, a small but fertile region home to many organic farms and small-scale seed production operations, has generated particular concern around the issue of cross contamination. In 2008, Earthjustice and the Center for Food Safety sued the U.S. Department of Agriculture on behalf of conservationists and small seed growers, including High Mowing Organic Seeds and Frank Morton, owner of Wild Garden Seed, on the basis that the agency violated the law by failing to fully consider the environmental impacts of GE sugar beets, including the cross contamination of non-GE crops.
Of course, the pesticides used alongside these GE crops can also have devastating environmental and health effects, especially in Hawai'i, which is now ground zero for experimental crop testing thanks to its long growing season. For years, the most popular herbicide on the market has been Monsanto's Roundup, which is used on crops genetically engineered to resist its primary ingredient, glyphosate. In 2012, U.S. growers sprayed 280 million pounds of glyphosate, which increased the prevalence of glyphosate-resistant weeds, dubbed "superweeds." Rather than reduce herbicide use, the chemical company Dow decided to combat glyphosate resistance by introducing Enlist Duo, a toxic combination of glyphosate and 2,4-D, to be used on corn and soy genetically engineered to resist both.  
Earthjustice is representing a coalition of conservation groups in challenging the EPA's approval of Enlist Duo, urging the agency to take the chemical cocktail off the market immediately.  Meanwhile, Monsanto is seeking EPA approval for its competitor to Enlist Duo, a mixture of glyphosate and the herbicide dicamba, to be marketed as the "Xtend" crop system.  Earthjustice is closely monitoring this development as well.
The toxic combination of GE seeds and harmful chemicals is becoming increasingly hard to avoid—whether it's in the food we eat, the fields we work in or the seeds we sow. The traditional way of growing food relies on plant breeding, saving seeds and sharing successful varieties of plants with the larger community. While large corporations would like us to forget this tradition, it lives on in small seed companies and individual seed savers. So the next time you want to buy seeds for your backyard herb garden or your 15-acre farm, find the small seed company in your region, which might just represent the best hope for the beginning of a new food system. 
Take Action! Ban Dangerous Neurotoxic Pesticides That Are Poisoning Workers and Damaging Children's Brains!
​
Buena Semilla, Mala Semilla
Para el agricultor moderno, las semillas son fáciles de conseguir. Las compañías de semillas reparten catálogos de sus productos y envían las semillas al usuario directamente. Lo que no es tan fácil, dependiendo del cultivo, es encontrar semillas que no hayan sido modificadas genéticamente.
En las últimas décadas, el mundo ha visto una radical consolidación en la propiedad del rubro semillero. Las 10 principales compañías multinacionales de semillas ahora controlan 73 por ciento del mercado semillero mundial—comparado con un 37 por ciento en 1995. Posibles fusiones entre las compañías más grandes, como Bayer y Monsanto, podían consolidar mucho más el control de las semillas en el mundo en pocas manos. Estas mega-corporaciones venden las dos cosas: semillas genéticamente modificadas (GE, por sus siglas en inglés) y los dañinos pesticidas que los cultivos GE fueron modificados para tolerar.
Al mismo tiempo que las grandes corporaciones están acaparando el mercado de las semillas, el número de empresas de semillas pequeñas e independientes en Estados Unidos está  declinando rápidamente. En 1996, había 300 empresas semilleras independientes; para el 2009, quedaban tan sólo cerca de 100. Sin embargo, algunas pequeñas empresas sobreviven, incluyendo Wild Garden Seed en Oregon, High Mowing Organic Seeds en Vermont y Living Seed Company en California. En vez de basarse en ingeniería genética, estas compañías están preservando una tradición de miles de años de mejoramiento de plantas al hacer experimentos de selección de características en el campo. Para los agricultores locales, las compañías brindan una colección en constante evolución de variedades de plantas que se han adaptado a sus respectivas regiones.
Compañías independientes productoras de semillas normalmente no patentan sus semillas, lo cual permite a los agricultores la autonomía de guardar semillas para lograr nuevas variedades de plantas por su propia cuenta. Las grandes empresas semilleras, por el contrario, obligan a los agricultores a comprar nuevas semillas modificadas genéticamente cada año. Mientras que las compañías como Monsanto alegan que las semillas genéticamente modificadas son más productivas y lucrativas (afirmaciones ciertamente cuestionables), los gastos elevados de comprar un nuevo paquete de semillas GE y pesticidas cada temporada dejan a algunos agricultores económicamente vulnerables.
[Monsanto] controla el suministro mundial de semillas por medio de ingeniería genética y por medio de patentes.
"[Monsanto] controla el suministro mundial de semillas por medio de la ingeniería genética y por medio de patentes," dice el Dr. Vandana Shiva, un investigador y activista que ha luchado contra la crisis de la deuda de los agricultores en India que la dominancia de Monsanto en la industria semillera ha causado. "Monsanto está matando la libertad de los agricultores del mundo."
Las grandes corporaciones se toman a los pequeños agricultores y activistas como Shiva y a los pequeños productores de semillas en serio. Demandas legales sobre la propiedad del material genético han saturado la agroindustria comercial, de hecho hundiendo a muchos pequeños agricultores. Un reporte por parte del grupo de seguridad alimentaria Center for Food Safety concluyó que desde el 2003, Monsanto tenía un presupuesto de 10 millones de dólares para el único propósito de perseguir legalmente a los agricultores por violación a su patente. Para diciembre del 2012, Monsanto había presentado 142 demandas alegando violación a su patente del material genético de sus semillas, lo cual llevó a un juez a decir que la compañía era "increíblemente propensa al litigio." Cantidades otorgadas a Monsanto en 72 de las sentencias llegaron a un total de 23 millones de dólares, y esto no incluye las sumas obtenidas por medio de liquidaciones.
Algunas demandas tenían que ver con agricultores que estaban acopiando semillas GE que habían comprado de Monsanto. Otras demandas tenían que ver con contaminación involuntaria, en las cuales las semillas GE simplemente habían salido volando hacia campos vecinos. La introducción de remolacha GE en el Valle Willamette de Oregon, una pequeña pero fértil región que alberga muchas plantaciones orgánicas y operaciones de producción de semillas a pequeña escala, ha generado una preocupación particular sobre la cuestión de la contaminación cruzada. En el 2008, Earthjustice y Center for Food Safety demandaron al Departamento de Agricultura de Estados Unidos a nombre de ecologistas y pequeños productores de semillas, incluyendo High Mowing Organic Seeds y Frank Morton, dueño de Wild Garden Seed, partiendo de la idea que la agencia violó la ley al no considerar el impacto ambiental de la remolacha GE, incluyendo la contaminación cruzada de cultivos no-GE.
Por supuesto que los pesticidas que se usan al mismo tiempo que estos cultivos GE también pueden llegar a tener efectos devastadores en el medio ambiente y en la salud, especialmente en Hawaii, donde ahora es la "zona cero" para hacer pruebas de cultivos experimentales gracias a que goza de una larga temporada de siembra. Por años, el herbicida más popular en el mercado ha sido Roundup de Monsanto, que se usa en cultivos modificados genéticamente para resistir a su principal ingrediente, glifosato. En el 2012, los agricultores de Estados Unidos rociaron alrededor de 280 libras de glifosato, el cual ha aumentado la prevalencia de hierbas resistentes al glifosato, llamadas "supermaleza." En vez de reducir el uso de herbicida, la empresa de químicos Dow decidió combatir la resistencia al glifosato introduciendo Enlist Duo, una tóxica combinación de glifosato y 2,4-D, para usarse en el maíz y la soya modificados genéticamente para resistir a ambos.  
Earthjustice está representando una coalición de grupos de conservación que están desafiando la aprobación otorgada por la EPA a Enlist Duo, y le está exigiendo a la agencia federal que retire el coctel de químicos del mercado inmediatamente.  Mientras tanto, Monsanto está pidiendo aprobación por parte de la EPA para que su competencia pueda vender Enlist Duo, una mezcla de glifosato y el herbicida dicamba, bajo el sistema de cultivo con el nombre "Xtend".  Earthjustice ya está vigilando está situación de cerca también.
La tóxica combinación de semillas modificadas genéticamente y químicos dañinos se está volviendo cada vez más difícil de evitar—ya sea en la comida que ingerimos, los campos donde trabajamos o en las semillas que plantamos. La manera tradicional de cultivar nuestros alimentos depende en una gran medida en cruzar plantas, guardar semillas y compartir variedades de plantas con el resto de la comunidad. Mientras que las grandes compañías quisieran que nos olvidáramos de esta tradición, sobrevive entre las pequeñas empresas de semillas y entre individuos que guardan sus semillas. Así que la próxima vez que quieras comprar semillas para tu jardín de hierbas aromáticas o tu ranchito de 15 acres, busca una pequeña compañía de semillas en tu región, lo cual puede representar la esperanza para el comienzo de un nuevo sistema alimentario. 
A graduate of Wesleyan University with an honors degree in English and environmental studies, Anna was an intern at Earthjustice in San Francisco. She previously interned at Women's Earth Alliance, and managed a half-acre garden and orchard growing produce for a Community Supported Agriculture program.