Harmony and Solidarity: GreenLatinos in the National Parks
The second annual GreenLatinos summit in Grand Teton National Park was a chance for Latino environmentalists to band together to protect our planet. (Spanish language version available.)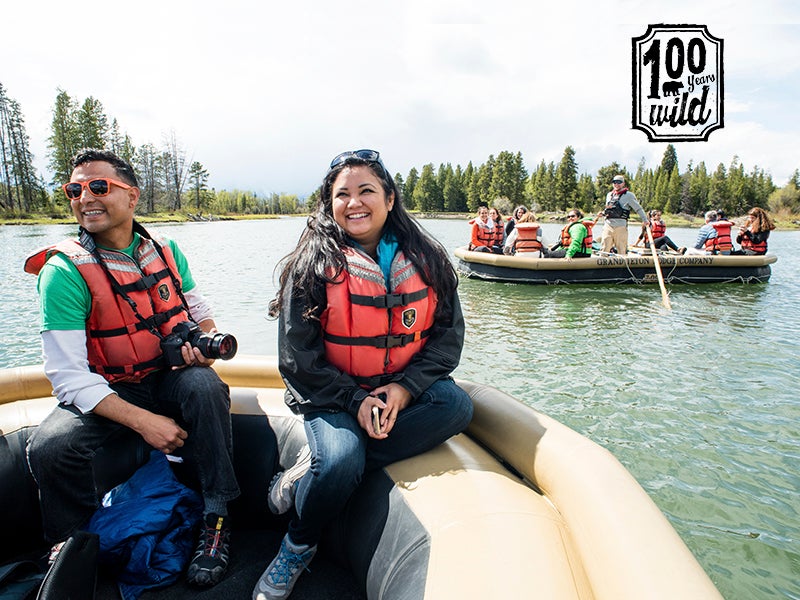 Este blog está disponible en español aquí.
What were 109 Latinos doing at Grand Teton National Park in May?
Banding together to fight for the environment.
More than a hundred Latinos and those in unity with the fight to protect our communities convened in Wyoming in the breathtaking Grand Teton National Park for the GreenLatinos 2016 National Summit. We came armed with a hunger to preserve our planet and its natural resources.
Who are GreenLatinos? We are movers and shakers who advocate for our communities and go beyond our job descriptions to do any and all work necessary to advance environmental causes. We are thrill-seekers and lovers of outdoor spaces. We feel most alive in our pursuit of protecting the land and sharing our stories.
The summit experience was one of unity, learning and interconnectedness. We discussed how tightly interwoven conservation and spirituality are with others who share our experience and culture. Being surrounded by fellow Latino environmentalists in Grand Teton gave many of us the chance to bask in our love of the great outdoors, while also coming together to build a stronger, more inclusive movement.
The GreenLatinos organization was founded by Mark Magana, Chris Espinosa and Earthjustice's Senior Legislative Representative Andrea Delgado. It's a national organization that is bringing together a broad coalition of Latino leaders to address national, regional and local environmental and conservation issues that affect the health and welfare of Latinos in the U.S.
At the summit, we grew relationships, expanded friendships and talked about issues facing our local communities and those across the country. The day-to-day sessions alongside colleagues fighting to conserve natural resources, act against climate change and do our part were good for the soul.
And our attendance was a reminder of our roots, which are anchored in the need to tread lightly and respectfully on this Earth; to preserve a place for our children and for future generations to live in and enjoy; and to live in harmony with the land and without toxics in our air and water. We're in search of this purity and stability.
There's a historical component to our ties to the land that was ever-present during this conference. We saw ancient artifacts, such as native attire, on display at Jackson Lake Lodge, and artwork depicting the first people in other common areas at the park. We felt a sense of acknowledgement of this history in expressing what it truly means to commemorate 100 years of the National Park Service.
We aren't naïve. The centennial means exploring the history of displacement of native peoples from their lands, some by pressure and some by force. We see that past within the national treasures we all are able to explore. The sacrifices and injustices done to these communities were on our minds, as we respectfully enjoyed these spaces so cherished and cared for many years ago by those who first inhabited the lands. We know they loved the land deeply, and so do we.
The GreenLatinos group took hikes between day sessions and those that spanned into the night. We incorporated friends and family into those escapes. On one excursion, we took a boat ride down the Snake River, feeling the cool air on our faces and discussing anything and everything. We felt free.
Amid that freedom came the realization that the Snake River is the very source of Earthjustice's work to protect salmon species threatened with extinction in the Pacific Northwest. Clean energy advocates, conservation organizations, fishing businesses, the state of Oregon and the Nez Perce tribe have all called for a plan that ensures wild salmon will survive in the Snake and Columbia Rivers. And here we were.
Those of us who attended the summit found that the shared connection of interacting with colleagues, mentors, friends and the family members we brought along for the ride made the experience unmatched.
Represented at GreenLatinos 2016 were green groups and leaders from across the country, not only from the environmental sector, but also from labor, civil rights and social justice groups, grassroots organizations, schools and NGOs.
We heard from leaders like powerhouse Chandra Taylor Smith of Audubon, who presented alongside Earthjustice's Vice President of Diversity and Inclusion Chas Lopez. Hector Sanchez, executive director of the Labor Council for Latin American Advancement and chair of the National Hispanic Leadership Agenda, spoke of the need to find common threads, work together and fight injustices against Latinos and vulnerable communities across our country.
We heard from Gwich'in leader Lorraine Netro of Old Crow about her fight to protect the Arctic National Wildlife Refuge. Her activism and unwavering spirit left us inspired and energized. Leaders from the League of Conservation Voters' Chispa, representatives from Latino Outdoors, Moms Clean Air Force, The Wilderness Society, Lideres Campesinas, The City Project, the National Park Service, EDF, the Center for Biological Diversity, t.e.j.a.s, Green 2.0 and so many more inspiring organizations and individuals shared their work on panels and in sessions.
As Americans, it is our duty to shape what the next 100 years of the National Park Service will look like. Based on what we experienced at Grand Teton, we know the next 100 years will be more diverse, more inclusive and—through Earthjustice's work to protect these lands—more hopeful, too.
As Latino leaders—brothers and sisters in this work—we left Grand Teton recharged to continue working for environmental and climate justice, with the solidarity to be successful.
Additional reporting by Raul Audelo
As the National Park Service turns 100 this summer, the 100 Years Wild series celebrates the value of public lands as refuges to wildlife and people, while also shining a light on the threats to these irreplaceable landscapes in a changing and warming world.
Armonía y Solidaridad: GreenLatinos en los Parques Nacionales
¿Qué estaban haciendo 109 latinos en el Parque Nacional Grand Teton en mayo?
Estrechando lazos en la lucha por el medio ambiente.
Más de cien latinos y otros partidarios unidos en la contienda para proteger a nuestras comunidades se juntaron en el estado de Wyoming en un escenario espectacular del Parque Nacional Grand Teton para la Reunión Nacional Cumbre GreenLatinos 2016. Llegamos bien preparados por el hambre de preservar nuestro planeta y sus recursos naturales.
¿Quiénes son GreenLatinos? Somos líderes de opinión que defendemos nuestras comunidades y vamos más allá de las funciones de nuestros trabajos y realizar cualquier labor que sea necesaria para poder  promover nuestras causas a favor del medio ambiente. Somos aventureros y amantes de los espacios al aire libre. Nos sentimos al máximo cuando nos lanzamos con todo a la misión de proteger la tierra y de compartir nuestras experiencias.
La cumbre fue una reunión de unidad, aprendizaje e interconexión. Analizamos la cercanía que existe entre la conservación del medio ambiente y la espiritualidad compartida con otros que tienen nuestra experiencia y nuestra cultura. Estar rodeados por compañeros ambientalistas latinos en Grand Teton brindó a muchos de nosotros la oportunidad de dejarnos llevar por nuestro amor por los grandes espacios naturales abiertos, mientras que al mismo tiempo nos dió la posibilidad de construir un movimiento más fuerte y más incluyente.
La organización GreenLatinos fue fundada por Mark Magaña, Chris Espinosa y la Representante Legislativa Senior de  Earthjustice, Andrea Delgado. Es una agrupación nacional que reúne a una amplia coalición de líderes latinos para abordar temas ambientales a nivel nacional, regional y local que afectan la salud y bienestar de los latinos en Estados Unidos.
En la cumbre establecimos relaciones, ampliamos amistades y hablamos sobre los temas que afectan a nuestras comunidades a lo largo y ancho del país. Las sesiones del día junto a nuestros colegas que al igual que nosotros se encuentran luchando para la conservación de recursos naturales, actuando contra el cambio climático y haciendo nuestra parte en este proceso, fueron alimento para el alma.
Y nuestra asistencia fue un recordatorio de que nuestras raíces están afianzadas en la necesidad de avanzar con cuidado y de manera respetuosa en esta Tierra. Buscamos preservar un lugar para nuestros hijos para que generaciones futuras vivan y disfruten; y vivan en armonía con la tierra y sin impurezas en nuestro aire y nuestras aguas. Estamos en búsqueda de esta pureza y esta estabilidad.
Hay un componente histórico en nuestro apego a la tierra que se hizo evidente durante esta conferencia. Vimos artefactos antiguos, tales como atuendos nativos en exhibición en el albergue del lago Jackson, y obras de arte que plasman la vida de los primeros habitantes, en áreas communes en el parque. Tuvimos una sensación de confirmación de la historia y de lo que significa realmente conmemorar los 100 años del Servicio de Parques Nacionales.
No somos ingenuos. El centenario significa explorar la historia del desalojo de los pueblos nativos de sus tierras, en algunos casos por presiones y en otros a la fuerza. Vemos el pasado encerrado en los tesoros nacionales que pudimos explorar. Los sacrificios e injusticias impuestos a estas comunidades estuvieron presentes en nuestra mente mientras disfrutábamos estos espacios tan queridos y cuidados por tantos años por parte de aquellos primeros habitantes de estas tierras. Sabemos que amaban la tierra profundamente, al igual que nosotros.
El grupo GreenLatinos se fue de caminata entre sesiones de día que algunas veces se alargaron hasta bien entrada la noche. Incorporamos a amigos y familiares en esos paseos. En una excursión, nos fuimos de paseo en barco por el río Snake, sintiendo la brisa fresca en nuestro rostro y platicando sobre todo y nada. Nos sentimos liberados.
En medio de esa libertad nos dimos cuenta plena de que el río Snake es la base del trabajo de Earthjustice para proteger de extinción a las especies de salmón de la región del Pacífico Noroeste. Los partidarios de energía limpia, las organizaciones de conservación, los negocios dedicados a la pesca, el estado de Oregon y la tribu Nez Perce todos han hecho un llamado a realizar un plan que garantice que el salmón va a sobrevivir en los ríos Snake y Columbia. Y aquí estamos.
Nosotros los que asistimos a la reunión cumbre nos dimos cuenta que compartíamos una conexión al interactuar con colegas, mentores, amigos y miembros de nuestras familias a quienes trajimos como acompañantes y que hizo que la experiencia fuera inigualable.
En GreenLatinos 2016 hubo representantes y líderes de grupos de todo el país, no tan sólo del sector ambientalista, sino que también de grupos de trabajadores, derechos civiles y de justicia social, organizaciones ciudadanas, escuelas y NGOs.
Escuchamos presentaciones de parte de luminarias de la talla de Chandra Taylor Smith de Audubon, quien se dirigió a la audiencia conjuntamente con el Vice Presidente de Diversidad e Inclusión de Earthjustice, Chas López. Héctor Sánchez, director ejecutivo del grupo Labor Council for Latin American Advancement y dirigente de National Hispanic Leadership Agenda, habló de la necesidad de encontrar vínculos comunes, trabajar conjuntamente y eliminar injusticias en contra de los latinos y otras comunidades vulnerables de todo nuestro país.
Asistimos a la plática de la líder de la tribu Gwich'in Lorraine Netro de Old Crow sobre su lucha para proteger el Refugio Nacional de Vida Silvestre del Ártico. Su activismo y su espíritu de lucha incansable nos han inspirado y nos ha contagiado su energía. Líderes del programa nacional Chispa de la Liga de Votantes por la Conservación, representantes de los grupos Latino Outdoors, Moms Clean Air Force,  Wilderness Society, Líderes Campesinas, The City Project, Servicio de Parques Nacionales, EDF, Center for Biological Diversity, t.e.j.a.s, Green 2.0 y tantas y tantas organizaciones e individuos más que compartieron su trabajo en discusiones y en cursos.
Como estadounidenses es nuestra obligación darle fondo y forma a lo que serán los próximos 100 años del Servicio de Parques Nacionales. Basados en lo que hemos experimentado en Grand Teton, sabemos que los próximos 100 años serán más diversos, mas incluyentes y—por medio del trabajo de Earthjustice a favor de la protección de estas tierras—con más esperanza, también.
Como líderes latinos—hermanos y hermanas en esta labor—nos fuimos de Grand Teton con las baterías recargadas para continuar trabajando por la justicia ambient al y del clima, y con solidaridad para llegar al éxito.
Reportaje adicional por Raúl Audelo
From 2014–2016, Betsy was a bilingual press secretary on the Advocacy Communications team.