Harmony and Solidarity: GreenLatinos in the National Parks
The second annual GreenLatinos summit in Grand Teton National Park was a chance for Latino environmentalists to band together to protect our planet.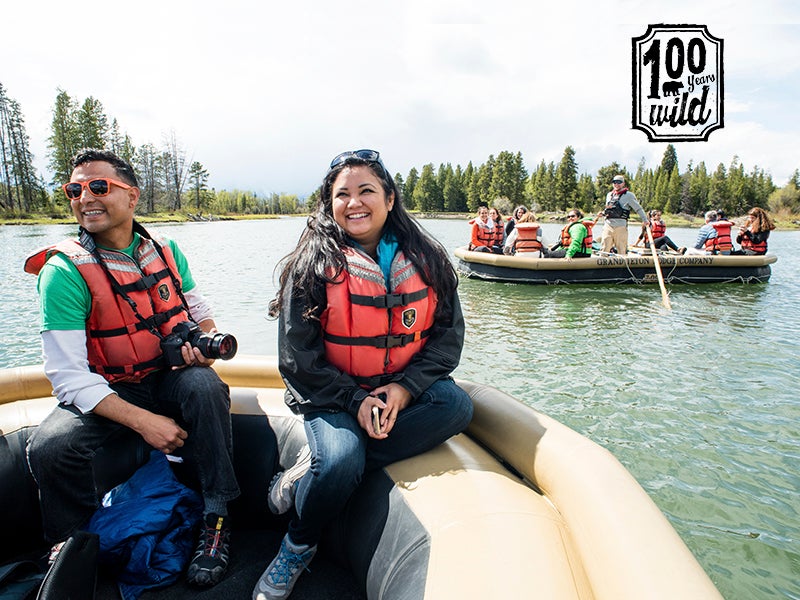 What were 109 Latinos doing at Grand Teton National Park in May?
Banding together to fight for the environment.
More than a hundred Latinos and those in unity with the fight to protect our communities convened in Wyoming in the breathtaking Grand Teton National Park for the GreenLatinos 2016 National Summit. We came armed with a hunger to preserve our planet and its natural resources.
Who are GreenLatinos? We are movers and shakers who advocate for our communities and go beyond our job descriptions to do any and all work necessary to advance environmental causes. We are thrill-seekers and lovers of outdoor spaces. We feel most alive in our pursuit of protecting the land and sharing our stories.
The summit experience was one of unity, learning and interconnectedness. We discussed how tightly interwoven conservation and spirituality are with others who share our experience and culture. Being surrounded by fellow Latino environmentalists in Grand Teton gave many of us the chance to bask in our love of the great outdoors, while also coming together to build a stronger, more inclusive movement.
The GreenLatinos organization was founded by Mark Magana, Chris Espinosa and Earthjustice's Senior Legislative Representative Andrea Delgado. It's a national organization that is bringing together a broad coalition of Latino leaders to address national, regional and local environmental and conservation issues that affect the health and welfare of Latinos in the U.S.
At the summit, we grew relationships, expanded friendships and talked about issues facing our local communities and those across the country. The day-to-day sessions alongside colleagues fighting to conserve natural resources, act against climate change and do our part were good for the soul.
And our attendance was a reminder of our roots, which are anchored in the need to tread lightly and respectfully on this Earth; to preserve a place for our children and for future generations to live in and enjoy; and to live in harmony with the land and without toxics in our air and water. We're in search of this purity and stability.
There's a historical component to our ties to the land that was ever-present during this conference. We saw ancient artifacts, such as native attire, on display at Jackson Lake Lodge, and artwork depicting the first people in other common areas at the park. We felt a sense of acknowledgement of this history in expressing what it truly means to commemorate 100 years of the National Park Service.
We aren't naïve. The centennial means exploring the history of displacement of native peoples from their lands, some by pressure and some by force. We see that past within the national treasures we all are able to explore. The sacrifices and injustices done to these communities were on our minds, as we respectfully enjoyed these spaces so cherished and cared for many years ago by those who first inhabited the lands. We know they loved the land deeply, and so do we.
The GreenLatinos group took hikes between day sessions and those that spanned into the night. We incorporated friends and family into those escapes. On one excursion, we took a boat ride down the Snake River, feeling the cool air on our faces and discussing anything and everything. We felt free.
Amid that freedom came the realization that the Snake River is the very source of Earthjustice's work to protect salmon species threatened with extinction in the Pacific Northwest. Clean energy advocates, conservation organizations, fishing businesses, the state of Oregon and the Nez Perce tribe have all called for a plan that ensures wild salmon will survive in the Snake and Columbia Rivers. And here we were.
Those of us who attended the summit found that the shared connection of interacting with colleagues, mentors, friends and the family members we brought along for the ride made the experience unmatched.
Represented at GreenLatinos 2016 were green groups and leaders from across the country, not only from the environmental sector, but also from labor, civil rights and social justice groups, grassroots organizations, schools and NGOs.
We heard from leaders like powerhouse Chandra Taylor Smith of Audubon, who presented alongside Earthjustice's Vice President of Diversity and Inclusion Chas Lopez. Hector Sanchez, executive director of the Labor Council for Latin American Advancement and chair of the National Hispanic Leadership Agenda, spoke of the need to find common threads, work together and fight injustices against Latinos and vulnerable communities across our country.
We heard from Gwich'in leader Lorraine Netro of Old Crow about her fight to protect the Arctic National Wildlife Refuge. Her activism and unwavering spirit left us inspired and energized. Leaders from the League of Conservation Voters' Chispa, representatives from Latino Outdoors, Moms Clean Air Force, The Wilderness Society, Lideres Campesinas, The City Project, the National Park Service, EDF, the Center for Biological Diversity, t.e.j.a.s, Green 2.0 and so many more inspiring organizations and individuals shared their work on panels and in sessions.
As Americans, it is our duty to shape what the next 100 years of the National Park Service will look like. Based on what we experienced at Grand Teton, we know the next 100 years will be more diverse, more inclusive and—through Earthjustice's work to protect these lands—more hopeful, too.
As Latino leaders—brothers and sisters in this work—we left Grand Teton recharged to continue working for environmental and climate justice, with the solidarity to be successful.
Additional reporting by Raul Audelo
As the National Park Service turns 100 this summer, the 100 Years Wild series celebrates the value of public lands as refuges to wildlife and people, while also shining a light on the threats to these irreplaceable landscapes in a changing and warming world.
From 2014–2016, Betsy was a bilingual press secretary on the Advocacy Communications team.