Hawaiʻi Leads Way for Nation With Major Pesticide Ban
Hawai'i just did what Scott Pruitt's Environmental Protection Agency refuses to do: protect public health by banning chlorpyrifos from our food and farms.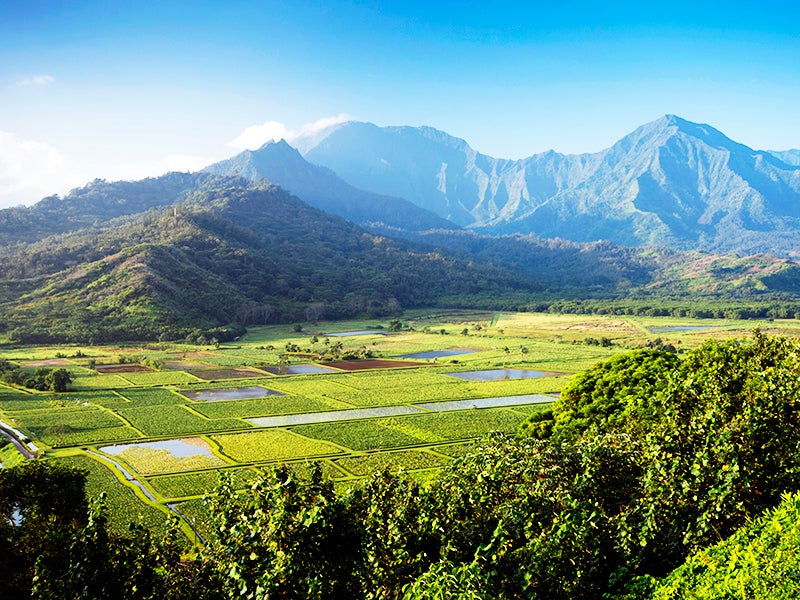 Hawai'i just did what Scott Pruitt's Environmental Protection Agency (EPA) refuses to do: protect public health by banning the pesticide chlorpyrifos from our food and farms.
In a major win for children and farmworker health in Hawai'i, today Governor David Ige signed a bill banning this dangerous nerve agent. This is a critically important move to protect children and workers from toxic pesticide exposure, as well as communities, many of them predominantly Native Hawaiian, that face the dangers of poisonous drift. Up until now, companies in Hawai'i developing genetically engineered crops have frequently used chlorpyrifos, and it has often been used on the state's fruit and vegetable crops. It drifts from fields into schools and homes, threatening exposure every time a field is sprayed.
Derived from a chemical the Nazis created for war, which was later repurposed for agriculture by Dow Chemical, chlorpyrifos (pronounced klawr-pir-uh-fos) has been firmly linked to reduced IQ and attention deficit disorder in children. What's more, chlorpyrifos is highly toxic to farmworkers, causing convulsions, respiratory paralysis, and, in extreme cases, death.
Hawai'i is the first state to ban chlorpyrifos, but others are poised to follow in its footsteps. In New York, a bill ending chlorpyrifos use passed the Assembly and is making its way through the state Senate. And in California, the state's scientific review panel is assessing this dangerous chemical, which could lead to restrictions on the chemical's use.
In a blog post last year, Claudia Angulo, a 38-year-old mother of four who lives in California's San Joaquin Valley, described an encounter she had with the pesticide as a 17-year-old farm worker.
"I became aware of the dangers of chlorpyrifos soon after I started working in California in the mid-1990s, when I saw a plane accidentally spray pesticides onto a group of workers," Angulo said. "Some were pregnant women and they immediately became very sick. Firefighters rushed them to the hospital, but all of the women still lost their babies."
Angulo's own son would later be born with a mental disability. During her pregnancy, Angulo worked in a food processing plant sorting oranges, apples, broccoli and other produce she now knows were mainly treated with chlorpyrifos.
But chlorpyrifos also damages wildlife. According to a report Earthjustice forced the government to publish and make public, this chemical reaches waterways and harms endangered fish and even orcas through the food chain.
Just a couple of years ago, the EPA was on its way to outlawing this pesticide from our food and farms, as Earthjustice and partner organizations pushed for a ban through lawsuits and petitions. But the progress stopped once Pruitt took over the EPA. And though EPA scientists said chlorpyrifos should be banned because it is too dangerous for consumers and workers, Pruitt ruled that the issue should be studied further. Earthjustice, along with partners and dozens of attorneys general, is fighting this unconscionable action in court.
Unfortunately, in the meantime, Dow continues to profit, while farmworkers and children continue to be exposed to a poison that's been banned for residential use for nearly 20 years. If chlorpyrifos is too toxic for our homes, it's certainly too toxic for our food. Yet the federal government under the current administration prefers to shelter Dow's profits instead of safeguarding the well-being of our children, our farmworkers, and our environment. The EPA is blatantly failing its mission to protect human health and the environment.
As Earthjustice is in court fighting to get chlorpyrifos out of the nation's fruits, vegetables, and genetically engineered crops, lawmakers have the responsibility to do the same in their assemblies and senates. Hawai'i, thanks to years of advocacy work, today showed the country a chlorpyrifos state ban is not only necessary, but possible. Given Pruitt's reluctance to heed the scientific evidence, state bans may be just the way to protect children and farmworkers from this harmful chemical once and for all.
Paul headed the Mid-Pacific regional office in Honolulu, HI, from 1994–2019. During that time, he handled a wide variety of public interest environmental litigation, including matters arising under the Endangered Species Act, National Environmental Policy Act, Clean Water Act, Migratory Bird Treaty Act, and Hawaiʻi's Water Code.
Established in 1988, Earthjustice's Mid-Pacific Office, located in Honolulu, Hawaiʻi, works on a broad range of environmental and community health issues, including to ensure water is a public trust and to achieve a cleaner energy future.