Hawai'i Vows to Go 100 Percent Renewable by 2045
The most oil-dependent state in the nation sets an ambitious goal to shift completely to solar, wind and other renewable energy by mid-century.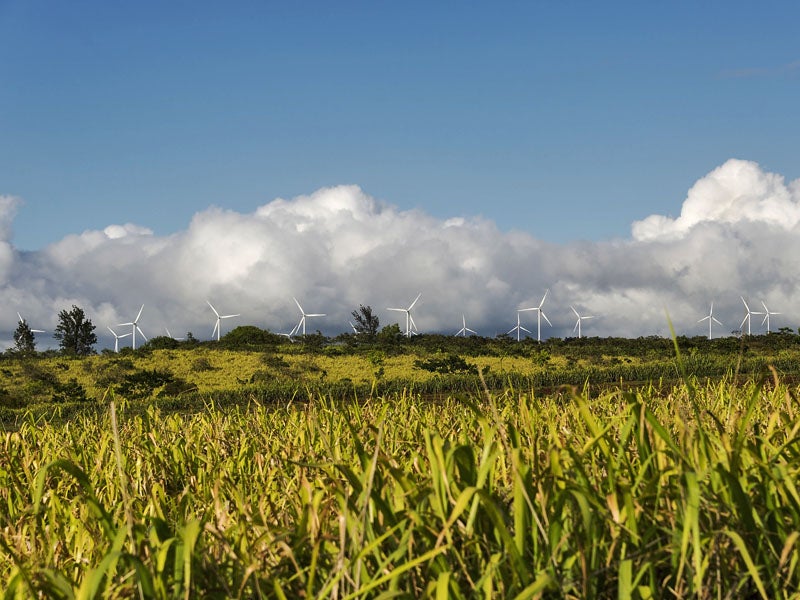 In May 2013 on Mauna Loa volcano in Hawai'i, scientists at the world's oldest carbon dioxide measuring station for the first time recorded CO2 levels in the atmosphere higher than 400 parts per million. When it comes to climate change, 400 ppm is a frightening milestone. Scientists say the global concentration of carbon dioxide hasn't been this high since before humans evolved.
But on Monday in Honolulu, just 40 miles from the Mauna Loa station, Governor David Ige signed four clean energy bills into law, one of which has set a new high bar for renewable energy use worldwide. According to the amendments to Hawai'i's HB 623, electric utilities in the state must have renewable portfolio standards of 30% by 2020, 70% by 2040 and, most notably, 100% by 2045. That's right; Hawai'i aims to get 100% of its electricity from renewable sources by 2045.
Hawai'i has decided to go all-in on renewable energy, creating a more ambitious plan than any other state and going further than any EPA standard. The EPA is set to finalize its Clean Power Plan this summer, which sets emissions reduction goals for each state. As part of the proposal, the EPA wants Hawai'i to get 10% of its electricity from renewables by 2030. In fact, the state has already reached that goal and promised to exceed EPA expectations.
Hawai'i currently relies on fossil fuels for about 80% of its electricity and imports much of that oil. As a result, the people of Hawai'i pay the highest electricity rates in the country. Renewable energy sources, particularly solar and wind, would help the people of Hawai'i bring down their energy bills significantly.
Even before the announcement of these ambitious new goals, Hawai'i residents saw the value of solar energy, installing rooftop solar at a nation-leading pace. Currently, one in nine customers of Hawai'i's main electricity utility, HECO, have rooftop solar.
What's more, one of the other bills the governor signed Monday puts in place a community-based program that directly helps the 100% by 2045 goal by expanding access to renewable energy. The program will allow renters and those without access to rooftop solar to get electricity generated by renewable sources from offsite facilities.
Nevertheless, right now the 100% standard is just a goal, and the next 30 years will tell if Hawai'i really can become the greenest state in the nation. Renewable portfolio standards have already spurred action and what Earthjustice's Honolulu-based staff attorney Isaac Moriwake has called a "virtuous cycle," in which clean energy goals promote innovation, job growth and new markets, in addition to cleaning up our fossil-fuel reliant electricity grid.
Click here to learn more about Earthjustice's work to promote rooftop solar in Hawai'i.
Joe was an intern with the press team in San Francisco, CA. He is a graduate of Vanderbilt University in Nashville, with a degree in Political Science and Latin American studies.
Established in 1988, Earthjustice's Mid-Pacific Office, located in Honolulu, Hawaiʻi, works on a broad range of environmental and community health issues, including to ensure water is a public trust and to achieve a cleaner energy future.